Top Favorites **** : &nbsp 1. 2001: A Space Odyssey 2. The Shawshank Redemption 3. Jaws 4. Psycho ('60) 5. Amadeus 6. Better Luck Tomorrow 7. Harold & Kumar Go To White Castle 8. Searching 9. Ping Pong Playa 10. Always Be My Maybe (2019 - A.Wong / R.Park dir. N.Khan)
Other Favorites ***: &nbsp Fast 9, Wish Dragon, Tran Quoc Bao's The Paper Tigers, Stowaway, Lee Isaac Chung's "Minari", Tigertail, Over The Moon, WF Productions' Everything Before Us, Bong Joon Ho's "Parasite", Evan Jackson Leong's Linsanity (The Documentary), Mayhem, Lee Chang Dong's "Burning", Justin Chon's 'Gook', 'Ms. Purple', Surrogate Valentine, Daylight Savings, Hang Loose, K-Town Cowboys, Harold & Kumar Escape From Guantanamo Bay, A Very Harold & Kumar Christmas, Finishing The Game, Jet Li's Fearless, The Year Of The Yao, To Be Takei, Katsuhiro Otomo's Akira (The Original Anime), Katsuhiro Otomo's Memories, Katsuhiro Otomo's Metropolis, Hayao Miyazaki's Spirited Away, Hayao Miyazaki's My Neighbor Totoro, Miyazaki's Nausicaa in the Valley Of The Wind, Pixar's Up, Toy Story, Office Space, Beavis & Butt-Head Do America, Idiocracy, The Ringer, Jackass 3, Bill & Ted's Excellent Adventure, Shine, The Goonies, The Karate Kid ('84) / Part II ('86), Forrest Gump, Dead Poet's Society, Rocky, One Hour Photo, Poltergeist ('82), John Carpenter's The Thing/Halloween, Saw, 1408, Pet Sematary ('89), The Amityville Horror ('79), Star Trek II: The Wrath Of Khan, Star Trek IV: The Voyage Home, Star Trek VI: The Undiscovered Country, Star Trek, Star Trek Beyond, Back To The Future Trilogy, The Breakfast Club, First Blood, Lord Of The Rings Trilogy, Cool Runnings, Field Of Dreams, Ferris Bueller's Day Off, The School Of Rock, The Hustler, The Color Of Money, Fear & Loathing In Las Vegas, Willy Wonka and The Chocolate Factory, Rain Man, Fast Five, The Fast and the Furious: Tokyo Drift, Fast & Furious 6, Best of the Best, The Matrix/The Matrix Reloaded/The Matrix Revolutions, The Terminator, Alien, Aliens, Casino, The Godfather Trilogy, Pee Wee's Big Adventure, The Maze Runner Trilogy, Escape From Alcatraz, The Twilight Zone: The Movie, Fast Times, Die Hard, Die Hard With A Vengeance, Ghostbusters ('84), Monster House, Spaceballs, Beetlejuice, Employee Of The Month, The Usual Suspects, Wreck-It Ralph

REVIEWS AND THOUGHTS
07/14/2021: Fast 9: The Fast Saga ***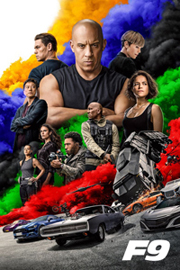 They definitely pushed it in terms of non-stop action, and this one tops them all. You can definitely expect action, action and over-the-top action. I was thoroughly entertained and had fun. The return of Han was especially what I looked forward to. Although I wished they showed scenes of how he escaped or delved deeper going into what he was doing during his absence, they explained it on the surface for the most part (introducing a new character). Also - time constraints. Any additional scenes would have been cut anyway due to length of the film.

Initially, I felt going into space was a bit silly. But this is the Fast Fam you are talking about, and anything is possible. They even make fun of their "invincibility" or why they survive situations "without a scratch". Take it for what it is - a movie. I also like to think that they are poking fun at the silly, inane shit that goes on in movies or "Rambo-type" action films as well.

I recommend staying around for the credits - there is a bonus scene. With that said, bring on F10!



---
06/26/2021: New "Shang-Chi" Trailer
And it is even more kick-ass. Cannot wait - trailer saved. I am not familiar with MCU characters / villains, so I wouldn't know if any made a cameo appearance or not. But I believe they showed the rings and all its glorious powers.

"REVENGE IS A DISH BEST SERVED - BY THE FAST FAM AS WELL". JUSTICE HAS ARRIVED: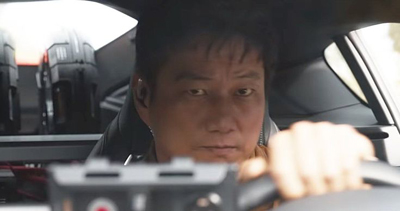 ---
06/17/2021: Wish Dragon ***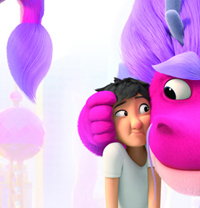 What a fun, cute and amusing film that everyone or anyone can enjoy. The theme of selflessness is something that is not often taught or learned, nor certainly practiced in today's selfish, materialistic society. If you were granted three wishes, almost everyone would wish for material possessions, money, success, etc. This is as much a story about the dragon and his former life, as it is about Din. Also - why are most computer-animated characters fat haha. In this case, they probably ate too many dumplings. Anyway - definitely a funny scene is the dragon vs. dragon during the parade haha. And the "I hate traffic" scene haha.

Go watch it.
---
06/13/2021: "Wish Dragon" Ranked #4 / #2 Globally - I'm Lovin' It
Congratulations to "Wish Dragon" for ranking #4 US, and #2 globally. I'll watch it eventually (right now, pre-occupied with K-Dramas). Everyone should watch it - every culture has a story, and it's funny, cute and inspiring from what I hear. Defintely a review once I watch it.


---
05/24/2021: The Paper Tigers ***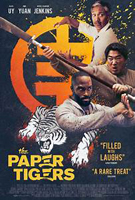 It absolutely lived up to the hype and reviews - funny, well-made movie that did not try too hard. It felt realistic and natural. Of course, the martial arts / Gung Fu elements were amplified to pay homage to the type of films back in the day. The banter between the characters were hilarious.

The characters were given dimensions as adults / parents, not just martial artists. That white dude Carter had "villain" written all over him, but they did not go that route. Instead, a new disciple / character - his very presence was intimidating enough. Someone you do not want to 1 vs. 1 with. Anyway - Yuji Okumoto's cameo was hilarious. Inquiring minds want to know - The Paper Tigers vs. Cobra Kai? haha. A sequel might be possible.





---
05/13/2021: Official "Wish Dragon" Trailer is here!
And it is cute and funny as hell. I plan to watch it - on Netflix 06/11/21. So perhaps the age-old story of a genie in a lantern might be overdone, but every culture can express their own stories. Most importantly for me, it's an Asian-American or Asian story with Asian characters. There is going to be Asian elements to it, so unique and different in that sense. While most would wish for material possessions, "Wish Dragon" appears to be about the intangibles or heart's desires as opposed to material possessions such as wealth. It should be a fun ride.

In addition to new Netflix or Amazon programs / films for Asian-Americans, I've been checking several Asian-American film festivals as well where there could be hidden gems.


---
05/08/2021:
There are quite a few Asian-American films that I am not aware of. For AAPI Heritage Month, I wish I could watch most of them. There must be a platform just for that. Anyway, here is a compilation or list of Asian-American films I found from a fan site:

httpss://letterboxd.com/sosreelthoughts/list/best-asian-american-films/

There are probably more unlisted, but anyway. It's quite a list of films that appear to be a must-see.


---
05/04/2021: "The Paper Tigers" Is Comin' To Theaters 05/07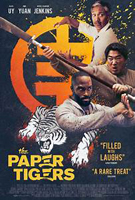 There have been rave reviews for this martial arts comedy / drama, and I believe them. I also believe it'll become a cult classic / favorite. The background for this film is similar to how "Better Luck Tomorrow" was made, or what Justin Lin had to go through. Essentially, they did not relinquish any Asian-American leads or creative control to studios. But funded the films their own way. Kudos to the production team and the director Tran Quoc Bao. It's a film I have to watch at some point.

Here is a fan review: httpss://www.cinelinx.com/movie-news/movie-reviews/the-paper-tigers-is-a-genuine-martial-arts-masterpiece-review/





---
05/01/2021: Stowaway ***1/2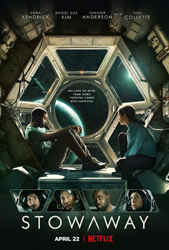 What a great film, a great sci-fi one at that. What made it really stand out is that it felt that you were actually in space - and the tension / seriousness of the situation that the plot creates, as if you were there. It had the tense, claustrophobic feel of 1979 "Alien", and the realism of "2001: A Space Odyssey" in terms of slow space movement. I tell ya - even watching the two head towards the other end for some needed oxygen was scary enough. Add to that the spinning motion of the ship for artificial gravity, and the camera angles / close ups. No extravagant soundtrack or music needed - just subtle, eerie music, such as in "Alien".

All I could say is - just watch it. I'd be space sick as fuck if I had to deal with the spinning motion as well haha. But unfortunately, coping with being weightless for months is an issue that needs to be resolved for long-term space travel (unless artifical gravity is feasible, but it does not appear so). I would have to add this to my top three Sci-Fi films ("2001", "Alien"), and a borderline Top Ten of mine.




MORE FILM REVIEWS...
MULTIMEDIA / FILM TRAILERS
NEW SHANG-CHI TRAILER


BLUE BAYOU TRAILER


FAST 9 TRAILER #2


OFFICIAL WISH DRAGON TRAILER


MINARI - AN INSPIRING AMERICAN STORY


COMING HOME AGAIN TRAILER


OVER THE MOON TRAILER


JUSTICE IS COMING - "FAST 9"


BEWARE OF THE "GRUDGE":


MAYBE NOT OR MAYBE SO...BUT "ALWAYS":


GET READY TO SPEND A DAY IN HELL WITH...."HELLBOY"


"BAO" - ANIMATED SHORT FROM PIXAR


'SEARCHING' FOR SOMETHING ACTUALLY GOOD?...WATCH "SEARCHING"!


OFFICIAL "MAYHEM" TRAILER: THERE'S A WHOLE LOTTA 'MAYHEM'...GO WATCH IT




"Old Faces, New Places" K-Town Cowboys Trailer


Click To Activate!
Dubya Gettin' His 'Weed' On With Harold & Kumar in 'Harold & Kumar 2'....

This shit is hilarious, basically my favorite scene in the second film of the series 'Harold & Kumar Escape From Guantanamo Bay'. H & K parachute into Dubya's ranch house unbeknowest to the duo, and some funny dialogue ensues with Dubya's usual idiocy and southern drawl; "Oh shit it's Cheney, that guy scares the crap outta me", "Haw, haw, haw, I thought you guys were terrorizers", "Oh fuck G-bay", "Mitsubishi-Wah", "Well, Kumar. That makes you a hypocriticizer too".