Top Favorites **** : &nbsp 1. 2001: A Space Odyssey 2. The Shawshank Redemption 3. Jaws 4. Psycho ('60) 5. Amadeus 6. Better Luck Tomorrow 7. Shang-Chi And The Legend Of The Ten Rings 8. Harold & Kumar Go To White Castle 9. Everything Everywhere All At Once 10. Searching 11. Justin Chon's Blue Bayou 12. Always Be My Maybe (2019 - A.Wong / R.Park dir. N.Khan) 13. Ping Pong Playa
Other Favorites ***: &nbsp Don't Make Me Go, Love Hard (w/ Jimmy O. Yang), Ghost / Grotesque Mansion (K-Movie 2021), Fast 9, Wish Dragon, Tran Quoc Bao's The Paper Tigers, Stowaway, Evan Jackson Leong's "Snakehead", Lee Isaac Chung's "Minari", Tigertail, Over The Moon, WF Productions' Everything Before Us, Bong Joon Ho's "Parasite", Evan Jackson Leong's Linsanity (The Documentary), Mayhem, Lee Chang Dong's "Burning", Justin Chon's 'Gook', 'Ms. Purple', Surrogate Valentine, Daylight Savings, Hang Loose, K-Town Cowboys, Harold & Kumar Escape From Guantanamo Bay, A Very Harold & Kumar Christmas, Finishing The Game, Jet Li's Fearless, The Year Of The Yao, To Be Takei, Katsuhiro Otomo's Akira (The Original Anime), Katsuhiro Otomo's Memories, Katsuhiro Otomo's Metropolis, Hayao Miyazaki's Spirited Away, Hayao Miyazaki's My Neighbor Totoro, Miyazaki's Nausicaa in the Valley Of The Wind, Pixar's Up, Toy Story, Office Space, Beavis & Butt-Head Do America, Idiocracy, The Ringer, Jackass 3, Bill & Ted's Excellent Adventure, Shine, The Goonies, The Karate Kid ('84) / Part II ('86), Forrest Gump, Dead Poet's Society, Rocky, One Hour Photo, Poltergeist ('82), John Carpenter's The Thing, John Carpenter's Halloween, Saw, 1408, Pet Sematary ('89), The Amityville Horror ('79), Star Trek II: The Wrath Of Khan, Star Trek IV: The Voyage Home, Star Trek VI: The Undiscovered Country, Star Trek, Star Trek Beyond, Back To The Future Trilogy, The Breakfast Club, First Blood, Lord Of The Rings Trilogy, Cool Runnings, Field Of Dreams, Ferris Bueller's Day Off, The School Of Rock, The Hustler, The Color Of Money, Fear & Loathing In Las Vegas, Willy Wonka and The Chocolate Factory, Rain Man, Fast Five, The Fast and the Furious: Tokyo Drift, Fast & Furious 6, Best of the Best, The Matrix/The Matrix Reloaded/The Matrix Revolutions, The Terminator, Alien, Aliens, Casino, The Godfather Trilogy, Pee Wee's Big Adventure, The Maze Runner Trilogy, Escape From Alcatraz, Fast Times, Die Hard, Die Hard With A Vengeance, Ghostbusters ('84), Monster House, Spaceballs, Employee Of The Month, The Usual Suspects, Wreck-It Ralph

REVIEWS AND THOUGHTS

09/21/2023: A Whole Lotta "Shakin'" Goin' On With Sung Kang's "Shaky Shivers"
Check out "Shaky Shivers" when it releases in theaters for one day only. If you enjoy / believe in practical effects (and campy horror / comedy back in the '80s), this might be the film for you.

Film festivals can showcase certain gems, and this appears to be one of them. Kudos for Sung Kang for his directorial debut. I'm looking forward to his next directing project pertaining his family upbringing.


---
09/16/2023: Ken Jeong's "A Great Divide"
I'm intrigued about this. The subject matter however, is about Anti-Asian hate, and is quite sensitive or can have adverse effects if you don't watch it with a level head. It's the same thing with Steven Yeun's "Beef". The subject matter and how it's presented in the show, would probably have adverse effects on how I think, so I opted not to watch it. There are Dashcam Lessons clips to watch for any lessons in what not to do.

Still - "A Great Divide" appears to have a 'great' story and most likely great acting / directing. I think I'll still add "A Great Divide" to my must-watch list eventually, even though there might be some misgivings. If not for the story, and is about the Asian-American experience.


---
08/01/2023: "Play"time No More: A Homage


I grew up watching Pee-Wee's Playhouse as a child. Pee Wee's Big Adventure was a cult classic - every scene quotable, repeatable and hilarious. You can't think of Paul Reubens without thinking of Pee-Wee Herman. Of course - he's been in countless other films as cameos or support actor. But the iconic character of Pee Wee Herman is etched or ingrained forever.

By now - the news is out that Paul kept his cancer hidden for many years. Did he even hide it from doctors, or even refused to get treatment. That's what makes it tragic. In this day and age, 70 is not that old anymore. Hell - some are living way past 90 now. Like or hate the actor (never mind his sketchy past - besides, even Bobby Lee did it haha). I don't think anyone discount the influence of Pee Wee Herman - the child-like magic is in all of us whether we want to admit it or not.

"Things You Can't Understand." "Things You'll Never Understand." *long pause* "Things You Shouldn't Understand" - Mike's Bike-O-Rama





---
07/15/2023: "Strike" First, "Strike" Hard, No Mercy Sir!
Well - not exactly the mantra for the SAG and the Writer's Guild currently on strike. But they are on "strike". I'm in no position to make any judgments - I have no idea what is going on, nor do I give a rat's ass. The industry's products have been crap-tastic to begin with - it just puts a stop or halt to all the garbage / crap that the entertainment industry have been producing. For me - there's "Far East Films" and Youtube content creators at least.

The downside of it all, is that I won't get to hear or watch any new Asian-American films or Asian-American actors in new projects. Since I consider most in the industry as "spoiled" and "prejudiced", I have no sympathy at all for what is going on. Supporting my Asian-Americans is the only thing makes it all worthwhile.


---
06/14/2023:
Randall Park's "Shortcomings" trailer released, and it's a must-see for me. Most likely will have to rent it when it is available on VOD. Here is the trailer from Sony Pictures Classic (or go their Youtube):


---
06/13/2023: "Ghostbusters" Nostalgia
I think "Ghostbusters: Afterlife" is officially the Ghostbusters III that fans were expecting. I didn't watch it yet, since I forgot about this for awhile. It released over a year ago. There have been a few nostalgic revivals - Cobra Kai with the OG Karate Kid actors from the trilogy, the new Top Gun sequel, and also among them - the OG Ghostbusters from the first movie. Except the Staypuft Marshmellow Men are miniatures this time haha. Still fat - could this be a reflection of a Bobby Lee I guess haha. A Ghost Egon was the highlight. Clip below:




We might have to rent Fast X on-demand - no time for theaters.


---
05/10/2023: "Shortcomings" Panel At Sundance
Preach on, Randall Park. Preach on. Randall Park's "Shortcomings" is a must-see (whenever or where ever available). It has that "Always Be My Maybe" vibe or atmosphere - but a different slice of life story.

Asian-American characters have every right to be flawed, ordinary and even mediocre. We are no longer the "model minority" stereotype (better yet, we never were) or whatever "we have to be this way" stereotype society or Non-Asians view us. Human beings are flawed in nature. Talent-wise, Asians might be God-like haha. But in every other aspects (emotionally, intellectually or personality-wise) , we are just as flawed or more flawed. As they say - "To Err Is Human". The iconic Asian-American film - Justin Lin's "Better Luck Tomorrow" is our benchmark - the standard in Asian-American filmmaking or story-telling.

This is what makes Asian-American films more compelling and interesting than ever, since they "humanize" us. Unfortunately, there is still a long ways to go in dispelling the crap that only good Asian-American stories have to adhere to certain stereotypes. If anything - isn't all racial stereotypes racist and offensive to begin with.






---
05/02/2023: AAPI Heritage Month: Asian-American Films
It's that time of year to celebrate (although it's a celebration worth everyday celebrating). If you are at a loss of which Asian-American films to watch, here is a letterbox fan site (the person updates it):



https://letterboxd.com/sosreelthoughts/list/the-best-asian-american-films/



A lot of them are part of my favorites - although all of them should be deemed worthwhile to watch. The list however, is missing "Harold & Kumar Go To White Castle", John Cho in "Don't Make Me Go", and Jimmy O. Yang in "Love Hard". Although they might not be considered strictly AA films.


---
04/20/2023: New Fast X Trailer
Once I found out that the main villain is related to the villain from "Fast Five", it piqued my interest a bit more. Other than Han having some action scenes / sequences. The over-the-top action and car sequences have characterized the Fast franchise since Fast Five. And the theme of family. And adding more family. And turning bad guys into supposedly "good" guys haha. In Fast 9, it was going into space. In Fast X, it appears driving down a dam wall trying to out-run the explosion. In reality, the near-vertical angle (with gravity pulling down) would have back-flipped the car immediately haha. Unless the car had magnets on its tires (most likely so - since magnets were used in Fast 9).

Speaking of past villains, it was never possible to see the return of Carter Varone or Takashi (villains from 2 Fast 2 Furious and Tokyo Drift respectively - the most entertaining of the bunch in my opinion). Simply because Dom was not in these movies haha. The "Justice For Jimmy" would not have been possible as well.

Here is the blockbuster trailer:


---
04/10/2023: Simu Liu: Singer, Dancer, Superhero and now a Ken Doll / Model haha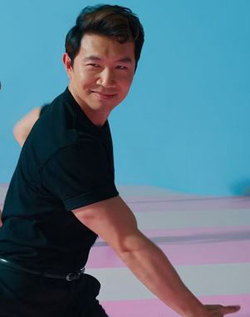 I do not know how many scenes Simu Liu is going to be in, but it's a wait-and-see for me. Simu Liu has been promoting "Barbie" quite well in his social media, as well as giving some informative interviews in some articles. Based on that, it might be worth it regardless of how much screen time he has. Simu Liu is not part of the main cast - he's listed in the secondary / supporting cast, which usually indicates that it's not a major role. But these days, as long as certain scenes are memorable or worth remembering, it might be worth it.

One thing is certain - Simu Liu is charismatic enough to put Rick "The Model" Martel (or any pseudo-models / actor models) to absolute shame or out-of-business haha.


---
03/18/2023: Fast X: "The End Of The Road", Begins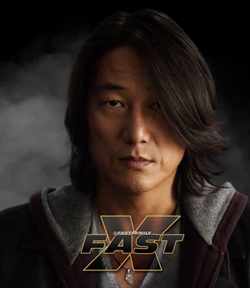 This is a bad-ass picture or image of Han Lue from the Fast franchise, a new character poster for the 10th Fast film. He'll be appearing in "Fast X", the first of the final two films in the franchise. What his role is, I am unsure. But it's releasing 05/19/23 - per Sung Kang's social media.


---
03/14/2023: Hey, Kimmel - What About 'Pauly'? haha
While Pauly Shore might have come out of hiding to congratulate Branden Fraser and Ke Huy Quan, the "Encino Man" co-star or "The Weasel" might have been more realistically thinking: "Hey, buuuuuuddddy - what about me?" haha. This is from a guy who during a Scissor Bros. podcast episode asked; "So when is Dunkin' Donuts open?" hahaha.

Jimmy's retort: "Perhaps we'll have to re-boot Bio-Dome" hahaha.

Aside from "EEAAO" being the obvious choice for Best Picture (and deservedly so) - if there was a runner-up for me, it would have been "The Whale". I haven't seen it nor do I know anything about it - except it might be about a fat guy. But there have been rave reviews about it. That is all.


---
03/12/2023: An Oscar Celebration For "Everything Everywhere All At Once"
Congratulations to "EEAAO" for winning 7 Academy Awards from what I hear. Aside from the actors - best picture, best director and best original screenplay. I'm particularly happy for Ke Huy Quan, just as everyone else is. By now, we all know Ke's story (if you want to call it a comeback story, go ahead. It's probably a combination of a comeback / underdog story. Either way, he's been an inspiration). Harrison Ford and Ke Huy Quan re-uniting and hugging one last time, was heaven-sent. Recall the scene from "Temple of Doom" of Indy and Short Round hugging it out.

"EEAAO" was an extraordinary film - bold and daring with messages that anyone can relate. Let's face it, all movies are going to have some kind of hate or haters. They are like the emperor from "Amadeus", with the "Too Many Notes" ignorance to Mozart's music or masterpiece. They couldn't possibly comprehend.

More thoughts or similar thoughts on my Reflections & Thoughts.


---
03/05/2023:
The most recent update from Justin Lin is that he'll be involved with something called "Galaxy Eggs". I don't know if that's a movie or a show. Sounds like it's a bit of Sci-Fi with Fantasy.

I would like to hear from Justin Lin's POV or Point Of View, and nobody elses. I don't think the entire story is told, because media tends to make issues completely one-sided. Either way, Justin Lin doesn't appear to give a rat's ass about it. I heard he left with a blank check to fill, and why not leave for better pastures. Back to his roots, and where I'm most interested in - independent films. Other than, Asian-American films.

Unfortunately, there has been not been any news or rumors on any new Asian-American films this year (other than the ones listed below / not including shows):

Dustin Nguyen, "The Accidental Getaway Driver"
Randall Park, "Shortcomings"


---
03/02/2023: Get Ready For GDL
While we eagerly wait for news on the sequel to "Shang-Chi" or Simu's further involvement in the MCU (my guess is the new "The Kang Dynasty" film, directed by Dustin Cretton as well). Simu Liu and Awkwafina to star opposite John Cena in a film titled "Grand Death Lotto". Should be interesting.

Simu is one busy guy - already has "Barbie" (this summer) and "One True Loves" (April) this year. And other projects we have not yet heard.


---
MORE FILM REVIEWS...
MULTIMEDIA / FILM TRAILERS OF THE DAY &nbsp&nbsp&nbsp &nbsp&nbsp&nbsp&nbsp&nbsp&nbsp Click for Archived Film Trailers / Videos


| | |
| --- | --- |
| RANDALL PARK STANDS "TALL" IN "SHORTCOMINGS" (NEW TRAILER) | FAST X: THE END OF THE ROAD BEGINS |
| THE OG GHOSTBUSTERS RETURN IN "AFTERLIFE" | DON'T MAKE ME GO TRAILER |
| EVERYTHING EVERYWHERE ALL AT ONCE TRAILER | THE HUMANS TRAILER |
| AFTER YANG TRAILER | A SHOT THROUGH THE WALLS TRAILER |