Top Favorites **** : &nbsp 1. 2001: A Space Odyssey 2. The Shawshank Redemption 3. Jaws 4. Psycho ('60) 5. Amadeus 6. Better Luck Tomorrow 7. Shang-Chi And The Legend Of The Ten Rings 8. Harold & Kumar Go To White Castle 9. Searching 10. Justin Chon's Blue Bayou 11. Always Be My Maybe (2019 - A.Wong / R.Park dir. N.Khan) 12. Ping Pong Playa
Other Favorites ***: &nbsp Love Hard (w/ Jimmy O. Yang), Ghost / Grotesque Mansion (K-Movie 2021), Fast 9, Wish Dragon, Tran Quoc Bao's The Paper Tigers, Stowaway, Evan Jackson Leong's "Snakehead", Lee Isaac Chung's "Minari", Tigertail, Over The Moon, WF Productions' Everything Before Us, Bong Joon Ho's "Parasite", Evan Jackson Leong's Linsanity (The Documentary), Mayhem, Lee Chang Dong's "Burning", Justin Chon's 'Gook', 'Ms. Purple', Surrogate Valentine, Daylight Savings, Hang Loose, K-Town Cowboys, Harold & Kumar Escape From Guantanamo Bay, A Very Harold & Kumar Christmas, Finishing The Game, Jet Li's Fearless, The Year Of The Yao, To Be Takei, Katsuhiro Otomo's Akira (The Original Anime), Katsuhiro Otomo's Memories, Katsuhiro Otomo's Metropolis, Hayao Miyazaki's Spirited Away, Hayao Miyazaki's My Neighbor Totoro, Miyazaki's Nausicaa in the Valley Of The Wind, Pixar's Up, Toy Story, Office Space, Beavis & Butt-Head Do America, Idiocracy, The Ringer, Jackass 3, Bill & Ted's Excellent Adventure, Shine, The Goonies, The Karate Kid ('84) / Part II ('86), Forrest Gump, Dead Poet's Society, Rocky, One Hour Photo, Poltergeist ('82), John Carpenter's The Thing/Halloween, Saw, 1408, Pet Sematary ('89), The Amityville Horror ('79), Star Trek II: The Wrath Of Khan, Star Trek IV: The Voyage Home, Star Trek VI: The Undiscovered Country, Star Trek, Star Trek Beyond, Back To The Future Trilogy, The Breakfast Club, First Blood, Lord Of The Rings Trilogy, Cool Runnings, Field Of Dreams, Ferris Bueller's Day Off, The School Of Rock, The Hustler, The Color Of Money, Fear & Loathing In Las Vegas, Willy Wonka and The Chocolate Factory, Rain Man, Fast Five, The Fast and the Furious: Tokyo Drift, Fast & Furious 6, Best of the Best, The Matrix/The Matrix Reloaded/The Matrix Revolutions, The Terminator, Alien, Aliens, Casino, The Godfather Trilogy, Pee Wee's Big Adventure, The Maze Runner Trilogy, Escape From Alcatraz, Fast Times, Die Hard, Die Hard With A Vengeance, Ghostbusters ('84), Monster House, Spaceballs, Employee Of The Month, The Usual Suspects, Wreck-It Ralph

REVIEWS AND THOUGHTS
11/09/2021: "Love Hard" ***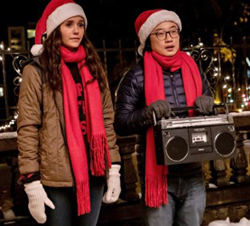 Moral of the story (other than don't try to catfish for dates haha) - just be honest and be yourself (or don't hide behind a fake profile / identity). Back in the day, perhaps it was necessary to get replies or responses on dating apps since going after "looks" was the thing. But it's kind of heartening to know that things have been changing a bit these days.

Jimmy O. Yang is Josh Lin - kind of a nerdy, average-looking Asian dude with average height / wears glasses. The usual Asian spiel / stereotype. But he possesses everything else - great personality with wit to spare, funny, caring and ambitious / talented. It's no surprise then, that the premise of the story is that he hides behind a fake profile to get replies. When the two meet up - all hell breaks loose in hilarity. Josh ends up trying to hook up Natalie with Tag in a ruse, but pretending to be a couple since they gave that vibe with Josh's family. One of my favorite scene was the caroling - did they lip sync that, or was that their actual voices? haha.


"Love Hard" was a light-hearted, funny Christmas Rom-Com. I believe the title is a play on the title "Die Hard", which is the main character's choice for "Best Christmas Movie Ever" haha. I beg to differ - it's either "Home Alone" or "Jingle All The Way" for the funnies. Kiddings aside, "Love Hard" is a must-see.
---
11/08/2021: Donnie Yen Wraps Filming "John Wick 4"
Apparently - Chapter 4 actually means filming or being away for four months haha. I wonder if it were the same for IP Man 4. That film was racially charged, but kick ass martial arts action from Donnie Yen.

Justin Lin finally updated his twitter - could it be for F10?
---
11/05/2021: "Snakehead" ***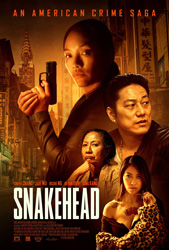 This was dark and gritty. An Asian-American crime drama - you can probably call it "The Godmother" haha. This didn't pretend to be a happy, dreamy film. It explored the human nature of corruption and violence to "survive". It brought to light the real life issue of human smuggling as a business.

Sung Kang's character of Rambo reminds me of what Han Lue (from "Better Luck Tomorrow") would have turned out if he did not join the "Fast" fam. Instead of snacking, he would continue to chain smoke and cuss with an attitude (as he treated Virgil Hu). I enjoyed the actress who played "Mah" - innocent looking, but corrupt Asian mafia-style. Sister Tse also had that innocent look - but corrupt as well. How she got away from the crimes she committed at the end is my gripe. But then again - this story is centered on her and the daughter she was looking after.

Kudos to Evan Jackson Leong and the cast - I heard it was many years in the making.
---
10/12/2021: "Blue Bayou" ****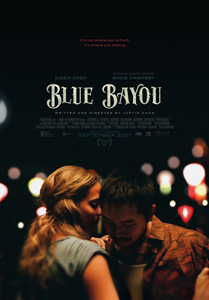 This was a masterpiece in film-making. This was a story or had a theme that needed to be told. It was a tear-jerker that poignantly and artistically dealt with the tragic life of an adoptee, who lived a suffering, tragic life only to find out that he'll be deported. And it all started from a scuffle with an inbred Anti-Immigrant officer.

This completes Justin Chon's color trilogy, and I believe this is his best work yet. Antonio's unfortunate life as an adoptee who was abused and unsupported most likely reflects life for many adoptees as well. Facing deportation due to a flaw or a loophole in a flawed immigration law (that should never had existed to begin with) is an issue that is still relevant today.

I loved how Justin Chon included the Vietnamese community as a backstory. When you're telling a story from the Asian-American experience, it's important to see things from multiple perspectives and reality. In this case, the commonality and common bond Antonio has or feels (although initially feeling foreign among them since he lived in America all his life) because he himself is Asian.

Congratulations to Justin Chon and the cast / crew for the powerful performances and directing. It makes my "Top Favorites" list. I'm looking out for his next film, based on musician / rapper Rich Brian I hear.
---
09/16/2021: "Blue Bayou" And "Snakehead" Are Next
"Blue Bayou" is releasing tomorrow - a Justin Chon film about deportation and the controversy over citizenship regarding adoptees. There have been some nice articles about this. "Snakehead" is another film to look out for, coming around mid-October. This one is about human smuggling mafia-style.

In the meantime, just lookin' to hear some news on a sequel to "Shang-Chi" and a possible F10, or The Final Fast?
---
09/08/2021: "Shang-Chi And The Legend Of The Ten Rings" ****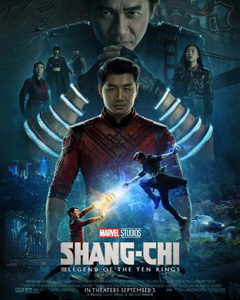 What a movie. It absolutely deserved and lived up to the great reviews, hype and attention. It's an MCU movie, except "Shang-Chi" is layered and detailed. Aesthetically beautiful, artistic / stylish and great fight choreography that kicks-ass and mesmerizes like a dance. "Poetry in motion" - like a musical piece or composition, which unfolds like a story or layered with different voices or melodies.

Every character gives a very realistic and nuanced performance (since most movies these days are filled with over-acting garbage). Tony Leung's Wenwu is one of the most talked about character - you don't know whether to sympathize or hate the "villain" or "father". It's probably both. That's what they mean by the term Multi-Dimensional, and "Shang-Chi" has characters that are just that. Simu Liu also gives a convincing and nuanced performance as "Shang-Chi" - you can tell he really worked out and practiced hard on those fight scenes. Nothing was over-acted, but felt real and genuine. And how about the comedy from Awkwafina? The theater was laughin'. Well, at least she can make a career change as an archer haha.

I enjoyed the final battle. As much as most would cringe at the amount of CGI, the CGI here at least looked breath-taking and well-made. MCU is known for over-abundance of CGI anyway.



This cracks my Top Ten favorites. It's a four-star out of four-star for me - also because it is the first Asian-led superhero movie. This is a monumental occasion. Definitely worth watching more than once - there is usually always something that you can miss or not notice the first time around. "Shang-Chi" is the newest and freshest superhero, and he has arrived! What a way to enter the MCU universe.
---
08/29/2021: "Ghost / Grotesque Mansion" ***1/2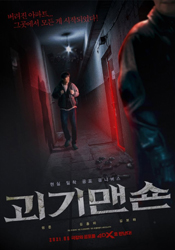 This is a legitimately scary and creepy horror K-Movie. Kudos to the production team and director - from sound, to the music, to the acting. Jump scares are very rare in the horror genre, but this film provides that. It's a horror anthology or an "omnibus". The story unfolds through the individual stories of five tenants of the cursed and evil Gwang-Lim Mansion. They are all connected through this Mansion. The mannequin in the "salesman" story or chapter is the most creepiest thing I've seen in awhile - more creepy than all the dolls from any horror movie so far.

All the individual stories or chapters were creepy in their own right - the shadow figure in the bathroom who keeps repeating "don't tell that I'm here", or the first story with the upside-down kids, to the student living with a grotesque "friend' or "fiend", that is. Of course, I don't go over the story or plot as that can be found out either by watching it, or reading about it elsewhere. I just give my thoughts here. Overall - a well-made horror film that actually scared me or had me completely immersed. Imagine if we watched it in complete darkness. We had lights on. Just watch it.


---
08/26/2021: "Snakehead" Poster Is Kick-Ass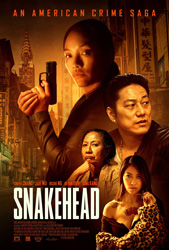 The official film trailer, and this new poster has got me hyped or excited to watch this film. The story and what the trailer has shown looks absolutely compelling.

Looking forward to the release date of October 29, 2021.
---
08/20/2021: Join The "Shang-Chi" Movement / Extravaganza
With "Shang-Chi And The Legend Of The Ten Rings" having its red carpet premiere recently, the countdown to its global release on September 3 is on. From the various trailers, clips and review I've seen / read, the hype is real. It's damn real. Simu Liu fits the character of Shang-Chi to the tee - I feel he resembles the character from the comics anyway. He has that sculpted, athletic body. Awkwafina appears to complement his character well, with the much needed humor or comedy. It's infused throughout the film. "Does he look like a guy who can fight?!" (during the bus scene) haha.

I'm closely following the countdown until release date. The problem of how "Foreign Asians" view "American Asians" or "Canadian Asians" (Simu Liu in this case) is not a concern at all to me, as I don't waste my time paying attention to their nonsense or prejudices. You have to realize that "Foreign Asians" have been enslaved or have been submissive to western culture for so long, they are pretty much stuck in their ways or cannot change. I've seen Korean actors / actresses or K-Pop artists (also some Chinese and Japanese as well) try so hard to look like white people, it's laughable. With that said, Simu Liu fits the character of Shang-Chi to the tee.


---
08/06/2021: More Beautiful Posters from "Shang-Chi And The Legend Of The Ten Rings"
---
07/29/2021: His Name Is Yen, Donnie Yen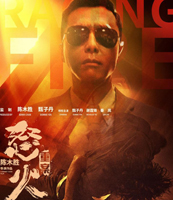 Donnie Yen's new film "Raging Fire" looks absolutely thrilling. For sure, action-packed. From Donnie Yen's Facebook, he has been advertising the film with behind-the-scenes action and lessons. Future action star wannabe's should take lessons from this guru. If these films were ever available on Netflix or other platforms, you better goddamn make sure they are Subbed. Subber 4 Life. Otherwise - fuck no.
---
07/14/2021: Fast 9: The Fast Saga ***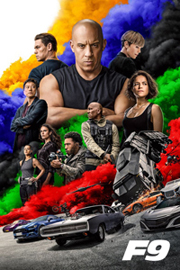 They definitely pushed it in terms of non-stop action, and this one tops them all. You can definitely expect action, action and over-the-top action. I was thoroughly entertained and had fun. The return of Han was especially what I looked forward to. Although I wished they showed scenes of how he escaped or delved deeper going into what he was doing during his absence, they explained it on the surface for the most part (introducing a new character). Also - time constraints. Any additional scenes would have been cut anyway due to length of the film.

Initially, I felt going into space was a bit silly. But this is the Fast Fam you are talking about, and anything is possible. They even make fun of their "invincibility" or why they survive situations "without a scratch". Take it for what it is - a movie. I also like to think that they are poking fun at the silly, inane shit that goes on in movies or "Rambo-type" action films as well.

I recommend staying around for the credits - there is a bonus scene. With that said, bring on F10!



---
MORE FILM REVIEWS...