Top Favorites **** : &nbsp 1. 2001: A Space Odyssey 2. The Shawshank Redemption 3. Jaws 4. Psycho ('60) 5. Amadeus 6. Better Luck Tomorrow 7. Shang-Chi And The Legend Of The Ten Rings 8. Harold & Kumar Go To White Castle 9. Everything Everywhere All At Once 10. Searching 11. Justin Chon's Blue Bayou 12. Always Be My Maybe (2019 - A.Wong / R.Park dir. N.Khan) 13. Ping Pong Playa
Other Favorites ***: &nbsp Love Hard (w/ Jimmy O. Yang), Ghost / Grotesque Mansion (K-Movie 2021), Fast 9, Wish Dragon, Tran Quoc Bao's The Paper Tigers, Stowaway, Evan Jackson Leong's "Snakehead", Lee Isaac Chung's "Minari", Tigertail, Over The Moon, WF Productions' Everything Before Us, Bong Joon Ho's "Parasite", Evan Jackson Leong's Linsanity (The Documentary), Mayhem, Lee Chang Dong's "Burning", Justin Chon's 'Gook', 'Ms. Purple', Surrogate Valentine, Daylight Savings, Hang Loose, K-Town Cowboys, Harold & Kumar Escape From Guantanamo Bay, A Very Harold & Kumar Christmas, Finishing The Game, Jet Li's Fearless, The Year Of The Yao, To Be Takei, Katsuhiro Otomo's Akira (The Original Anime), Katsuhiro Otomo's Memories, Katsuhiro Otomo's Metropolis, Hayao Miyazaki's Spirited Away, Hayao Miyazaki's My Neighbor Totoro, Miyazaki's Nausicaa in the Valley Of The Wind, Pixar's Up, Toy Story, Office Space, Beavis & Butt-Head Do America, Idiocracy, The Ringer, Jackass 3, Bill & Ted's Excellent Adventure, Shine, The Goonies, The Karate Kid ('84) / Part II ('86), Forrest Gump, Dead Poet's Society, Rocky, One Hour Photo, Poltergeist ('82), John Carpenter's The Thing, John Carpenter's Halloween, Saw, 1408, Pet Sematary ('89), The Amityville Horror ('79), Star Trek II: The Wrath Of Khan, Star Trek IV: The Voyage Home, Star Trek VI: The Undiscovered Country, Star Trek, Star Trek Beyond, Back To The Future Trilogy, The Breakfast Club, First Blood, Lord Of The Rings Trilogy, Cool Runnings, Field Of Dreams, Ferris Bueller's Day Off, The School Of Rock, The Hustler, The Color Of Money, Fear & Loathing In Las Vegas, Willy Wonka and The Chocolate Factory, Rain Man, Fast Five, The Fast and the Furious: Tokyo Drift, Fast & Furious 6, Best of the Best, The Matrix/The Matrix Reloaded/The Matrix Revolutions, The Terminator, Alien, Aliens, Casino, The Godfather Trilogy, Pee Wee's Big Adventure, The Maze Runner Trilogy, Escape From Alcatraz, Fast Times, Die Hard, Die Hard With A Vengeance, Ghostbusters ('84), Monster House, Spaceballs, Employee Of The Month, The Usual Suspects, Wreck-It Ralph

REVIEWS AND THOUGHTS
07/18/2022: Everything Everywhere All At Once ****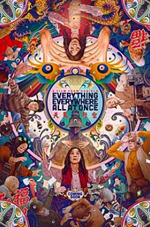 What a movie - a mind-bending, visually stylistic / fantastical journey in mulitverse personalities or characters. It was also funny. It's the concept of what would you be like if you had made different choices or decisions in life. And this manifests itself in multi-universes with your other lives. For Waymond and Evelyn Wang, we see quite different lives across how many goddamn realities / universes? And how cool it would be to access / download the skillsets from those alternate lives. This film had layers. But underneath it all, there was the mother-daughter main storyline in terms of their dysfunctional relationship. It all resolves itself by the end. But what a journey, what a trip. I would say it's like a modern day "2001: A Space Odyssey". But more like, A Multiversing Odyssey.

For me - what if I knew what I wanted to do, or had the confidence / swag early in my life, to pursue music? Right now, I feel as if I'm just now tapping into that passion (basically, I had "jumped" into the pianist mode).

Anyway, go watch it for sure. What a pleasure to see Ke Huy Quan return to the big screen, and to see him act with such nuance for every multiverse character he played without overdoing it. His expressions and sentiments expressed enough. Kudos. I think Michelle Yeoh is going to be nominated. I thought Jamie Lee Curtis was going to be the main villain in this one, but surprisingly - it turned out to be the possessed daughter. Nice to see Walk Of Famer James Hong as well.
---
06/08/2022: Watch John Cho in "Don't Make Me Go"
This is a must-see, eventually. I've been compiling a list of must-see films, but I have yet to rent or get to watching them. After watching the trailer - it appears heart-warming, funny, inspiring all at the same time about a father / daughter road trip. More details to be researched.

John Cho has yet to be recognized - he is only recognized for "Harold & Kumar" and "Star Trek". But other than typecast roles, Asian-American male actors practically never get recognized / nominated for anything. Despite a lot of award-caliber performances. Justin Chon should have received more recognition for "Blue Bayou". John Cho should have gotten more recognition for "Searching" and "Columbus". It's a life-long fight against the racist status quo to make Asian-American visibility / representation a permanent, consistent endeavor.





---
05/15/2022:
With Asian-American Heritage Month in full swing, I'm always on the look-out for any new projects or articles about Asian-Americans. Here is an article: https://collider.com/harold-and-kumar-trilogy-asian-male-representation-why-its-good/

I consider "Better Luck Tomorrow" and "Harold & Kumar" series the benchmarks for all Asian-American films. I'll always be forever grateful for the Big 3 (Hurwitz / Schlossberg / Heald) for making that film. And what stuck out (according to Jon and Hayden's interview with "Rise"), they were adamant about No Accents with the Asian-American leads (the Bobby Lee off-set incident was a tragedy, but John Cho came to the rescue. Although I would have more than just fired that trash guy - would've deported his ass). And they completely turn stereotypes upside down for once, and make fun of them in a way. Anyway - If you are a fan of "The Karate Kid" trilogy, go watch "Cobra Kai". Their type of humor is littered in the 4 seasons of it, and nostalgia up the wazoo.


---
05/11/2022: The Legend Of James Hong ("Hong-Sanity"): 600+ Film Credits And Counting
James Hong is perhaps the longest lasting, and longest working actor there is with over 600+ film credits (and still counting - with his latest being "Everything Everywhere All At Once"). It might be a stretch to compare it with the repertoire of Mozart's 600+ works, but that amount of films is still impressive (most of which I am not familiar with). Still - it is an achievement that is worth recognization or acknowledgement. So congratulations to the Walk Of Fame star - way overdue.

Interestingly, there is a John Carpenter connection between James Hong and Jamie Lee Curtis - both in major Carpenter films: "Big Trouble" and "Halloween" respectively. And now they are both in the new film "Everything Everywhere All At Once" - a must see starring Michelle Yeoh.


---
05/01/2022: Where To Look Out For / Watch Asian-American Films? Unfortunately - There Are None
Asian-American Heritage Month begins today, and it's the most important month for me. The question - where to look out for and watch Asian-American films? Unless there is a cable or broadcast channel dedicated to AA's, there are no worthwhile platforms. Netflix has very scant selections - I do not even consider some of the selections Asian-Americans. I'll give Netflix a pass since they have movies such as "Always Be My Maybe" and "Love Hard" (also with selections of K-Drama / Asian films - I would say Netflix encompasses the most diversity). Otherwise, where the hell are films like "Better Luck Tomorrow", "Ping Pong Playa"? (my Top Favorites of all). Other than Netflix, there are no platforms that is worthwhile (despite advertising Asian-American Heritage Month - the selections are usually non-existent or very slim-pickin's or not worth it). Amazon Prime? Well - at least they offer "Better Luck Tomorrow" for rent.

No - this isn't about films. Asian-American Heritage Month is showcased more through documentaries and programs (perhaps it's better this way - to continue to educate the public).

If you want to watch quality films with Asian-American casts, here's a fan link: https://letterboxd.com/sosreelthoughts/list/the-best-asian-american-films/


---
04/30/2022: Justin Lin's Fast Exit
I just found out Justin Lin stepped down. Then I'm done as well. The franchise has become a money-making machine, thanks in large part to Justin Lin - who turned the dying franchise into what it is (action-packed). Otherwise, it would have stopped at Tokyo Drift. I still find "Tokyo Drift" to be the best of them all - thanks also to Justin Lin's fight to challenge hollywood racism and stereotypes - to include Sung Kang's character more for one.

I feel for Sung Kang - I think he should drop out as well (he might not have much of a role anyway). They have brought in more egos, and while minimizing characters such as Sung Kang's. It don't matter - I have no idea who these "egos" are. But I know they'll eventually wither away in irrelevancy.

Right now - I'm just looking forward to watching "Everything Everywhere All At Once" once it is rentable. I don't think I can go to theaters with a few months old newborn at this point.


---
04/11/2022:
I heard about the rave reviews for "Everything Everywhere All At Once". Multiverse stories are becoming commonplace these days. But this one is quite unique, different and exciting. And according to Ke, they used mostly practical effects. That is a hell yeah for me. I'm definitely looking forward to watching this when available. Here is the trailer:

---
02/20/2022: My 2022 Must-See List So Far
Planning to watch when time / budget permits:

1. The Humans
2. After Yang
3. Everything Everywhere All At Once
4. Fistful Of Vengeance
5. A Shot Through The Walls (where or if available / streamable)
6. Jackass 4-Ever (eventually)

That is all. *The list is subject for updates, pending on new films from John Cho and Simu Liu (if they release this year).

I am curious on what the status of Fast 10 is. Justin Lin has not updated his social media at all. And Sung Kang is busy on his car projects.


---
02/01/2022:
I just found out about "The Humans". I haven't heard any updates on Steven Yeun recently, but he is part of this ensemble or cast of a noteworthy, down-to-earth film. The trailer looks promising, and can't wait until it is available on VOD. Hopefully, soon.

I enjoyed Kogonada's "Columbus" immensely - it was artistic and stylish. Thus, "After Yang" might be worth checking out.


---
01/30/2022: Jackass 4-Ever - Bringing The Jackassery To The Rumble
Next thing you know, Knoxville is going to headline Wrestlemania hahaha. I don't know which is more embarrassing - having David Arquette win the WCW championship back in the day, or Johnny Knoxville using his 'technical wrestling skills' to throw wrestlers over the rope to eliminate them haha. That's exactly right - that's all you need to do. Throw them over the top of the ring ropes. No further skills required. Hahaha.

With that said, Jackass Forever is coming this Friday with new members to pass the torch to. Although I highly doubt they have the same pain tolerance threshhold as the OGs.


---
01/26/2022: At Sundance: "Free Chol Soo Lee"
This is a must-see for sure. I hope it'll be available on-demand again, or at some point for an extended period. The Asian-American movement really began here (followed by the Vincent Chin tragedy), but it never really got any coverage or attention. It was the sign of the times, where Anti-Asian racism / discrimination was more prevalent and tolerated. In fact, fuckin' hollywood tends to "steal" and "white-wash" Asian-American stories like this. It's a damn shame (A Low Down Dirty Shame if you want to get extreme or corny haha) and tragedy.

I'm glad there are discussions out there with the filmmakers and producers of "Free Chol Soo Lee". The main point - Asian American history need to be taught in schools throughout (IL and NJ got the head start). The bottom line unfortunately - it's going to be a very long wait or process. This is only the beginning. We're only going to get louder and prouder.
---
11/09/2021: "Love Hard" ***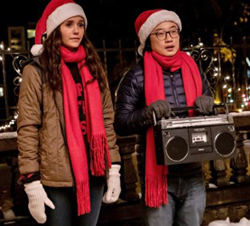 Moral of the story (other than don't try to catfish for dates haha) - just be honest and be yourself (or don't hide behind a fake profile / identity). Back in the day, perhaps it was necessary to get replies or responses on dating apps since going after "looks" was the thing. But it's kind of heartening to know that things have been changing a bit these days.

Jimmy O. Yang is Josh Lin - kind of a nerdy, average-looking Asian dude with average height / wears glasses. The usual Asian spiel / stereotype. But he possesses everything else - great personality with wit to spare, funny, caring and ambitious / talented. It's no surprise then, that the premise of the story is that he hides behind a fake profile to get replies. When the two meet up - all hell breaks loose in hilarity. Josh ends up trying to hook up Natalie with Tag in a ruse, but pretending to be a couple since they gave that vibe with Josh's family. One of my favorite scene was the caroling - did they lip sync that, or was that their actual voices? haha.


"Love Hard" was a light-hearted, funny Christmas Rom-Com. I believe the title is a play on the title "Die Hard", which is the main character's choice for "Best Christmas Movie Ever" haha. I beg to differ - it's either "Home Alone" or "Jingle All The Way" for the funnies. Kiddings aside, "Love Hard" is a must-see.
---
MORE FILM REVIEWS...
MULTIMEDIA / FILM TRAILERS OF THE DAY &nbsp&nbsp&nbsp &nbsp&nbsp&nbsp&nbsp&nbsp&nbsp Click for Archived Film Trailers / Videos


| | |
| --- | --- |
| DON'T MAKE ME GO TRAILER | |
| EVERYTHING EVERYWHERE ALL AT ONCE TRAILER | THE HUMANS TRAILER |
| AFTER YANG TRAILER | A SHOT THROUGH THE WALLS TRAILER |