HOME PAGE
CLASSICAL PIANO/REPERTOIRE: Recordings
THOUGHTS OF A CLASSICAL PIANIST: My Classical Piano Blog
MY ULTIMATE / NEW PLAYLIST
Archived Entries:
2020
JANUARY-DECEMBER 2020
2019
JANUARY-DECEMBER 2019
2018
JANUARY-DECEMBER 2018
2017
JANUARY-DECEMBER 2017
2016
JANUARY-DECEMBER 2016
Reflections And Thoughts....The JYS Blog


Friday, July 23, 2021

Here's to a quick and healthy recovery for Aaron Takahashi's adorable baby. I'm sure the couple would want to look at things optimistically than feeling pity.

Speaking of cute or adorable - Lang Lang Foundation's Little Pianists series. At their age - they have "future performers" and potential written all over them. The astounding flexibility and dexterity of their little fingers or hands - I had trouble negotiating passages or phrases in a Minuet or any scale exercises when I first learned as a teenager.

New Rich Brian beat / collab. "Edamame" flows like no other. Just flows. Dayum, son haha.


---
Thursday, July 22, 2021

This is from Yul Moldauer's twitter. It's a "Name That Band" for their Tokyo Olympics gymnastics team (for fun). I'm calling them, "Too Legit To Quit" haha. There are just too many lame-ass names, so this one just sounds catchy or they just look like they have that vibe heh (other than the Hammer beat):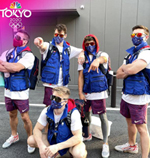 I just went through Chopin's Etudes the other day - almost all of them. I was rusty for sure, and of course - played them slow. More thoughts on my Classical Piano blog at another time.

Evan Jackson Leong's "Snakehead" is around the corner - go watch it. I'll wait for it on VOD.


---
Wednesday, July 21, 2021

Is Jasmine Flower a piece composed by Maestro Lang Lang? I thought I heard it somewhere before, or probably another piece.

Congratulations to Joe Jitsukawa for his new GF reveal and adventures. What crazy antics or adventures are they are going to go on next.

Is "Shakey Shivers" a new Sung Kang project? This is the first I've heard of it - not since "Party Boat" (in terms of project secrecy) haha.

Send me videos or complaints about biased or racist / discriminating officiating or reffing (some of these "umps" should just go "hump" each other heh), and these mofos or muthafuckas would be suspended automatically if I were in charge. Apparently, it exists in all sports and Shohei Ohtani is the most recent victim. I heard he still took the blame however - real leader and talent right there.


---
Monday, July 19, 2021

Congratulations to Collin Morikawa for winning the Open. He joins the elite club of the under-25 years of age of winning some Majors I hear. I might have to create a Morikawa-Sanity page haha. Shohei Ohtani, Collin Morikawa and Yul Moldauer - Collin and Yul are Asian-American athletes headed to the Tokyo Olympics. Woot and booyah! Now we need more recognition for Asian-American actors. I'm hoping Justin Chon's "Blue Bayou" can be another stepping stone in that direction.

Yesterday was National Ice Cream Day? That's an actually useful, important holiday. For once. National Piano Day. National Donut Day. I should make up some of my own.

If you are at a Costco sample station and appear more fixated / mesmerized or in a trance for the food instead of the baby. Things that make you go WTF Hahaha. Gives the expression, "Welcome to Costco. I love you" a whole new meaning haha.


---
Saturday, July 17, 2021

Soothing acoustic music, lyrics that speak of the simple things or observational things in life. Tomo Nakayama is such singer, songwriter and guitarist / musician. I have to add his new songs to my playlist.

I think the Bobby Lee Freakout podcast with Choe is going to become my most listened to podcast. Ever. Hahaha. Other than Bobby looking like a hobbit (aren't they fat as well), who can't get enough of his Sack Attack stories, while eating other's french fries, etc. Hahaha.


---
Friday, July 16, 2021

I just heard about US Gymnast Yul Moldauer, and he's Tokyo Olympics bound. Congratulations to Yul. It's imperative now to protect, support and speak up for Asian / Asian-American athletes. It was terrible enough that Jeremy Lin was kicked out of that league (if you can call it even that - Pro Wrestling has more class). The recent rant against Shohei Ohtani was also a testament how racism against Asians is alive and well - Asians / Asian-Amercian athletes and actors are not allowed to shine. The second they become popular and their exceptional talent is shown, discrimination happens. A big Fuck You to the status quo.

Oh yeah - look out for Justin Chon's "Blue Bayou".


---
Thursday, July 15, 2021

There are a lot of hilarious skits and parodies from Tim Chantarangsu that I haven't watched or found yet - the "Family Feud" parody was hilarious, and just found it. Like music, there are hidden gems buried underneath the tons of videos uploaded. Forunately, there are playlists for shortcuts. My favorite - the "Rush Hour" parody.

K. 332 and K. 284 are emerging as my top two favorites as far as Piano Sonatas go - my body just reacts to the music. Body movement when performing or playing is part of the enjoyment. It might appear extraneous or unnecessary, but you can tell a pianist or a performer is into the music just by it. K. 284 is the final Piano Sonata recording (still thinking about K. 311 - which would be the absolute). The final variation (No. 12) of K. 284 third movement was a doozy, as brief as it was. My pinkie finger is short, and I only have an average reach. It took more energy than what would be usual to casually make the jumps in the left hand. Fortunately, the notes were played staccato.


---
Wednesday, July 14, 2021

The official trailer for Justin Chon's "Blue Bayou" is out. I cannot wait - September 17. Most likely in only select theaters, so when it is released on VOD.

The VGP is apparently focusing on PianoChess. I would watch the Twitch streams, but chess is something I do not have interest in (I'm also terrible at it). It's a strategic game that is associated with the intellectual for sure. I just have too much ADHD / impatience I guess to follow chess (I get fidgety or bored easily), or what you call a "relaxed brain" haha.


---
Monday, July 12, 2021

There are quite a few new projects that Sung Kang has been involved in - stuff that I am not aware of, nor know about. He does not talk about it, or does not post them in his social media. It's usually about his passion project of building cars, cars, and more cars haha. Hence - Sung's Garage. But I'll find out eventually from articles or other Asian-American personalities. So far, F9 is his biggest project - which has shattered box office records. And one he has been posting or speaking about. I am going to keep a look-out for his future projects for sure. "Snakehead" is the next film to watch, if available on VOD.

I would select pieces that moves or inspires me the most. Most pianists or competitors would try to out-do others by selecting very grandiose, or more technically difficult pieces than others. Well - if they inspire you, so be it. For me - Liszt's Un Sospiro would certainly be one of them.


---
Sunday, July 11, 2021

It's been awhile since Ed Park returned to the podcast - what a relevant topic. My thoughts or tidbits:

It's maddening to hear that Asian-Americans are not standing up to the attackers, racists (Go have listen to CM as guest). But I'm not so sure if it's because they do not care or are apathetic. It might be more because a lot do not have the confidence or attitude to. Which is why we get taken advantage of. Also - if you cannot assess a situation or a racist person well, it might be more dangerous to try to get physically involved (unless you are calm and confident in your abilities). There are "How To Get Involved Peacefully" instructions on various Asian-American sites without getting into a scuffle. Self-defense is more important now than ever.
I like that definition of "Forgiveness". Just leave them alone - do not give a rat's ass about their existence, but do not waste your energy or time in getting "revenge" as well. If they are happy and successful, good for them. But just focus on your own happiness and success. If you are more happy and successful than them, then even better.
A lot of terrible, miserable / racist people everywhere in all industries (a lot in the entertainment / film industry) - just let time pass, and wait for their expiration. But keep fighting the fight, and speaking up / out.
I feel Simu Liu should have definitely spoken up more - I cannot believe there were controversies behind-the-scenes in regards to racist script or writing. It always happens to the Asian-American / Asian male. I might not even bother watching "Kim's Convenience" afterall. But still - it still showcased an Asian family.

Next Page

---