Ricky Berwick Fan Page - Main


ARCHIVED ENTRIES


11/21/21:

Fiona would approve of Ricky Berwick's "Shrek" collection, especially the Game Boy Advance. What a game.

Fiona would also advise you to stick with dancin' instead of singin', if the Cup Challenge is any indication haha. Boogie down, Ricky. Boogie down haha.

11/19/21: Doesn't Work For Ricky's "Humps"

Never trust them instructional spine videos. Instead - Ricky Berwick perhaps needs the "My Humps" dance therapy from the "My Humps" Fat Guy hahaha.

11/13/21: Ricky Berwick - The New Graphics Designer Guy

You can always count on Ricky Berwick for awesome special effects, a lovely singing voice for "Shrek" movies (well, would you rather hire Bobby Lee? haha), and now Graphic Designs for Spider-Man movies haha. The CGI / FX Guy, and now the Graphics Designer Guy / Guru haha.

11/12/21: The Linux Guy Nearly Shows Off His "Ass"-ets haha

Well, almost. Hey, Linux Guy - perhaps you should worry more about showing your asscrack or ass blubber than trying to choke Ricky Berwick hahaha.

11/07/21: The More You Know

The More You Know. Ricky Berwick is a cripple. There is a thing called a crosswalk. Ricky Berwick should never try crossing a street. The More You Know. Hahaha.

11/06/21: Holy Spider-TV, Batman! It's "So Much Spider-Man, Part 2" haha

Too Much Spider-Man again, huh Ricky? hahaha. Spidey-Hands remote with a Spidey-TV. Let's go back to Toys R' Us fo' mo'!

10/17/21:

Well, Berwick 3:17 says - "I'll Kick Yer Ass If You Don't Like My Humor" hahaha

10/16/21:

I would actually pay to watch a "Spider-Man" or a "Spider-Rat" movie with Ricky Berwick as The Cripp Dock. Or Doctor Crippled. Hahahah.

10/14/21:

Just call Ricky Berwick "The CGI Guru" Guy hahaha. If there is a new F/X movie, hire this guy! F/X 3: The CGI Guru Guy.

09/30/21:

Gotta love Ricky Berwick's eating technique hahaha:



09/29/21:

A beached whale sighting at a McDonald's hahaha. Going into labor no less. I'm never going to eat at McDonald's ever again hahaha. It appears that Ricky Berwick looks more busy trying to figure out what value meal is worth getting haha.

09/27/21:

Congrats on meeting "the one" haha. Don't let the HFC find out however - she'll probably try to sit on your match hahaha.

09/26/21:

Dammit, Ricky - give this guy a place on the wall haha. I mean, look at him. Look at him haha. He already makes a fine Mario.




09/25/21: The New Ricky Bor-wick

Are these guys the same guys?? hahaha. Either way, Ricky's people. Hahahaha.

09/22/21:

First, it was Sony's RetardStation. Now, it's Autistic Child Area. Goddammit - Ricky Berwick was just trying to enjoy nature hahaha. Sheeit - society has it out for Ricky Berwick or the crippled-kind apparently haha.

09/11/21: Get Yer New Ricky Berwick Merch!

Gotta get these: The "Ricky Berwick Face Mask" and "Cookie Out Of My Asscrack" Mug hahaha: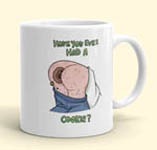 09/10/21: Amazon Employee Ricky Berwick Gets Called Out By Jeffy haha

"Get yer Cripple-Ass back to work!!!" hahaha. It's common knowledge by now (or should be) that Amazon employs slave labor in their facilities.

08/30/21: The New Face For Meta PC! hahaha

Check out this billboard - it appears that Ricky Berwick is the official face for Meta PC haha: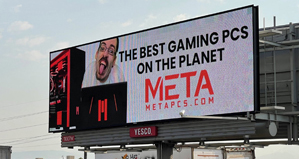 08/13/21: Ricky Berwick Found A GF!

Congratulations! This would make the HFC quite jealous I suspect, but then again - you would need to be the "right weight" actually hahaha.

08/12/21: Sorry, Ricky - We Choo-Choo-Choose The Cookie Instead hahaha

Cookies are much more yummy.

08/10/21: A New Kind of Avenger

What the hell is it, Batman?! Whatever it is, Ricky Berwick would make one helluva Avenger hahaha.

Anyone who does not like Ricky Berwick's type of humor can just disappear. Some can be overtly weird and edgy, but they are usually always innocent. There are just too much blandness and too many mediocrities out there in society and in the world - not worth paying attention to their existence. But Ricky Berwick relishes any attention that he gets because he has become popular - always with a witty, sarcastic retort (as a way of saying thank you for watching his stuff).

08/05/21:

Keemstar look-a-like: "What The Fuck??" Ricky Berwick: Ka-boom! hahaha. That's what I call, "Livin' In the Fridge" (new parody) haha:

"There's something weird in the fridge today, I don't know what is. Food I can't recognize. My roommate won't throw a thing away, I guess it's probably his. It looks like it's alive. Yow! Ricky is Livin' in the Fridge! You can't stop the mold from growin', can't tell what it is at all, you can't stop the mold from growin'

There's something gross in the fridge today, it's green and growing hair. It's been there since July. If you can name the object, in that baggy over there, then mister you're a better man than I. Yow! Ricky is Livin' in the Fridge..." - Weird Al lyrics

08/01/21:

Nice, Ricky - makes the "Fat Guy Destroys Xbox" or "They Keep Calling Me Fat on Xbox" Guy look or sound tame haha. Similar rhythm or "beat" to it.

07/24/21: This Is Art

It sure is - a nice cartoon or caricature of Ricky Berwick. Make it into a collectable card, and it can be passed off as a new Garbage Pail Kid haha. The Garbage Pail Kids - what would be the nickname? "Droolin' Berwick" or so haha.

07/19/21:

If I suffer from some ADHD or a "relaxed brain", am I included in this? hahaha





07/12/21: Introducing The New Fast Fam - Ricky Berwick

The only guy to ever beat Dom Toretto in a street race haha: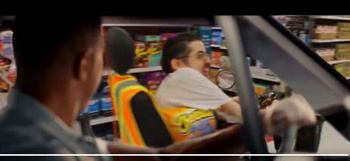 07/09/21: C'mon, Fight! All Bets are on Ricky Berwick haha

The ultimate UFC fighter Ricky Berwick. Let's get it on!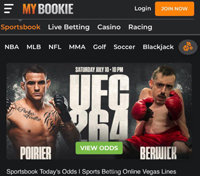 07/02/21: The Real Four Horsemen indeed

Jim Henson (some odd muppet fetish), Fred Rogers (child molester similar to Michael Jackson they say however haha), Bob Ross (diddo except with happy little trees haha), and Ricky Berwick!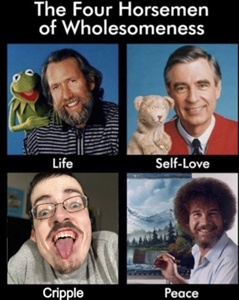 06/30/21: "You are a goddamn toy!"

Listen to Ricky, Buzz. He knows, since he used to work at Al's Toy Barn hahaha.

06/26/21: That's a perfectly good use of water

Dammit, Ricky. That was a perfectly good use of water - only if the top was a see-through haha. Besides, I heard Akeem from Zamunda already provided a lot of water to them haha. Contributions from opening up McDowells all over.

06/15/21: As they say - "...unless you got buns, hun!" hahah

...unless you got "juicy" buns, hun!

06/14/21:

Apparently, it would be pretty damn easy to shove Ricky Berwick's hand up yer ass haha.

06/12/21: Ratatouille ooh lah lah haha

I did not know Ricky Berwick was French haha - heee heee heeee hoooogh hoooogh hooogh (*very nasally). Egh - never liked Ratatouille.

06/09/21: Apparently, 'Spider-Man' Can't Stop Shit haha

Well, at least we know who auditioned for "Spider-Man 2" haha.

And we have a Steve-O look-a-like haha: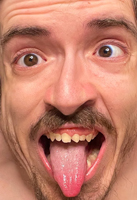 06/04/21: Can You Hear Ricky Now? or more like, Can You See Ricky Now? haha

It looks like Ricky Berwick traveled back in time to the flip phone era - all that shaky, 10 FPS goodness haha. Damn - a new Blair Witch Project in the works? Damn - a "defect" hahaha.

05/31/21: Crips Ahoy!

Ooh, cookies! By the way - chewy or crunchy? haha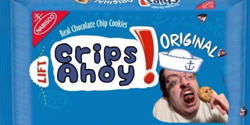 05/29/21:

No need to apologize, Ricky - after all, she's fat. Very fat. hahahah.
Besides - it's not a wheelchair, it's a scooter. You're unique. We're all unique.

05/27/21:

Nice, Ricky! You almost completed a full measure of "The Simpsons" intro theme haha. Ricky Berwick is more music literate than most folks these days hahaha.

Who misses DramaAlert, or the Keem vs. Ricky Berwick feud (or should I say the gnome vs hunchback feud) haha.

05/26/21: The Magic of Ricky Berwick - Eating Cookies haha

You can call Ricky Berwick the "maestro" of eating cookies - he leaves no crumbs uneaten, no cookies unfinished. Makes the cookie monster jelly as fuck haha.

05/22/21:

Wow, Ricky! You are actually skinny? All this time I thought you were Fat! hahaha. At least you're not fat - you can still 'play with your duck' that is haha.

05/20/21:

Cripp-Daddy is gettin' his Crip-Mobile apparently haha. Jelly much Ricky?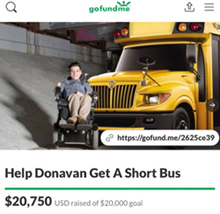 05/17/21: Join The Deformed Portal Now!

Join Ricky Berwick's discord - httpss://discord.com/invite/rickyberwick

Ricky Berwick's growing online army for a 2024 run.

05/16/21: Old Granny Does Not Choo-Choo-Choose Ricky Berwick haha

But c'mon Ricky - stop tryin' to fuck old bitches haha. I reckon she fucked Biden however hahaha.

Some of us know the feeling of being a Ralph Wiggum.

05/14/21: "Fat" Chance at a date haha

Well, at least the HFC would be ecstatic hahaha. It's fine, it happened to some of us too.









04/25/21: Happy Birthday, Cripple! / How to shut Shrek up

Shut yer ass up, boy! That's the way to handle Shrek haha. Goddamn primal screams.

That's fine, Ricky - we'll never mention "Happy Birthday" again. But apparently, there's the blue rat who is conveniently there to convey a "Cripple" reminder as well haha.

04/18/21:

Thanks for the lessons, Ricky! hahaha. I'm sure J.S. Bach, W.A. Mozart and L. v. Beethoven would be just - astounded and mesmerized.

04/09/21: It's a Poltergeist!

Damn, Ricky - that's some scary shit. It looks like they're filming a new Poltergeist movie, or there is actually a poltergeist in your place haha.

03/31/21: She Mad! hahaha

That was one of the funniest things I ever saw. And lady - we also fart a lot hahaha.

We "disproportionate" folks do burp, spit and fart a lot. Proud of it.

03/30/21:

Spider-Man might say otherwise, but damn Ricky - we thought we came to an agreement. No fat bitches. I think Homer Simpson would agree hahaha.

03/26/21:

Who else enjoys watching Ricky Berwick eat a whole bag of mini cookies, or would much prefer Ricky shoving cookies up his ass crack haha. A future Ricky-cado Avocado? haha.

03/25/21: And There Ya Go

Expert Ricky Berwick can conveniently and easily explain how to best store your game controller - it isn't, or shouldn't be that complicated! hahaha

03/24/21: Cornholio is back! haha

Boo needs TP for His Bunghole - Bungholio! hahaha

03/20/21: Will The Real Artist Please Stand Up?

I have to admit - this piece of Picasso-like art is an art museum worthy piece. We all are curious who the artist is: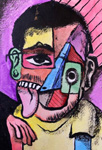 03/14/21: Laser Man - The Hero We All Need haha

Move over Spider-Man, Bat-Man and even you Handi-Man haha - there is Laser Man! Ricky Berwick might just be your ordinary cripple by day, but becomes a hero that everyone needs as "Laser Man"!

He'll pop all you racists, maggots and bigots like a balloon.

03/12/21:

Well, your hump looks like "something" hahaha. You can also ask the "My Humps" fat guy for advice.

03/09/21:

Ricky - you're too fat and you need to lose weight. There I said it hahaha.

03/06/21:

Damn - I was about to favorite the "Fortnite Butt" video (catchy theme song haha), but f'n Youtube did it again with their non-sensical / hypocritical censorship.

02/25/21:

Cartoon Ricky might soon be on an unknown channel, but at least he'll be gettin' it on with Supergirl, Batgirl, Whatever-girl, etc. hahaha.

02/24/21:

We finally get to see Ricky Berwick's live audition for "Toy Story 2" to play the Chicken Guy - apparently, they hired a Fat Guy instead haha.

02/19/21:

We "retards" need to unite together - strength in numbers and support. Well, I might be in the "emotionally challenged" spectrum haha.

Fortunately, we have comedy, music and other genres as creative outlets.

02/13/21:

Never ask your roomie - or you'll get thrown like a rag doll (just ask Ricky Berwick haha). Looked like the "Married With Children" gag when a body is thrown, tossed haha.

And add the Tea Cup ride to the list of being too short. Right, Carlton? haha.

02/03/21:

Us retards, * a blank stare and a moment of silence* - uh, nevermind haha.

On a serious note - I'd buy it anyway but I'm on a budget unfortunately. Perhaps I can sneak an order or two without the missus knowing.

01/31/21: Gotta Catch 'em all, except for the cripple haha

Alert: Ricky Berwick is not a Pokemon haha. But catch the "Snorlax" instead - WoW Francis (or Minecraft Steve), and even the HFC hahaha.

01/29/21: Eat 'em up, Eat 'em up, Eat 'em up hahaha

Ever hear of the Ladies man? Ricky Berwick is the Reese's man haha. But wait - Reeses never sponsored Ricky Berwick haha. Sponsor Ricky! Because Ricky Berwick sure got dance moves.

01/28/21: The Ricky Bewrick Bop-It - A Novel Idea

We need one! Because you can Bop-it, twist it, pull it, flick it, etc. hahahaha.

01/26/21:

That's how it is with in-coming phone calls - uh huh, uh huh, uh huh, uh huh, uh huh, NOT INTERESTED hahaha.

I would have cut off or pulled my phone line / number completely (if not for emergencies and necessary calls related to expenses or such). Otherwise, who needs the aggravations, the interruptions. Not me for sure. Right? hahaha.

01/24/21:

Where is Ricky Berwick's Minecraft house? Perhaps he should ask Minecraft Steve about that hahaha. I hear he kept a stash of Feygo there.

01/22/21: The Hunchback of Notre Dame: Quasi-Berwick Returns

For a hump-ilicious good time hahaha.

01/19/21:

Everyone should get vaccinated with a Ricky Berwick needle (because he's a needle) haha - the ultimate in Covid protection.

01/16/21: Ricky Berwick, Our Messiah

I absolutely follow Ricky Berwick's "bible" haha.

Ricky Berwick's audition for "Rambo: First Blood Part II", before getting hit by an inflatable thingie and ruining it haha.

01/14/21:

Delivery Dance = Ricky Berwick Dance > Spidey Dance > Happy Dance (there's a mind-boggling formula for ya haha).

Grubhub sponsoring Ricky Berwick? If so, congrats again. I'm hungry now - give me mah food!

01/12/21: Nice Rims, Nice Voice haha

"The wheels on the cripple go round and round...." haha. Ricky Berwick reminds us that not only can he match up with any of the Fast & Furious racers, he also has a lovely singing voice. Multiple Grammy award winner for sure. If you are not convinced, just have a listen or rendition of his Aria as Fiona in that "Shrek" scene haha.

Package thief, and now there's a Scooter thief around haha.

01/08/21:

Ricky Berwick, the Package Thief - So we now know why it is necessary to have "Signature Required" for any deliveries hahah.

01/01/21:

Not all of Ricky Berwick's videos or skits on Twitter make it to Youtube. Here is a screenshot of one, called "My People!" (or Ricky Berwick's People haha).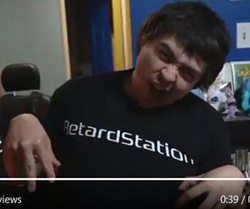 12/27/20: The Bop-It Wars Have Begun

Well - I think we all need a Ricky Berwick Bop-It toy at this point haha.

12/26/20: Fuck You, Youtube

They might have taken down or removed the "Carry Me to Bed" or "The Guy Grabbin' His Package" haha, but at least they can't take down pictures or images. Or pre-downloaded videos (Damn, I should have pre-downloaded with the addon):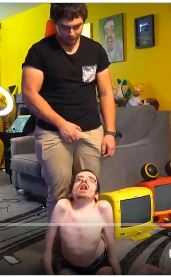 12/25/20:

Merry Christmas from Ricky Berwick and Stinky Blue Rat - oops, don't fall down the steps and into traffic Ricky haha.

12/22/20:

"Ricky Balboa" Pities Da Foo whoever hates on his RetardStation shirt haha.

Else, he'll be Comin' After You! haha.

12/21/20:

Hey Rudolph - you might not be fat, but you still have a big red nose hahaha. Apparently, it shoots laser beams at Ricky Berwick haha.

12/19/20: "Make Ricky Berwick Festive" contest

The Ricky Clause picture of him is a winner right there haha. or Ho-Ho-Ho! Where are Ricky's Ho's by the way? haha.

12/15/20:

Nuthin' like snacking on PB & J sandwich while watching porn hub haha.

Since there are too many hilarious Ricky Berwick youtube videos, I can no longer link each one above (otherwise, it'll fill up web page after web page quickly). Instead, I'll do a "Top Ten" favorites in no particular order.

12/11/20: My Job

Damn, Ricky - that's a one big, fat - uh, stuffed animal haha.

12/08/20: Tis The Season For Santa Ricky Berwick videos

The holiday season wouldn't be the holidays without a festive Ricky Berwick Christmas video - whether Ricky as an Elf, putting up his Christmas tree, or even riding Rudolph into the Sun!

Get yer Ho-Ho-Ho on with Santa Ricky Berwick - pimpin' reindeers ain't easy apparently haha.

11/26/20: Ricky Berwick "Thinks" He's Spider-Man haha

Apparently, he ain't no web slinger haha.

11/21/20: Ricky Berwick Bakes Cookies

Only two cookies?! Damn, Ricky - you sure can't bake cookies if it 'ain't' a batch haha. As far as the eating part, the HFC can help ya with that haha.

11/14/20:

What the hell?? PS5 just called Ricky Berwick a - you know the rest hahaha. What is hilarious is that dude's reaction on Ricky Berwick's twitter comment section - that's what I call laughin' yer ass off hahaha.

"Office Space" guy: Check it out, check it out, check it out - the "Laughin' His Ass Off Guy" (full laughin' clip on his social media):





Holy crap, I never had a laughing fit as I just did with this video and that reaction video hahaha. Sometimes, you can find yourself laughing through or with that reaction haha.

11/12/20:

Apparently, the blue mouse or rat is out-selling the Ricky Berwick puppet. Intrinsic value, or is it just because he's ugly and a cripple (well, at least you're not fat) haha.

11/03/20:

Look at that - the Ricky Berwick puppet is only $2.50 more than the blue mouse puppet. "Only" $2.50 more haha. I guess the blue mouse's stock is risin' to say the least.

11/02/20: That's A Lotta Goddamns!

Goddammit Apple! (Brought to you or sponsored by the Berwick Bunch '20).

I think Shady got the right idea with The Little Mermaid, or Fat Ursula, to be more specific. Hahaha.

10/30/20: Biker gangs better watch out: Ricky Berwick is the "One Man Gang" haha

You can't get any more cool than Ricky Berwick's suave scooter - beats a Harley any day haha. And whaddya know - he meets that bum again (he's not scratchin' his balls this time, but something else).

10/27/20: Another Game Delayed - "Aww Shiieeet, here we go again"

The worst place in the world might be Blizzard actually haha. I thought Blizzard had it bad - they are indefinitely delaying "Shadowlands", and they should get rid of the "Coming in 2020" if there are no immediate announcements. Well, Cyberpunk 2077 - you're about to eclipse WoW Shadowlands haha.

10/22/20:

Apparently, Ricky Berwick needed to 'verify' that he was "verified" on Twitter haha. Congrats!

10/16/20:

Yes, Ricky - you look like ET haha. But the trolls are wrong! ET never sticks out his tongue haha.

10/15/20: Become Butt Buddies with a Ricky Berwick Puppet!

What fan wouldn't want to become Butt Buddies with Ricky Berwick, by purchasing and sticking your hand up the Puppet's butt! hahaha.

10/12/20: Make America Funny Again - Let's Join The "Berwick Bunch '20"

You've heard of the Yang Gang, the bernie bros, or whatever. There are no viable candidates in this year's election - we should all opt to vote Ricky Berwick in!

The "Berwick Bunch" 4 Life - In Ricky Berwick We Trust haha.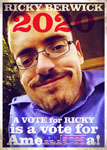 09/29/20: Youtube Fam Productions presents: The Berwicks! haha

"The Simpsons" intro we all wanted haha.

Was that Francis (aka the WoW angry fat guy) as the cashier? haha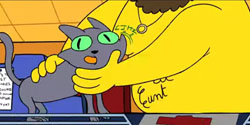 09/27/20:

Falling asleep to crappy movies just a few minutes in haha. Also, the drooling and snoring that follows.

09/25/20: Sorry, Shady - You're Too Fat for Treats haha

Can I Has some Ice Cream Cake, Ricky? hahaha.

09/22/20: Cripple Fresh is hella better than Funky Fresh haha

I gotta get me a Tongue Tee haha. That shit is fresh as fuck fo' sho'.


09/20/20:

Make way for Ricky Berwick, goin' down what looks like SF streets and knockin' around taxi cabs, parked cars, as if they were toy cars haha. That's gangsta as fuck, cripple style haha. "Aww, shiiiiet - here we go again".

Trump had no idea what he was doin' the entire time of his forgettable tenure haha. No idea of what you're doing - that's been a characteristic with a lot of industries in today's drab society. You know who else has no idea? Blizzard - although they announced SL release date, they still have no idea when the prepatch is (unless they'll just release it unannounced in early October).

09/17/20: Let's Make The Phrase "Build A Wall" Great Again! Hyuk, Hyuk

By the way, Trump - nice clip-on haha.

Sarcasm, mockery and humor has its advantages. What we really need is the Jericho-holic "Break The Walls Down" instead.

09/13/20: Ricky Choo-Choo is Back!

Hey Blizzard - if you are all out of new ideas for a mount or a toy, there is always the Ricky Berwick Choo-Choo! haha. All aboard the Ricky Berwick's HOOOOOOOOOOOO train. Pimpin' ain't easy fo' sho'.

08/28/20: Ricky Berwick Tees

Hell yeah - we need more Ricky Berwick T-shirts, decals, etc. haha.

08/22/20:

Ricky Berwick loves fries, drools and all haha. Burger King - Sponsor him dammit!

08/12/20:

The Fall Guys kind of look like them "Despicable Me" minions haha.

08/07/20:

Dahlia, Delilah, whatever haha. No one can compare to Ricky Berwick's "heavenly" singing haha.

Damn, Ricky - did the HFC sit on your scooter? I'm sure even scooters have their weight limits haha. hahahah.

GTS - Grand Theft Scooter. Enough said.

08/05/20: Do The Mario!

Remember them Saturday morning shows. Other than "Saved By The Bell", there was the "Super Mario Bros. Super Show" - quite tacky looking back on it haha.

Was that Captain Lou Albano as Mario? C'mon - swing your arms, from side-to-side, and join Ricky Berwick in "doing the Mario!" haha.

08/03/20:

A hard day's work for Pappa Ricky - where's my damn food, woman?! haha.

08/02/20:

Ricky Berwick's audition video as Doc Ock for "Spider-Man 2" haha.

08/01/20:

Congrats to Ricky Berwick on 2M subs! And his new endorsement from GamerSupps. I might want to try that energy drink out - get me some good head haha.

I didn't know trump was a southerner - hyuk, hyuk. And my, what small mouth he has too haha.

07/18/20: Drama Alert!

But who the hell is Twomad? Enough said haha. Two'mad' must be hella pissed, hella fuckin' pissed. Aw shiiiet - here we go again haha.

07/12/20: Call Shady "The Hungry Fat....Kitty?" haha

What a fattie indeed hahaha. Hahaha.

07/10/20:

Gotta love "The Mouse Song" haha. Sorry, mouse - we only sell Reeses here. Doesn't the sign clearly state that? I wonder who's actually the real cripple here in that case haha.

07/07/20:

Hey Guysh (and perhaps the HFC) - Ricky Berwick is allowing you to "play" with his "joystick" (pun intended) haha.

07/03/20: Street Fighter: Ricky Berwick Edition (The Most Authentic "Street Fighter" gaming experience you'll ever play...)

In this edition, here is one way to advance with Ricky Berwick as a playable character haha -

Preliminary Round:
Ricky Berwick vs. HFC / Winner: Ricky Berwick (KO via broccoli breath)
Ricky Berwick vs. E. Hyundai / Winner: Ricky Berwick (KO via flatulence)

Championship Round:
Ricky Berwick vs. blue mouse or rat / Winner: Ricky Berwick (KO via glasses)

06/27/20: Cancel Culture is necessary, unfortunately

Considering the amount of awful, shitty shows / films out there, cancel culture is necessary unfortunately. But there are times when your favorite shows or shows / programs that deserve another chance, do get cancelled. That's what I would call true "injustice".

You can take Ricky Berwick's word for it for sure haha.

06/21/20: "Look, Ma! Two Hands!"

A 'Special' way to drink water haha - that Trump guy never ceases to amaze anyone.

06/13/20: Scheming with Susan? haha

Sounds like a damn soap opera haha. Scheming with Susan to kick him out of the program - hell yeah. By the way, is that a drawing of Guy Fieri in the background? haha.

I think Susan could be the HFC in disguise.

06/11/20:

The "Eating Cookie Out Of My Ass" is a classic Ricky Berwick video. It's just as well that it's deleted, since it's age restricted and would've been flagged anyway. Nonetheless, it would have made my Top 5 all-time favorites playlist (if I were to create one, eventually).

06/10/20: Ricky's 'Special' Delivery from a 'Special' Store...

"Aw, shit....here we go again" - taking off with some video games GTA-style haha. 'Weak-Ass' and 'Special' haha.

Attention, Canadians - shop at retroreplay!

06/09/20: Skwewwy Wabbit...

Congrats, Ricky. You accomplished what Elmer Fudd couldn't haha.

Introducing Ricky Berwick as the newest employee at Acme Agency, Wabbit Hunter Division / Wabbit Removal Services.

06/01/20:

Damn, I wanna play all the Ricky Berwick-themed games out there haha. Thanks Koji!

Here was a general video game idea - as Ricky Berwick, you have to start eating up all the reeses and cheesies before the HFC does. You can use tomatoes and other veggies to throw at the HFC to prevent from reaching the stash of loose reeses, cheesies and other goodies. Use your flatulence as a deterrent against the HFC - but be weary or be warned of its own 'gaseous anomaly' haha.

05/31/20:

Talk about "Hump" - other than finding out how the Titanic really sank, I'm curious as to what the "My Humps" guy has been up to. He was on "My 600 lbs. Life" a few years ago haha.

05/29/20:

The ultimate form of bullying - having to eat an oreo cookie with ketchup on it - talk about completely disgusting and vomit-inducing. haha.

My 'God' - Ricky Berwick is actually bigger than 'Gojira' haha.

05/24/20:

No Tomato song, but Ricky's fine rendition for that Shrek scene is more than enough haha. If any future animated musicals (albeit a new Shrek sequel) need a new voice actor / singer, please call Ricky Berwick.

Damn, Ricky. I am so inspired now that you can hit that high note so well haha. Too many falsettos out there.

Ricky Berwick is one of the most (if not the most) prolific and hilarious content providers out there. I'll have to create a my Top 10 youtube playlist one of these days, since there are too many of them.

05/17/20:

Gotta love animated Ricky - "Cartoon" Ricky, "Mokey-ed" Ricky, and now "I Hate Raymond" Ricky haha.

Why the hell hasn't the video been uploaded yet for the Tomato song? I need to add it to my playlist as an mp3. Sing-a-long now:

"If you like to talk with Tomatoes
If a squash can make you smile,
If you like to walk with potatoes,
Up and down the produce aisle...."

Hahaha.

05/11/20:

Gotta love the Tomato song, but I still hate vegetables! Give a Grammy to Ricky Berwick haha.

05/10/20:

Let's make a Ricky Berwick video game! haha. I would prefer to go into the source code, and change shit up. For instance, I'd add in an img src with a picture of the HFC as one of the bosses haha.

Unfortunately, we need to have social media to enter. The gift card from that business isn't worth it - how about a free Xidax PC? I'll sign up right away.

04/25/20:

Damn, Ricky - I could've sworn that you were actually trump haha. Your face needs to be more orange, pucker up more, and keep reciting "I never understood wind" and "Kansas City is in Kansas!" mantra among other things haha.

Oh yeah - spot on drawl or voice parody - get this guy on SNL! haha.

04/24/20:

Who is this Pink Clit? I wouldn't be surprised if it was the HFC hahaha. Well, Ricky did mention that he liked her titties (or them balloons) haha.

04/22/20: Ricky, your logic is flawless haha

We agree with Ricky. Translation of what he's really trying to say - why the hell would anyone pay to sub? Fans are doing creators a favor by subbing in the first place - and they can make money off of subs / views. But really - $5 is not much at all *sarcasm haha.

04/17/20:

Ricky - the question isn't whether there is liquor in your cabinet, but how fine yer ass crack is hahaha.

04/14/20: Mamma Mia! "Thats-a spicy.." or uh,...looks like a heavy TV you got there haha

Nuthin' like playing Classic SMB on classic NES on the classic tube. Right, Mario-Ricky? haha.

04/12/20: Easter Humor is Hillbilly Humor

Mustard or Ketchup? Ahhhh...haw haw haw hyuk hyuk hyuk.

04/10/20:

Ricky Berwick kicked Iron Man's ass - now he needs to take on "wuhan Steve" haha.

I think Ricky was considered for "The Karate Kid, Part IV" for sure. Miyagi's long-lost pupil.

04/09/20:

Damn, Ricky - you're a meanie. Why can't we "has" a free PC? Pwease? haha.

04/08/20: "You're traveling into another dimension..."

More like 'traveling' (or squirming) on Ricky's floor haha.

03/30/20:

Don't you just hate OS / system updates? About as slow as a damn Patch download from Blizzard haha.

03/29/20:

You Simp, Soy Boy, Beta male, etc. haha. By the way, is that girl besides the soy boy fat?

03/28/20: The Son of Odin Blasting Off - "Spinnas Got Spinnas" I guess haha

He is...Ricky Berwick. Don't you wish you could just blast off with Ricky Berwick, and spin yer way off this hellish planet haha.

03/22/20:

Damn, Ricky - I never seen anyone eat Reeses like that before - sort of like a suction cup or a vacuum cleaner haha.

Baby Want Reeses!

03/15/20:

Stay safe, Ricky. Protect that tongue of yours heh.

03/13/20: Help Us, Ricky Berwick - Your Fart is our only hope.

Apparently, Ricky's flatulence is a sure-fire defense against Covid - not heh. I think we all could use a bit of humor during these dire times.

03/06/20: "Nipple Toothbrush" For A Nice, Nipple Massage haha

I think Colgate should re-brand their new 360 toothbrushes as a nipple massager instead haha.

So you don't like boobs, or did you actually mean....you don't like fat-asses? haha.

01/26/20:

If you ask anyone who they wanted to emulate or mimic when playing pick-up basketball, it was usually Kobe Bryant. It is a shocking loss, but we know his influence on the sport - he even inspired Ricky Berwick to play some ball - and he made one!

01/25/20: Gettin' The "Big Picture"...

Is the Kwik-E-Mart still around? But hell yeah - bring back Apu! (Nahasapeetapetalan or whatever heh). First, "Rick & Morty" and now "The Simpsons". They got to have Ricky Berwick as a guest character on an episode haha.

01/22/20: Take It From the "Obsolete Man"

Like most things in life in this changing era of digital information and technology we are living in, they are becoming obsolete (CD's, DVD's, old ways of thinking / doing things, etc.). If you can't keep up or accept it, then get out. Ricky Berwick aka the "Obsolete Man" has replaced the DVD logo as a reminder haha.

Ricky Berwick is becoming a philanthropist - first, a free computer giveway and now a student scholarship fund for creators. Kudos. Unfortunately, I'm not a student and most of us would prefer the Freedom Dividend instead. Affirmative Action is still a problem / issue anyway.

01/19/20: "Thank You For Shopping At Ebay - Your Package Is Damaged..." haha

Presenting you Ebay's official delivery service haha. Aside from the potential scams on Ebay, apparently this is another issue or problem to be aware of.

01/12/20: Xidax Free Giveaway - The Odds

If there are just 50K+ entrants on just the first day, imagine the amount of entries there might be after the 32 days are up. Almost like the Powerball lottery odds. Anyway, good luck to all haha!

With all this precipitation and impending snow, we need to call Ricky "Mr. Sunshine" Berwick heh. Fuck the teletubbies!

01/10/20: Xidax Free Giveaway

Good luck to all entrants! So do each visit or follow (I don't have social media however) count as an entry? heh. I hope so, otherwise there should've been a "you already entered" message. Either way, having a new sweet-ass gaming machine would be awesome - although my existing one is fine, an upgrade is always an upgrade.

01/02/20: Okie Dokie....Holy Mokey!

It's a Ricky Berwick cameo, so why not haha.

12/30/19: Fuck You Snoopy, Fuck You Grinch...haha

The holiday spirit is always with Ricky Berwick haha. But the holidays aren't over - what about them New Year's salutations?

WTF indeed. I thought Rigamorale had an interesting sense of humor - this Pelo guy goes beyond that - borderline twisted indeed haha. Too much for me.

12/29/19: Who The Hell Is Tucker Vasher?

Enough said. Or just a guy who called Ricky Berwick "Creepiest personality". Ricky has a disclaimer - "your not so normal entertainer". It's not everyone's type of humor - and it's all perspective. I don't see it as a "pity me" type of humor, but Ricky Berwick is embracing it and taking advantage of not taking himself too seriously. You have to be inspired or respect that. His popularity is well-deserved, and he is still very young.

I admit - I was in the beginning uncertain or weirded out. But then I realized - this was my type of humor to begin with. Still - not every video or content is going to be to my taste. Not everything is going to be anyway. In a society where discrimination, cruelty and hate is seemingly becoming the norm anyway, you have to have humor as an escapism since laughter is the best medicine.

12/28/19: Gettin' "Cheesy" with Cheese Balls

Cheese balls or Cheesies? If you have a huge-ass container of cheese balls (as opposed to just a bag of cheesies), I guess you can't go wrong with that haha. But don't get too fat.

12/27/19:

Fortnite sucks anyway. But Fortnite with a controller sucks even more - don't take the Arab Guy's word for it, or you'll piss him off haha.

12/22/19: As A CEO, Ricky Berwick sure is one, tough SOB haha

Damn, Ricky - go easy on yer employees, in particular the Wheelchair Guy haha.

12/21/19: Ricky Berwick Visits Xidax

Lots of Ricky shenanigans at the Xidax warehouse (coincidentally, I just returned from a trip). What more could we want, other than Ricky working his way up from being sponsored to becoming their new CEO haha.

To be continued...

12/11/19: Celebrity Profile Of The Week

Congrats, Ricky! You made it on Tosh.O haha. Between Tosh.O, Keemstar, and Kid Behind The Camera - this is what I call the ultimate drama alert haha.

Gotta love the Ricky Choo-Choo haha.

12/08/19: 2019 - Ricky's Space Odyssey To The Sun haha

Oh well, that was quite the odyssey there haha. As for me, no thanks - I hate heights.

11/27/19: The Duality Of Ricky Berwick (or Split Personality)

Apparently, Gamer Ricky can't coax Reeses Ricky into the sweet, new gaming machine by Xidax.

As for me - Nvidia gtx 1080 ti? I'm sold. Watch Porn in HD? I'm sold haha.

11/24/19: Early Season's Greetings from Ricky Berwick haha

Add Nintendo Direct to the list of companies that need to sponsor Ricky Berwick haha. And thats-a spicy....Mario!

11/22/19:

Just call Ricky Berwick "Gramps". "Life Alert" would do wonders to call the "Kid" out for a sponge bath haha.

11/20/19: "Like, Zoinks Man! Velma is a fuckin' ho and we exposed Macauley Culkin!"

Hahahaha.

11/13/19: Ricky Berwick Is Pissed...

"He's pissed, he's fuckin' pissed...and you know whaat??" haha. He's pissed off at you, he's pissed off at me, he's pissed off at Reeses for not sponsoring him, he's pissed off at the fat lady for being too fat....etc. hahaha.

11/10/19:

Ricky Berwick - "I must break you". New "Rocky" opponent for a new Rocky movie haha. I prefer the sock gloves - they pack a more potent punch - "C'mon son, hit me!" haha.

11/09/19:

What's more satisfying than watching Ricky Berwick eat cookies? Watching Ricky Berwick talk with his mouth full of cookies haha. Cookie Monster got nuthin' on Ricky Berwick! haha.

11/06/19:

'God Dammit', Ricky! Unfortunately, I am ineligible for Ricky Berwick's Youtooz giveaway since I don't have social media.

11/05/19: Video Game Music Is The Best, Part 2: Dancing To Xidax Jams

Xidax has to be a "must-get" gaming machine with all of Ricky's advertising. Not to mention the seizure-inducing jams haha.

11/04/19:

Don't we all miss the days of 8-bit gaming haha. Nowadays, programming a game like "Pong" is probably a homework assignment or an exercise in a programming class.

11/01/19:

That's one sweet-ass gaming machine, Ricky - pimped out Ricky Berwick-style haha.

10/31/19:

Since Reeses still hasn't sponsored Ricky Berwick yet, I only bought the classic shit - Snickers, Milky Way, Twix, etc. Of course, not going to eat everything as in the past.

If DXRacer can sponsor Ricky, then 'God Dammit' - so can Reeses! haha.

10/28/19: Drama Alert - Holy Mother Of All Internet Dramas, Batman!

It's "Stop Calling Me Fat" vs. "Stop Calling Me A Cripple". You can't get any more dramatic than that haha.

Whether it was for shits and giggles or fo' real, weren't we ALL fat once? hahaha.

10/27/19: Planting A 'God Damn' Tree...

I'm pretty sure they used a shovel off-camera haha (perhaps with the help of that girl who ran away). Anyway, do your part and plant some more trees!

10/12/19:

Apparently, Nintendo thought of Ricky Berwick when introducing "Freedom Finger" to their platform haha. How about a "Freedom Dildo" next?

Or this sequel - "Freddy Got Fingered 2: Ricky Fingers Freddy" haha. With all this fingering, most of us would prefer Chicken Fingers instead haha.

10/08/19: Call Him, The Ocarina Prodigy (But Still - Don't Call Him Fat) haha

Ricky Berwick is certainly giving Milt Ocarina a run for his money haha.

10/07/19: Ricky's ComicCon '19

I think the highlight of it was getting the "Rick & Morty" animation treatment from the artist himself! And the fans who make Cons for what it is.

What else? Apparently, he met Spider-Man (oh wait - I thought Ricky was Spider-Man haha), some Furries, and a Thor-Look-A-Like (or a "Dude Looks Like A Lady?") haha.

10/04/19: Ricky Berwick At The ComicCon!

I'm sure the locale is far superior than the other place. And them other booths do not deserve to be in the presence of hilarity and greatness haha.

10/03/19:

That's a nice rhythm you got there going - "You...Are...Not...Good...At...Your...Job". Kinda reminds of the angry fat guy destroying his Xbox -"Stupid...fucking...shit....etc....etc." "All They Ever Do Is Call Me Fat On This Fucking Thing!" haha.

10/01/19: Is Spider-Man Really Back?

Our favorite web-slinger is back! At least around the movie theater....haha.

09/25/19: For a Reeses, Ricky Berwick is the "Yes Ma'am" Kinda Guy...

However, better watch out for the "NO MA'AM" organization - still loud and proud heheh. Trade that clip-on for a monocle, and there you have the next Planters Peanuts spokesperson haha.

09/24/19: Forget About The Bat-Mobile, Ricky-Mobile Is In!

This would be a sweet ride for Ricky Berwick - just slap Ricky's logo on each of the car doors, and there ya go!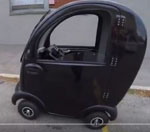 09/22/19: Apparently, Baby Don't Want Cookie

IF BABY DON'T WANT COOKIE, "CAN I 'HAS'"? HAHAHA.

However, not the recommended burping technique haha.

09/21/19: The Aftermath Of Area 51 Raid...

Ricky Berwick would have led us into glory storming Area 51 like no tomorrow haha. Regardless, Area 51 has been secured and the alien revealed. "Greetings,....Earthlings". Apparently, Quasimodo still lives!

Or "The Hunchback" movie we all deserve haha.

09/20/19: The Barefeet Guy Does Not Approve...

Did you know that lions can put a hurt on you? Take it from the primitive skills and minimalist guy - much safer to hunt for bugs instead and eat it with your cereal haha.

He likes that you're barefeet however.

09/19/19: Ricky "Loves It When A Plan Comes Together"...

Bring out the R-Team! It's time to raid Area 51 boyeeeee haha. The weebs got yer back..





09/15/19: Ricky's Couch Kissin' and Humpin' muhaha

It's ok, Ricky. That's how I used to jack off heheh.

09/13/19: Pimpin' Ain't Easy

Ricky doesn't need to be the Flash, he's got a sweet ride "Fully Loaded" (Reeses or other sweets don't count haha) that is going to storm Area 51!

09/08/19: What A Big-Ass Space Helmet haha. Or Is That The Stay-Puft Marshmellow Man?

Damn haha. Well, the "astronaut" is strangling Ricky Berwick. So, NASA must have faked the moon landing as well haha.

09/06/19: "When I Saw His Face, Now I'm A Believer..."

Whether it's God, the devil, Pikachu or a Mario (haha), Ricky Berwick made a believer out of me. Just remember to completely avoid the Flamingo, or you'll incur Ricky's "Fear & Loathing" haha.

09/01/19: Chewing gum all day long is a bad habit, but we know a worse one....haha

Damn, Ricky...haha. Picking your nose while your friend is in the hospital.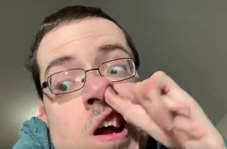 08/28/19: Can't log into WoW Classic?

Let's all blame Ion Hazzikostas and Brian Holinka muhaha.

Several shirts on my wish list - other than I Love Carbs, how about I "AM" Lazy? muhaha.

08/24/19:

Hey, Ricky - I think the feeling might be mutual muhaha: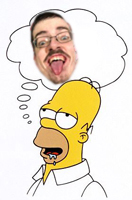 08/21/19: If anyone can, the Handi-Man can!

Wait, which one is the cripple - the one with glasses or the one without? muhaha.

08/11/19: Per Agreement - You Get The Toys, I Get The Food

Food > Toys. Enough said muhaha. But the real question should be - McDelivery, or "Mc"Drive-Thru? heh.

08/06/19: My Favorite Episode from "The Simpsons" Is When....

Homer Simpson gets a job as Mr. Plow? When Homer and Bart attend an Opera and whispers to Bart "...is that fat enough for ya, son?". Or when Homer and Bart go camping, and Homer gets all muddied up, being mistaken for a sasquatch?....

But no - it's when Ricky Berwick "D'OH's" the shit out of Homer Simpson muhaha.

08/04/19:

Even the homeless need some love - except for those kinds, they are creepy heheh. Well, Ricky isn't exactly "Dude Love" but one cool 'cat' nonetheless haha

If you were almighty, that woman should not have had the Cheesies in the first place haha.

08/02/19:

For the next Wrestlemania headliner, it's Ricky Berwick vs. the Bagel Boss muhaha. Watcha gonna do, Ricky Berwick, when the Bagel Boss man runs wild on you?! heh.

Ricky Berwick's version of Aladdin would absolutely be preferable than the usual crap out there heheh.

07/29/19: Where's Mah Woman?! Should be...."Where are my cheesies, Woman?!" muhaha

Nice callin' card, Ricky - tootin' them Nads heheh. Why not just scratch them balls just because.

07/13/19:

Fuck you, government! Ricky Berwick does not need to disguise himself as The Flash. He'll overtake Area 51 just as fast as The Flash can! muhaha. Right,...James?! haha.

07/09/19:

It's not "Scooby-Doo, Where Are You?", but more like - "Dammit, Shaggy - Where Are Scooby's Scooby Snacks?!". I think Shaggy ate them all...again muhaha.

07/07/19: Forget Infinity Wars, Crippled Wars is where it's at - "Disabled And Violent" muhaha

RYC vs. RB to the 'Tee'. Get yer favorite RB or RYC merch, linked below the "Video Of The Day".

07/04/19:

Damn, Ricky - even in Slo-Mo, you knocked the entire bottle instead haha. Son of a f'n bitch, what the mudda, gawdammit,....indeed haha.

07/01/19: GTFA From The THOTs haha

Ricky Berwick is usually a lady's man, but not when it comes to THOTs. It's not about hopping aboard the HO train, but getting the fuck away from them muhaha.

06/24/19: In Crippled News...

Ion Transit? Fortunately, we don't have to worry about it being named after Ion Hozzikostas muhaha (Blizzard's much-criticized game developer heh).

I do not know what the hell that guy was saying either. And fo' sho', Crippled News is better!

06/21/19:

I definitely would put my trust in Cripple News. Why? Because it is absolutely better (don't settle for the bullshit, fake shit or any kind of shit from the typical media). Put your trust in Ricky Berwick, your ass belongs to Ricky muhaha.

06/18/19: Presenting Your New Flute Player Extraordinaire...

Ladies and Gentlemen - Ricky Berwick is going to be your next Flute soloist in performing Mozart's Flute Concerto muhaha.

Not only is he a professional flutist, he happens to be a professional breather as well heheh.

06/10/19:

Move over Isaac Newton - it's Ricky Berwick who actually proved the existence of gravity - ya know, that invisible shit that pulls down stuff to the Earth. By the way, Ricky - are you going to eat that donut? muhaha.

It'd be awesome to see a compilation of Ricky's Cameo video messages - they're hilarious. Right,....Jim?! muhaha

06/08/19:

Run out of gift ideas? Then go to Ricky's Cameo and send a loved one or a friend a personalized greeting from Ricky Berwick himself! It'll be the best $15 you ever spent heh.

I think I'd rather vote for Ricky Berwick to be either the US or Canadian president (much more preferable and most likely more competent than the existing 'politicians' out there - I'm sure they've been getting a kick out of their job titles for far too long).

05/31/19: This World Doesn't Make Sense, A lot of Video Games Doesn't Make Sense...

But damn - palming that creepy baby doll muhaha. Personally, I'd use it for another "Baby Want Pizza" because "Baby Don't Want Awful Video Game" heh.

05/26/19:

Timbits, Munchkins, Donuts....they are all sugary deliciousness. The final timbit - must be Ricky Berwick's finest orgasm yet muhaha.

Once again, "Uh,huhuhuh....Timbits" -Homer Simpson salivating.

05/24/19:

Damn - did Spider-Man deliver a dry-ass Pizza this time? Shame on spidey muhaha.

05/17/19: Bart Simpson, I'm Your Worst Nightmare! (in the Rambo voice)

"Boogeyman" Ricky Berwick might be Bart Simpson's worst nightmare heheh, but Homer Simpson be like afterwards: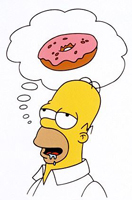 "Bart, there's a boogey.....Uh,huh,huh....Donuts" "Why you little...."!! heheh.

05/16/19: Eating 3 Bananas At Once: The Ultimate Reward!

Oh yeah, Ricky eating three bananas as a "triple reward". He should definitely make YouPorn's front page. Right,...Charles?! muhaha.

05/14/19:

Sorry, James Charles. Ricky's gotta eat his fries muhaha. By the way, who the hell is James Charles?! There's Ray Charles, Charles Lee Ray,......too many damn Charles heh.

05/12/19: Because it's the Cheesiest...

...and even cheesier with Ricky's saliva muhaha. Yes, we love Mac & Cheese!

05/06/19: Handi-Man move over...There's a new hero in town

And apparently, the nemesis is MTV (Musically-inept TV). If Handi-Man was the hero for the disabled back in the day (at least on "In Living Color"), make way for Ricky Berwick! muhaha.





05/03/19: Just call him....Ricky Kreuger heh

So this is what the new Freddy Kreuger "Nightmare" reboot looks like - very colorful indeed heheh.

05/01/19: Ricky The Hedgehog or Ricky-chu: Anything but the lame digital forms...

I dare say that a Ricky The Hedgehog or a Ricky-chu would be a better substitute for sure muhaha.

Both the digital forms for Sonic and Pikachu are damn awful, with Sonic being a tad worse. One thing is for sure, some things need to stay in traditional animation.

04/21/19:

Gawdammit, gawdammit! We missed Ricky showering....live stream?! heheh.

04/19/19: Fairy, or Talking Tina from the Twilight Zone?

Sounds a lot like that doll. "Hi, my name is Talking Tina. And you'll never walk again". You should have gladiator-kicked it off a balcony heheh.

If you made "a" High Tower from the "Police Academy" films I'd be impressed. I'm sure Sweetchuck would approve for sure heh.

04/15/19: Do Not Disturb - Game in Progress...Oh, It's already over heheh

In other words, get the fuck out of Ricky's arcade! muhaha. Why? Because he just ran into a Pac-Man ghost thingie already. Must be a world record heheh.

No thanks to the GOT hype as well. It's on a piece-of-shit channel anyway. Perhaps Cinemax would be more suitable. Oh, right - probably not. Only if they brought back their Adult programming, Ricky might sign up in a heartbeat heh.

04/14/19: A Dollar Regurgitated

Give Ricky a Math hat. Andrew Yang would be proud of his math heheh.

04/13/19: Aww, Shii-eeet! Big Smoke's Got Nuthin' On Ricky!

Two Number 9's, and a Number 9 large,....muhaha. Ricky Berwick ready to go gangsta up da shizzle, fo' sho' muhahaha.

04/07/19: Dreamcast or PS2?

The only console I ever played back in the day was NES. But if I had to pick, based on research, PS2 of course - that's what I call the "ultimate trip" heh. Not through the monolith (or star gate), but through Ricky's mouth heheh. Psychedelic indeed.

04/06/19: Baby Want Pizza? Baby Want....Ricky-Mamma!

Baby dolls can be damn creepy heh. And only available at your local Babies 'R Us near you. Well, this video rivals Andy Milonakis' "Baby Want Pizza" skit heh.

03/29/19:

We need to install "Ludicrous Speed" on Ricky's scooter - he'll become the Flash on wheels in no time! heheh.

03/25/19:

Cookie Monster ain't got nothin'...on....Ricky Berwick! muhaah

03/24/19:

You can't but help to enjoy that solo moment in Ricky' "Super Mario Acapella". It would have made Mozart proud heheh - he could be the new "Queen of the Night" for the "The Magic Flute" opera haha.

I heard that the angry tourist character at the Flamingo from "Fear & Loathing" was based off of Ricky Berwick's "This is God" tirade hahah. Or he would have been the original selection for the role. Congrats on 1.5M and counting...

03/17/19:

Ricky, we already know that your right hand is controlling the Mario kart heheh. Maybe take up Ventriloquism instead? haha.

Yeah I gotta see that - Ricky The Hedgehog!

03/14/19: NOT A DOOKIE, BUT A YOSHI!

I never knew that - so that's where Yoshi comes from muhaha. Uh,huhuhuhuh....plop.

03/11/19: TIMBITS OR MUNCHKINS?

I'm certain that Timbits are the Canadian version of Munchkins. Whatever - just don't give them to the "Fat Kid Who Refuses To Get Off The XBox" kid muhahaha.

02/19/19:

Yes, Ricky Montana - the world is yours heheh.

02/18/19: A New Musical Idea...

I wonder if Broadway ever considered a Mario musical starring...Ricky Berwick! heheh.

02/17/19: Beware of the Ricky-Mobile!

A decked-out, fully loaded scooter (for all defensive / offensive capabilities)- Wouldn't that be cool, huh muhaha.

02/14/19: The Snow King is Here! (Lich King - Eat your heart out)

Grammy's, take note. Here is your next winner - just let him win! muhaha.

Damn you - so you might be responsible for all this snow we've received? heh.

01/30/19:

Might as well face it, you're "Addicted To Fries" Or Spuds! (a form of a spud I guess). So am I, just had some potato wedges for lunch.

"Your greasy hands, your salty lips, looks like, you found the chips (or fries up your nose heh)".

01/28/19:

Move over, Fix-It Felix, Jr. It's Fix-It Ricky Berwick! How about some Flex Tape for that,....for better Home Improvement muhaha.

New lyrics to Weird Al's "The White Stuff" - "He's got the white shirts, baby - putting them in his bed drawer (instead of, in the middle of an Oreo). He's got the white shirts, baby - wears them for every video he records"

01/24/19:

Apple - sponsor Ricky Berwick! You'll be thanking Ricky for revolutionizing the earphone industry muhaha.

01/22/19:

I do miss the classic NES - especially "Super Mario Bros." With that said, Ricky has apparently joined the 16-bit world. Gawdammit Ricky! Just stick out your tongue and you'll get him next time. Or if or when Luigi comes around muhaha.

01/19/19:

Damn, Ricky. Let's see here, which character would be most fitting for a Ricky Berwick?

A. Spider-Man
B. Mario
C. Pikachu
D. Ninja Turtle
E. Thanos
F. Cornholio! Why? Because I need TP...for..my...bunghole!
G. All of the Above

It's unanimous - it should be all of the above. He might be just a mild-mannered Ricky Berwick, but he can turn into any one of them when the evils of crime arise anytime muhaha.

01/17/19:

There is only one true Spider-Man, and that is Ricky Berwick! Fighting crime like no other - criminals beware muhaha.

Cheerio, Ricky. Might you be related to that Poppins lady? heheh.

01/14/19: Unless You've Got Buns, Hon!

Sometimes, it's all about that ass muhaha.

"No sloppy koongdengee's just make sure that it's tuhntuhneh..." - from Byuntae Style by David So muhaha.

01/09/19:

The Godfather, Part IV: Grand Theft Ricky muhaha

Now that's how the mafia works, son! Brought to you by Don Ricky Berwick.

01/03/19:

Who wore it better? Ricky, of course. By the way,...nice clip-on muhaha.

01/01/19:

I wonder if Ricky Berwick's new theme this year is going to be - "I am....Batman!"? muhaha

Let's look forward to another year filled with hilarious skits or videos.

12/30/18:

Great Scott! Ricky Berwick making out with a DeLorean - this is definitely heavy muhaha.

12/25/18: Christmas Tip Of The Day

How to play Super Mario....naked! As JCW says, "Very cool, very swag - I like it!" muhaha

12/22/18: Spreading The Holiday Cheer With Ricky-Claus!

In the off-season: Where's my goddamned mountain dew?! (or Reeses for that matter heheh), etc. During the Christmas season: Where the fuck is all the snow?!, Where is my goddamned elf?! muhaha

12/20/18:

Oh my gawd! Spider-Man delivering Papa John's Pizza! muhaha.

Would you prefer to watch Full House, or "A House Full Of Ricky's"? muhaha

12/14/18: Let's Get "Ricky-Rolled"...

You've heard of being Rick-Rolled. And now, you've been "Ricky-Rolled" muhaha - if you happen to come across his "Take on Me" video. Who else other than Ricky Berwick can hit that two-octave high note with ease? 'I'm sure that is not a falsetto' heh.

12/12/18:

"Whack-A-Mole" indeed. Kind of reminds me of "Press Your Luck". *beep beep boop boop beep* Stop! Not at a whammy, but a mole with a red hat muhaha.

12/11/18:

On a serious note, you can tell sometimes whether somebody has a selfish or hidden agenda - using and exploiting you for their own gain (moreso on social media - considering the toxicity and other kinds of drama, no surprise there). But certainly you have to be weary of real-life folks as well. Stereotypes are often exploited for sure. There are certainly a fair share of asshats in today's society, as well as a lot of suckas who fall for them as well.

On lighter note - it's-a me, Mario! Goin' to take a huge dookie! muhaha.

12/08/18:

Ricky pwn'ing noobs, and maybe Ryu as well (in more ways than one) muhaha.

12/06/18:

Elon Musk, please. Although I have no idea who that person is heh.

Answer the damn question - did you, or did you not order the....(not Code Red) but mustard or ketchup on that burger? muhaha.

12/02/18:

Get in line for Ricky's Ho train - should be eHarmony's new spokesperson or representative heheh.

12/01/18:

New Santa for hire muhaha. Either the Christmas season just got merrier or there's a new "Silent Night, Deadly Night" movie in the works or a remake heh.

11/28/18:

We should all resist the temptations of junk food like Ricky...or not? heheh (with the resounding finale of a Concerto).

11/25/18:

A Ricky Berwick designed controller would be cool as fuck - I'm not a console player, but I'd probably snatch that up in a heartbeat heh. The console industry could use a bit of a re-design in their consoles.

11/21/18:

Ricky has the right idea - send them damn nudes! muhaha. It seems that's what social media is only useful for these days..

11/19/18:

Apparently, there's a new Grinch in town. You better watch out? Not Santa, but Ricky! He's certainly gonna 'deck your halls, bud'! heh.

11/13/18:

Ricky Berwick would make a better Pikachu than the computer-animated crap heheh.

I was never a fan of the comic book or superhero genre, but rest in peace. Ricky might arguably be....Stan Lee's biggest fan heh.

11/07/18: Dancing With The....Red 'Hat' Guy?

Not exactly, but more like 'It's-A Me, Mario!' heheh. Ricky Berwick - the Artist (eat your heart out, Bob Ross) and now the dancer, Mario-style.

11/02/18:

Ricky Berwick for the best Halloween costume - this is the type of vote that actually matters heh.

10/29/18:

Sorry, Ricky. I despise emoji's but nice video 'xD' muhaha

10/28/18:

I'm anti-social for the most part, and I don't interact online anyway. However, Ricky might have a point about the benefits of having online pals heheh.