FAVORITE DRAMAS (No Particular Order)

Hush
Navillera
Item
My Mister
The Sound Of Magic
My Liberation Notes "Haebang"
"Strange" Attorney Woo-Young-Woo
Taxi Driver
Bad And Crazy
Vincenzo
Blind
On The Verge Of Insanity
Forecasting Love And Weather
Happiness
"Ohjingoh" Game
Stranger S1
Monthly Magazine Home
Voice S1
Signal
Uncle (Sahmchun)
Prison Playbook
Ghost Doctor
Bring It On, Ghost!
Strangers From Hell
My Country: The New Age
Live Up To Your Name
Tunnel
Kairos
My Dangerous Wife
Bad Guys
Beyond Evil
Hospital Playlist
Shall We Have A Cup Of Coffee?
Because This Is My First Life
Romance Is A Bonus Book
A Korean Odyssey
Was It Love?
Hi Bye Mamma!
Daebok Realty: Sell Your Haunted House
Police University
Live
Soundtrack #1
The Killer's Shopping List
Welcome To My Wedding Hell
Doctor Lawyer

(more to add as we go along)
PERSONAL THOUGHTS


10/01/23

It's been awhile. I really don't know when I'll get to watching K-Dramas again. With nothing else to watch, why not. There's a lot of catching up to do, and unfortunately - can't get to all of them. Still - there are a lot of options now (mostly in the past year that we've been absent). But I'm intrigued by two recent or new thrillers: "The Killing Vote" and "The Worst Of Evil" (a period drama).

I was sold on Ji Chang Wook in "The Sound Of Magic". I'm sure he's a versatile actor, with an interesting repertoire. And Wi Ha Joon ("Bad And Crazy" - his role in that was memorable, and played off of Lee Dong Wook's split personality character quite well as "K") - is he the bad guy in "The Worst Of Evil"? Probably.

I don't think there'll be a second season to Woo-Young-Woo, but we could only hope.

02/19/23

I stopped watching or taking a break from K-Dramas the past two months. I've been busy watching the new "Quantum Leap". Otherwise - there is nothing else on. I might return to K-Dramas, since there seems to be a plethora of new, interesting ones now. Roll Call:

Missing: The Other Side S2
Taxi Driver S2
The First Responders
Brain Cooperation
Unlock My Boss

That is all for now.

12/11/22

I've been taking a break from K-Dramas. I haven't watched a new one recently. However - I am waiting for "The First Responders" to finish airing or uploading. Also - "Missing: The Other Side" S2 seems interesting, since I enjoyed S1. That is all.

11/06/22

Finished "Blind" - and it just made my list. I felt this was well-done in execution, directing / acting - the nuances and subtlety said it all. It didn't need a lot of action, or over-bearing plot points. It had unexpected twists (plenty of them) that weren't predictable. The only semi-predictable element in this, was the culprit or culprits. I figured early on that it was that young juror with glasses, and the judge brother (Sung Hoon) working together somehow. But how it played out was important to me - it slowly unfolded in a way that was compelling and suspensful. Really - usually the nicest looking guys are the villains or culprits in a crime drama haha.

There were themes in this drama that I felt were pertinent. The main villain or mastermind (Sung Hoon) erroneously thought that his way of vengeance / revenge was fitting or justified. In the end - it resulted in more pain, more loss of life, and his life imprisonment. Despite his traumatic experiences, who knows if that character finally made a realization or ephiphany after his detective brother finally captured him. "I wish you'd let go of the past finally". In a metaphorical scene, he leaves the welfare center as an adult (perhaps a metaphor that he just finally let it go now - although it's a bit ambiguous or unclear).

"Rose Mansion" was enjoyable. It had that slow, horror pace to it - but the twist was unexpected. The main detective being the culprit, only to realize that there was another culprit who took it further. However, the ending or the final scene was disappointing. It only revealed a picture of the final culprit (leaving viewers with no idea), and the evil lady (although nothing to do with crimes, still corrupt / evil in her ways) meeting a new boss. I dislike dramas that end like this - if a second season was not realistic. New dramas to look out for: "The First Responders", "Yonder", and just maybe - "May I Help You".

10/06/22

Other than "Blind", I'll have to go back and finish watching "Rose Mansion" (where I left off) since there is nothing else. We decided to watch separately (or take a break) for now, since our tastes / preferences (or aptly put, "in the mood for") just clashes. I'm just focusing on thrillers. I'm on the look-out for any realistic or slice-of-life dramas, but none yet. I'm alright with any light fantasy / sci-fi / horror genres, but I have requirements. Otherwise - a "Hell No" for me. As they say - to each their own.

"Yonder" and "Glitch" might be two dramas we can watch together.

10/04/22

"Blind" so far has been suspenseful, intriguing and creepy. It has that combination of old school, jump-scare horror with a "who is the culprit?" crime mystery drama. Reference points / background stories are always a characteristic of thrilling dramas. In this case, it's the traumatic experience of a group of kids at an abusive / tyrannical welfare center. The culprit must be from that group - either one of the jurors, from the department, and what we are lead to believe - one of the brothers (at first, the detective and now becoming suspicious of the judge brother).

Real culprits are never revealed early in a crime drama - the suspected characters are either framed, innocent or just an accomplice. But it is how scenes or episode are filmed (clever editing, lighting, music, etc.) that can make all the difference. So far - it has been enticing. But judgment reserved until the end ultimately - if there are more twists or turns.

Archived Entries


---
PICTURES / IMAGES / MULTIMEDIA CONT'D



MY PLAN IS SET IN MOTION TO CREATE MY OWN BUSINESS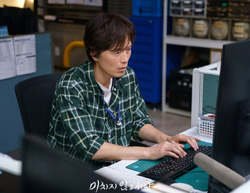 WANNA RUN WITH THEIR CREW, HUH? REVENGE IS A DISH BEST SERVED....FROM A TAXI SERVICE!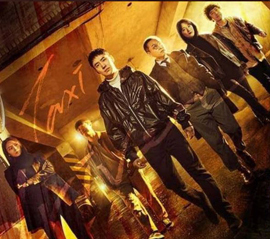 CAST OF VINCENZO MAKING FUNNY FACES (Behing The Scenes from social media)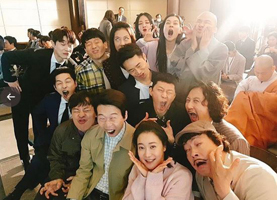 PICTURES / IMAGES / MULTIMEDIA



STRANGE ATTORNEY WOO-YOUNG-WOO: OOOH, OOOH - A WHALE!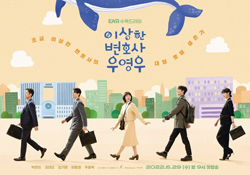 REFLECT, INTROSPECT - LIBERATE!



THE QUESTION IS, DO YOU: *PAUSE* - BELIEVE IN MAGIC?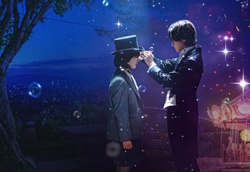 MUSICAL NUMBERS / SONGS FROM "THE SOUND OF MAGIC"

MEET "K" - HE'LL KICK YER ASS WITH A SMILE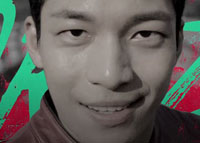 THE ULTIMATE LOCKDOWN EXPERIENCE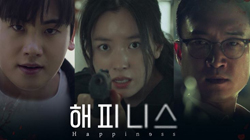 LET THE GAMES BEGIN