THE 'WEIRD' PLAYLIST
"Fat", Even Worse



"Perform This Way", Alpocalypse


"Stop Forwarding That Crap To Me" , Alpocalypse


"Couch Potato", Poodle Hat


"Amish Paradise", Bad Hair Day


"Pretty Fly For A Rabbi", Running With Scissors



"Virus Alert", Straight Outta Lynwood,


"It's All About The Pentiums", Running With Scissors



"Livin' In The Fridge", Alapalooza



"The Brady Bunch", In 3D



"Lasagna", Even Worse



"Taco Grande", Off The Deep End



"I Can't Watch This", Off The Deep End



"Trapped In The Drive-Thru", Straight Outta Lynwood



"Canadian Idiot", Straight Outta Lynwood



"Albuquerque", Running With Scissors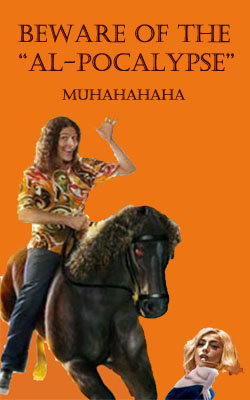 PREVIOUS ALBUMS

THE 'WEIRD' THOUGHTS/OPINIONS/NEWS



Wednesday, 08/29/18: Wanna Run With My Crew, huh? Al Gets the 'Star' Treatment...

| | |
| --- | --- |
| | It's been...how many years?! It certainly seemed overdue after all this time heheh. And I certainly have not kept up with what's been happening. I'm sure there's one or two more new albums, which I probably should check out at some point. For now, I've been into the new fad - Youtube music and parodies. I still have most, if not all, of Weird Al's lyrics still memorized. Now can you dig that?! heh. |

Tuesday, 12/31/13:
I guess for the upcoming year, it's now the question of when the new album is going to be ready. Although it doesn't seem like that there is going to be any "leaks" this time around (whether one parody or a few), there sure seems to be plenty of silence on this matter muhaha.

In the meantime, let's reminisce again and go back to a long lost parody that I've forgotton about. It was another unfortunate situation where although Al was given permission for the parody, he was later denied permission to release it on the "Straight Outta Lynnwood" album. Now THAT'S pitiful......muhaha. So all you polydodecahedron-headed troutsniffers, here it is:




Friday, 8/30/13: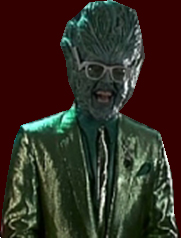 According to Al's blog, a new album is currently in the works as he finishes off the "Alpocalypse" tour.

In the meantime, another moment of Al back in the day: Al as an extraterrestrial Cabbage! muhaha. Ok, not really a favorable moment in Al's career on tv muhaha.






Saturday, 4/13/13:
I wonder if Coolio felt like doing the same? muhahaha....

Weird Al Gettin' The.....Axe



Sunday, 2/10/13:
It's time for another installment with....the 'Yank-Man'? muhahaha. Anyway, the hyperlink below or just go to Al's Youtube:

https://www.youtube.com/watch?v=UgzAAyvVDEE



Monday, 9/10/12:
I haven't been to a Weird Al live concert since the "Poodle Hat" tour, and I probably won't have time to go again. Come to think of it, that was my only concert anyway. Well, why not just purchase the Weird Al "Al-Pocalypse" Tour! DVD which was just released awhile ago, and have all the parody fun and goodness of his most recent album right on a computer, ipad or HDTV! I remember purchasing "Weird Al Live!", Al's first live concert filmed/recorded on DVD I believe and which was released way back in '98 or something. If you don't have the time to go live, then go DVD or bluray! muhaha.

I'd prefer a digital download, but I have the means to extract the DVD into digital files if I have to.


AL's CULT CLASSIC CORNER

If Anyone Can, The Cabbage-Man Can! muhahaha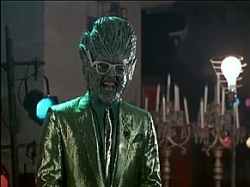 Or The Outer Space Cabbage Guy. Or The Extraterrestial Who's Supposed To Be A Cabbage muhaha. In an "Amazing Stories" episode back in '87 (called "Miss Starlet", which happened to be the series finale after cancellation. Thanks, Al! muhaha) Regardless, he's a representative from outer space as a spokesperson or spokes-"cabbage" for an interstellar pageant on Earth. Al has had cameos here and there back in the day, but before "UHF" hit the air, I'm sure a lot didn't know that he starred in a full episode of a fantastical program. Neither did I muhaha. Until I went back and happened to stumble upon this episode while watching other "Amazing Stories" episodes. I laughed my ass off at this one, I guess I know why the series was cancelled now, considering the direction it was going in muhaha

Well, I guess that sums up Al's television career muhaha (AL-TV and The Weird Al Show notwisthstanding).

---
And Then There Was...Or Only Was: UHF!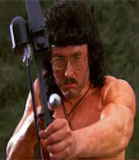 "I'm your worst nightmare". In what is arguably the funniest sequence in the film, George Newman fantasizes that he's Rambo and rescues his pal Stanley (AKA The Kramer Guy) from the vile clutches of the network honchos. In becoming 'Rambo', you can't be a Rambo unless you are greased out or roided out with muscles, and that weird mouth contortion that only Rambo knows how when he does his primal scream muhaha. But other than that, UHF has fine programming indeed.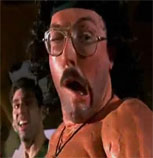 UHF is a cult flick that has a strong following along the lines of 'Office Space' and 'The Ringer'. It was panned quite harshly upon release all those years ago, and I guess that's how some of the lyrics from 'I can't Watch This' came to be muhaha. But sometimes, some of the actually good films are ones that go under the radar and become a cult hit. 'Harold & Kumar' is another example of that. "UHF" is the story of an underachieving TV station created by a menial working guy named George Newman, and it was going down the tubes until a certain janitor guy (AKA The Kramer Guy) made a certain segment hilarious bringing ratings up muhaha. The rest of the movie is filled with parodies and hilarities that only Weird Al knows how, including a parody of Dire Straits and the film's UHF theme song.

Well, that sums up Weird Al's acting career muhaha. Except perhaps a cameo here and there. He's been more successful with TV, including 'The Weird Al Show' and 'AL-TV'. I'm sure fans would've liked the idea of a "UHF 2", perhaps a direct-to-itunes or DVD kind of deal instead.


OTHER/MISCELLANEOUS:
Music videos are a dime a dozen these days. In other words, not many good ones at all muhaha. But Weird Al had a knack of making not only hilarious parodies, but spot-on parodies in video form either equally hilarious or even more. Playlists are fine, but videos are even better muhaha. Some 'fine' examples of his back in the day include 'Eat It', 'Fat' and 'Amish Paradise'.

With that said, that was the '80's/'90's and present day is today. Al doesn't have the time to make those kinds of videos anymore. And probably doesn't even have the energy as he ages and has a family life. They are now created either through computer-animation or just badly photoshoppin' or editin' himself over digital imagery muhaha. They feel rushed and not as funny, but they still work. Case in point, all his recent vids including "Perform This Way". But if ya don't like them,, he can just tell ya where to stick it muhahaha.

Let's go back to nostalgic times, and here's a random "Video Of The Day" for this site: