SPECTACULAR / MEMORABLE MOMENTS


07/06/22 - VS. MARLINS (0 ER, 10 K's, 7 IPs, etc.) SNAPS LOSING STREAK / SNAPS MARLINS' WINNING STREAK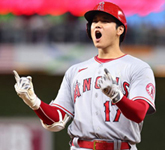 06/22/22 - VS. KC (Back-To-Back: 8 RBI, 2 HR, 13 K's - The Great 'Sho' Continues)


06/09/22 - VS. RED SOX (7 IP 1 HR 2 RBI) SNAPS LOSING STREAK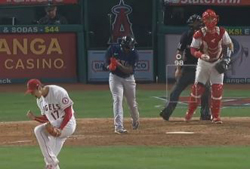 05/09/22 - VS. RAYS (1ST GRAND SLAM + Homer Trout-Ahni Style = 2 HR)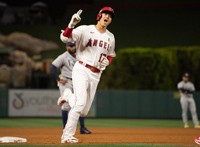 05/05/22 - VS. RED SOX (11K IN 7)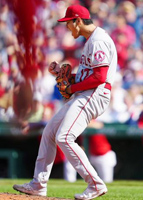 04/20/22 - VS. ASTROS (12 STRIKEOUTS IN 6 INNINGS) - THE SHO' ALWAYS GOES ON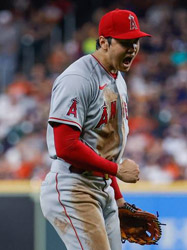 PERSONAL THOUGHTS


Monday, August 08, 2022

With LAA on a downward spiral with continued losing, how can a superstar / MVP player like Shohei Ohtani stay motivated? Answer: he can't. However - he can just play for himself at this point. And just look out for his health. At some point, LAA needs to either clean house completely - from coaches to players, or Shohei needs to demand a trade or issue an ultimatum.

We all need humor to alleviate the doldrums or when there are no worthwhile news. Here's a picture from social media below. Why was Shohei laughing hysterically? Apparently, his right-hand man was the one who removed Bobby Lee's big-ass Mole, and showed Shohei the scab hahahaha: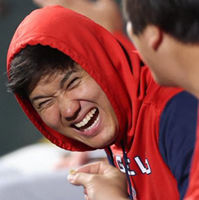 Thursday, July 21, 2022

Congratulations to Shohei Ohtani for winning both ESPY awards. Well-deserved - Shohei is going to pave the way for future Two-Way players. Unfortunately, I doubt there'll be any that can match his skills. Shohei does everything else well anyway - steals, RBI's, etc. The pressing matter now is for Shohei to find a winning team. Are the LAA holding him hostage just because he's a money-making machine? shaking my head.

Thursday, June 23, 2022

Just call him "The Great 'Sho' " - congratulations on two career highs in 8 RBI's and 13 K's in two games against KC. Of course - winning is all the more sweeter. I'm sure Shohei places winning as priority. This is just the beginning.

Friday, June 10, 2022

Was LAA really on a 14 game losing streak? Yikes. I don't really follow baseball at all - just Shohei or the team's moments. With that said, Ohtani-Sanity is unleashed to help LAA snap what is an unfathomable losing streak. Hope it doesn't happen again. Baseball season is quite long anyway, so I guess with 100+ games it's probably considered minor.

All I have to say is - just unleash the Sho!

Sunday, May 15, 2022

Congratulations on 100 career home runs!

Tuesday, May 10, 2022

Shohei Ohtani is just gettin' in the groove with his first Grand Slam homer yesterday against the Rays. Thought of a Pro with utmost confidence and swag: "I Thought I Already Had One" hahaha.

Friday, May 06, 2022

It appears the "Total Package" Shohei Ohtani is just warming up and heatin' up - I think coach was right. Just give it time. 11K in 7 in beantown. The HR's have yet to come, but he's hitting well.

Thursday, April 21, 2022

After what was a slow start for the team and Sho, things are starting to take form. Shohei with the 12K in 6 innings, and that's just the beginning - or tip of the iceberg - of what he's capable. I doubt he even reached his ceiling - far from it. All the while, doing a bit of everything when batting ("dirty" work? haha). There might be a few off games, but in the end - you can't stop the Sho'. Or the Sho' always goes on.

Friday, March 11, 2022

Get ready for Ohtani-sanity Part II. With the MLB lockout ended or resolved, we'll most likely witness an even more improved Shohei Ohtani. Last season's historic season was just the tip of the iceberg. Ohtani knows he still has a long ways to go.

Friday, November 19, 2021

Shohei Ohtani - the unanimous AL MVP, and well-deserved. Among other awards - the Historic Achievement Award, Player Of The Year, etc. We witnessed possibly the greatest season of any athlete, albeit a baseball player. Well, at least a baseball player. If Linsanity was not unfairly targeted against / kicked out from prejudices in that so-called sport, then it'll rank among it. Shohei is still very young, and still can improve / get better. And you know it.

And now from Shohei - 'Sho' Me The Wins! haha. Team improvement is the next step. Looking forward to next season fo 'Sho'.

Wednesday, September 22, 2021

'Sho' us the home runs! And Shohei certainly does with power. Number 45 and counting. Imagine how much more if mofos didn't intentionally walk him and whatnot.

Thursday, August 19, 2021

Happy 40th, Shohei! No, not a birthday but homeruns haha. He had a stellar pitching the same game as well. As the song goes, he's "simply the best, better than all the rest" haha.

How embarrasing would it be, to be a victim to a Shohei power home run on one's birthday, sort of like being "posterized" haha - "Happy Birthday, Mr. Pitcher. Your wishes have come true!!" haha.

Monday, August 02, 2021

Congratulations for another Player Of The Month award for July - two consecutive months. It's not just the power homers, but everything else - pitching, RBI's, base steals, etc. It's unreasonable to expect Shohei to hit a homer every game or frequently - but we can only hope. We also have to acknowledge or notice his other contributions as mentioned, which are also highly valuable. Unfortunately, the Angels roster or bullpen as they say, is much left to be desired or is not a winning combo. Baseball fans would probably know what the team needs upgrades in.

Thursday, July 29, 2021

37 HR's and counting. From the way fans and other media are describing The Big 'Sho', you can say that he might be the perfect athlete or specimen. Godly. The Total Package. Nah - everyone has flaws or has bad ones. But For 'Sho', he is the real deal and MVP.

Saturday, July 10, 2021

I am not surprised that Shohe Ohtani jerseys can get pricey. But value equals talent for sure. And there really is no other athlete like The Big 'Sho'. Did his latest homer rival that of the one at the Tokyo Dome? Probably not, but close.

Thursday, July 8, 2021

32 home runs and counting. They are not just average home runs, but they have distance / power. After watching the home run blasted into the roof of the Tokyo Dome years ago, I am not surprised. To all the haters, racists (typical media) against exceptional and talented Asian athletes - we'll gladly tell you where to stick it (*hint - where the sun don't shine).

Sunday, July 4, 2021

Happy 27th! That's still hella young. I can imagine he hasn't reached his full potential yet. There is no need to go over what he is doing, since it is well-known now and is the talk of the town in the sports world (of course, in MLB in particular). Still - I'm sure he isn't fully satisfied. For any endeavor, there is always the desire to improve and get even better.

My favorite nicknames - The Big 'Sho', The 'Sho'-Stopper, 'Sho'-Tastic, etc. It appears endless haha.