SPECTACULAR / MEMORABLE MOMENTS


05/04/23 - vs. STL: THE "FOURTH" IS WITH LAA - TROUTANI "STRIKES BACK" (OHTANI W/ CAREER 13 K's, TROUT'S LATE HOMER)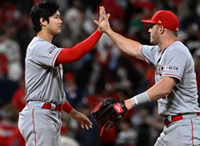 04/23/23 - vs. KC "CRUSH HOUR 3": BACK TO BACK TO BACK HOMERS (WARD / TROUT / OHTANI)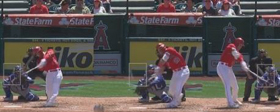 03/21/23 - HOW SWEET IT IS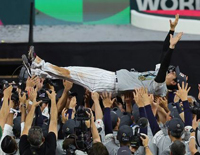 03/21/23 - WBC (SHOHEI STRIKING OUT TROUT FOR THE WIN)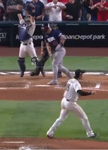 07/06/22 - VS. MARLINS (0 ER, 10 K's, 7 IPs, etc.) SNAPS LOSING STREAK / SNAPS MARLINS' WINNING STREAK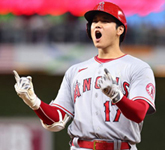 06/22/22 - VS. KC (Back-To-Back: 8 RBI, 2 HR, 13 K's - The Great 'Sho' Continues)


06/09/22 - VS. RED SOX (7 IP 1 HR 2 RBI) SNAPS LOSING STREAK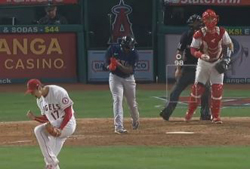 05/09/22 - VS. RAYS (1ST GRAND SLAM + Homer Trout-Ahni Style = 2 HR)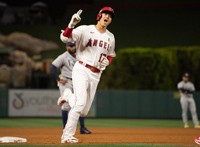 05/05/22 - VS. RED SOX (11K IN 7)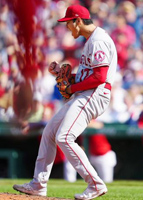 04/20/22 - VS. ASTROS (12 STRIKEOUTS IN 6 INNINGS) - THE SHO' ALWAYS GOES ON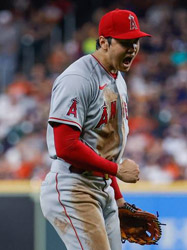 PERSONAL THOUGHTS


Thursday, May 04, 2023:

I think what makes LAA potent is that there could be any given combo of players that can save the day haha. However, LAA is still hovering around .500, going up-and-down, up-and-down. Consistency is key in making it to the playoffs (and not going on a losing skid).

Congrats to Shohei for career 13 K's. And he could only improve or the numbers can climb even higher.

Monday, April 24, 2023:

"Crush Hour 3" - I don't think I can come up with a more fitting tag line for the Back-To-Back-To-Back homers from Ward / Trout / Ohtani haha.

So it's a win one, lose one or two type of deal. LAA needs to figure something out, or they'll remain hovering aournd .500. It might not be enough to make it into the playoffs. Perhaps have Ohtani pitch more? Pitching can take a toll on a pitcher's arms, well - I'd preserve Ohtani's arms as much as possible. But the team sure needs it.

Friday, April 21, 2023:

So what the hell has been going on - is LAA on a a two week break or something? Or I've been just "asleep" - basically the same thing as my attention turned completely elsewhere other than baseball. I guess the last timeout for me, was when Shohei was restricted to just two innings due to a rain out against the Red Sox. Well, it's time to check fan sites more for Shohei and the team's updates. Ones that matter that is.

Wednesday, March 22, 2023:

Congratulations to Shohei Ohtani and Team Japan for their WBC Championship! Talk about Instagram / Media Gods, Shohei Ohtani is one of them - racking up Millions of new followers in a quick amount of time from what I hear. Ohtani striking out Trout was the icing on the cake - how sweet it is haha. You gotta get Clyde to defect to baseball for color commentary haha.

Now the goal is the World Series. Does LAA have the support Shohei needs? Otherwise - Shohei might take his talents elsewhere.

Sunday, March 05, 2023:

Shohei Ohtani is receiving as much attention outside of Baseball as he is on the field haha. It appears media follows the phenom wherever he goes. Good luck to Shohei and his team. Fans are at least finding humorous moments here and there, such as some player tripping haha.

Friday, March 03, 2023:

The WBC (World Baseball Classic) has begun, and I'm rooting for Shohei and the team. There's been a lot of hoopla over the media attention over Shohei, and deservedly so. Now he's " stylin' and profilin' " literally haha. He's got his own private jet, private bus or vehicle and is plastered on billboards everywhere. And did I forget - he might be the best baseball player there is now.

Thursday, February 23, 2023:

I guess fans can't get enough of Shohei Ohtani pics. Here's one of Shohei leaping in the air, what looks like a behind-the-back catch. Talk about skill, finesse and hops haha. He can do the job of a figure skater, ballet dancer and a basketball player (but what is basketball?) combined:




Good luck to Shohei at the WBC.

Monday, February 20, 2023: The Hunchback Of Shohei? haha

Considering Shohei's height, he might want to go around tents and other obstructions. Otherwise - Shohei might become hunchback-ed haha. We don't want a Hunchback Shohei - a person can shrink in height as a result. Sort of like myself, althought I was never tall (average height or on the short-side - nonetheless, average. But I shrunk a bit). The picture below from a fan tweet haha: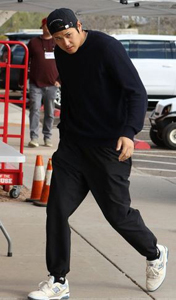 Wednesday, February 08, 2023

I woke up from my few months-long hibernation / slumber from anything sports-related (except checking up on Collin Morikawa or Jeremy Lin once in awhile), and I find out that it's already Spring Training - when it's not even Spring. Whatever. I also believe that baseball sensation Shohei Ohtani is going to be better than ever. He is the athlete to look up to in terms of pure talent, strength / conditioning, and work ethic.

The question mark or controversy - is Shohei not happy with the team. He is not happy with losing - that's a given. C'mon, I mean: "I love winning. Like, it's better than losing, ya know?" haha. Shohei might be all smiles and friendly on the outside, but we'll never know what's going on in the inside. Except for Shohei.

Friday, October 07, 2022

Season is over, I just woke up to find that out haha. If the team were hell bent on keeping Shohei Ohtani, then they would actually ask what Shohei wants. Personally - I'd demand that the team surround myself with or acquire staff / players that have the best chance of winning (even if you have to clean house). Also - luxury / personal jet, personal chauffeur, luxury suits / accommodations, unlimited Disneyland trips complimentary from the team might help haha.

Shohei comes from a culture that is polite and nice - perhaps too nice. Some of us Asian-Americans however, are no longer that or complete opposites now (however - acting nice / polite is a different story. You don't have to show your true self, only enough to just tolerate a person and be law-abiding).

Wednesday, August 31, 2022

How about a new Shohei Ohtani rule? If an opposing team intentionally walks Shohei more than 2 times, Shohei's team automatically wins the game. That would be a complete disincentive or penalty.

Monday, August 08, 2022

With LAA on a downward spiral with continued losing, how can a superstar / MVP player like Shohei Ohtani stay motivated? Answer: he can't. However - he can just play for himself at this point. And just look out for his health. At some point, LAA needs to either clean house completely - from coaches to players, or Shohei needs to demand a trade or issue an ultimatum.

We all need humor to alleviate the doldrums or when there are no worthwhile news. Here's a picture from social media below. Why was Shohei laughing hysterically? Apparently, his right-hand man was the one who removed Bobby Lee's big-ass Mole, and showed Shohei the scab hahahaha: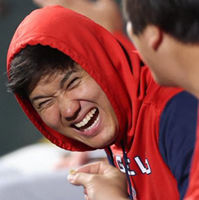 Thursday, July 21, 2022

Congratulations to Shohei Ohtani for winning both ESPY awards. Well-deserved - Shohei is going to pave the way for future Two-Way players. Unfortunately, I doubt there'll be any that can match his skills. Shohei does everything else well anyway - steals, RBI's, etc. The pressing matter now is for Shohei to find a winning team. Are the LAA holding him hostage just because he's a money-making machine? shaking my head.

Thursday, June 23, 2022

Just call him "The Great 'Sho' " - congratulations on two career highs in 8 RBI's and 13 K's in two games against KC. Of course - winning is all the more sweeter. I'm sure Shohei places winning as priority. This is just the beginning.

Friday, June 10, 2022

Was LAA really on a 14 game losing streak? Yikes. I don't really follow baseball at all - just Shohei or the team's moments. With that said, Ohtani-Sanity is unleashed to help LAA snap what is an unfathomable losing streak. Hope it doesn't happen again. Baseball season is quite long anyway, so I guess with 100+ games it's probably considered minor.

All I have to say is - just unleash the Sho!

Sunday, May 15, 2022

Congratulations on 100 career home runs!

Tuesday, May 10, 2022

Shohei Ohtani is just gettin' in the groove with his first Grand Slam homer yesterday against the Rays. Thought of a Pro with utmost confidence and swag: "I Thought I Already Had One" hahaha.

Friday, May 06, 2022

It appears the "Total Package" Shohei Ohtani is just warming up and heatin' up - I think coach was right. Just give it time. 11K in 7 in beantown. The HR's have yet to come, but he's hitting well.

Thursday, April 21, 2022

After what was a slow start for the team and Sho, things are starting to take form. Shohei with the 12K in 6 innings, and that's just the beginning - or tip of the iceberg - of what he's capable. I doubt he even reached his ceiling - far from it. All the while, doing a bit of everything when batting ("dirty" work? haha). There might be a few off games, but in the end - you can't stop the Sho'. Or the Sho' always goes on.

Friday, March 11, 2022

Get ready for Ohtani-sanity Part II. With the MLB lockout ended or resolved, we'll most likely witness an even more improved Shohei Ohtani. Last season's historic season was just the tip of the iceberg. Ohtani knows he still has a long ways to go.

Friday, November 19, 2021

Shohei Ohtani - the unanimous AL MVP, and well-deserved. Among other awards - the Historic Achievement Award, Player Of The Year, etc. We witnessed possibly the greatest season of any athlete, albeit a baseball player. Well, at least a baseball player. If Linsanity was not unfairly targeted against / kicked out from prejudices in that so-called sport, then it'll rank among it. Shohei is still very young, and still can improve / get better. And you know it.

And now from Shohei - 'Sho' Me The Wins! haha. Team improvement is the next step. Looking forward to next season fo 'Sho'.

Wednesday, September 22, 2021

'Sho' us the home runs! And Shohei certainly does with power. Number 45 and counting. Imagine how much more if mofos didn't intentionally walk him and whatnot.

Thursday, August 19, 2021

Happy 40th, Shohei! No, not a birthday but homeruns haha. He had a stellar pitching the same game as well. As the song goes, he's "simply the best, better than all the rest" haha.

How embarrasing would it be, to be a victim to a Shohei power home run on one's birthday, sort of like being "posterized" haha - "Happy Birthday, Mr. Pitcher. Your wishes have come true!!" haha.

Monday, August 02, 2021

Congratulations for another Player Of The Month award for July - two consecutive months. It's not just the power homers, but everything else - pitching, RBI's, base steals, etc. It's unreasonable to expect Shohei to hit a homer every game or frequently - but we can only hope. We also have to acknowledge or notice his other contributions as mentioned, which are also highly valuable. Unfortunately, the Angels roster or bullpen as they say, is much left to be desired or is not a winning combo. Baseball fans would probably know what the team needs upgrades in.

Thursday, July 29, 2021

37 HR's and counting. From the way fans and other media are describing The Big 'Sho', you can say that he might be the perfect athlete or specimen. Godly. The Total Package. Nah - everyone has flaws or has bad ones. But For 'Sho', he is the real deal and MVP.

Saturday, July 10, 2021

I am not surprised that Shohe Ohtani jerseys can get pricey. But value equals talent for sure. And there really is no other athlete like The Big 'Sho'. Did his latest homer rival that of the one at the Tokyo Dome? Probably not, but close.

Thursday, July 8, 2021

32 home runs and counting. They are not just average home runs, but they have distance / power. After watching the home run blasted into the roof of the Tokyo Dome years ago, I am not surprised. To all the haters, racists (typical media) against exceptional and talented Asian athletes - we'll gladly tell you where to stick it (*hint - where the sun don't shine).

Sunday, July 4, 2021

Happy 27th! That's still hella young. I can imagine he hasn't reached his full potential yet. There is no need to go over what he is doing, since it is well-known now and is the talk of the town in the sports world (of course, in MLB in particular). Still - I'm sure he isn't fully satisfied. For any endeavor, there is always the desire to improve and get even better.

My favorite nicknames - The Big 'Sho', The 'Sho'-Stopper, 'Sho'-Tastic, etc. It appears endless haha.