THOUGHTS / REACTIONS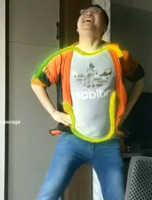 05/26/22: Mr. "Very Cool, Very Swag" Guy Making A Fool Out Of Himself Hahaha

Look at JCW gettin' his groove on haha. Although I prefer his very stiff moves than the psy guy. But JCW's singing (if you can call it that) - makes William Hung or Ricky Berwick sound like Whitney Houston hahaha:
05/17/22:
Look at those fangs, James! haha. Next time - perhaps get an acting coach or some lessons in expression to actually "look scared" haha

Remember Sleeping On The Job? hahaha. No wonder you were fired haha.






05/13/22:

It's been quite awhile - so what has JCW been up to? All of a sudden, he's no longer an aspiring Video Game Developer. Now he's married, in a quarrel with his Father-In-Law about naming his child, and now is an aspiring Twitch Streamer! Damn, James - don't do too much all at once hahaha.

01/28/20: Call Him "Mr. Karaoke" haha

Damn, James - This is Grammy's material right here haha.

01/19/20:


| | |
| --- | --- |
| | Damn, James - you are gettin' fat haha. Stop eating cotton candies! |


01/05/20: The Video Game Developer

WoW, James - 3 video games already in the works (karting, super mario style, FPS). C'mon - let us play your Fish game haha. You can give Blizz a tip or two on providing 'quality' content heh. I prefer your games over Island Expeditions any day.

"Doom Eternal" is the game to beat this year - perhaps JCW can give them a run for their money haha.

12/27/19: Backstreet's Back?...More Like William Hung is Back hahaha

I said it before, and I'll say it again - JCW is the second coming of William Hung with that "heavenly" voice of his hahaha.

Wanna learn your ABC's? Check out JCW's underwater adventure video game. It's unfortunate that it was turned down - but better watch out for his lyrics - a real tongue twister indeed hahaha.

12/01/19:

James foaming at the mouth again. Don't get bitten by James haha.




James brushing his teeth as a reward. But looks like you need to brush more lightly haha.

08/24/19:

Damn, James. You are the second coming of William Hung muhaha.

08/17/19:

Up, Up, and Away! Nice design, James! muhaha:




05/01/19:

Sleeping on the job muhaha:




04/09/19:

Dammit, Jim. Stop playing video games and go take care of your father! heh.

03/17/19:

Nice hair, Jim - certain styles are very swag, including crew cuts heh. Or just combing it regularly with hair gel. Keep telling yourself that you are NOT FAT heh. Confidence is important in going forward in life.
JCW'S "GO FISH" VIDEO GAME (XYZ, Now You See, Now You Know Your ABC's haha...):