THE ICONIC KARATE KID TRILOGY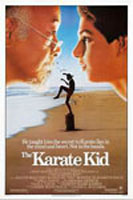 PERSONAL THOUGHTS / QUESTIONS



01/21/23: S6 - The Final Season

Although it's the final season, at least it's been renewed. I personally would have been happy had it ended with S5 - I thought nothing could top it, but perhaps the Big 3 have a few more tricks or goodies to pull up their sleeves (or give it that extra "kick" haha). Also - the ending was left as sort of a cliffhanger, with Kreese escaping prison. That's the only exception where I want to see another season.

Guys - they did not start even writing S6 yet. But let the rumors begin anyway. This was just an Announcement trailer, with compilation of scenes from previous seasons.

*It's been a nice, fulfilling journey - but after S6, it's more or less over for me. I might still keep this web page up (or not - depending on the type of news), but my attention is going to turn elsewhere for sure (back to my other fan sites). I'm not worried about the Big 3 - they have other projects I'm sure that fans are going to enjoy (if anything - their humor never disappoints). I hope "Harold & Kumar 4" is going to be one of them.

11/03/22:

Cobra Kai 2: Dojos Rising. There is no Chozen, but this most likely takes place before S5. Kreese is still Cobra Kai, before being ousted by Silver. The Fat Guy doing the Earthquake splash - was that Stingray? haha.

10/26/22:

There appears to be tidbits in Ralph's memoir or new book about the "Karate Kid" that are not revealed in interviews or social media. While it had been revealed that he was actually hit or knocked out during the Halloween costume beat-up scene, what I didn't know was that Macchio and Zabka were not exactly friends (or some tension) behind the scenes.

New Joe Seo update (it has been awhile) - there's a playable Kyler character in the video game. And why not - he's one of the main antagonists in the series (even if he did not get a story arc - he had memorable scenes however).

Netflix should have announced S6 by now. I think it's inevitable. But the pattern or trend for shows - if it's taking awhile to renew a show, chances are - it is not going to get renewed.

09/27/22:

There is a new, in-depth interview with Yuji Okumoto hosted by Patrick Epino aka National Film Society (Youtube interview linked on my blog page). I have been waiting for Yuji interviews or press (other than EW), but have not found any. All is well, my attention is usually turned elsewhere. Chozen was one of the focal points of S5, so whatever interviews or press might be worth checking out on Yuji.

I can imagine the degree which Yuji's career was somewhat hampered or subdued by being typecast as a "bad guy" due to his character in Part II - he could only find bad guy roles. Similar to Zabka, who probably was typecast as that bully from "Karate Kid". It's really a fine line whether an actor embraces an iconic role yet typecasted, or completely regrets it. In this day and age, it behooves an actor to embrace that role - as it could be your only meal ticket haha. But it certainly brings fame.

09/14/22:

Epic art of Chozen vs. Terry Silver fight. This is a screenshot of Be Water Creative's tweet of his artwork / thoughts of this epic battle (well, go to the tweet itself for clearer / bigger image):





Kudos to the production team, entire cast / crew for an exceptional season. If the show ended now, I would be satisfied. But with Kreese out there (a fugitive no less, since he broke out of prison / assaulted guards haha), there must be more stories to tell. To be honest - since I don't think anything can top this season, I'm not sure if I'm looking forward to an S6. But it is inevitable.

09/13/22:

By far, the Finale is my favorite (I'm sure with a lot of others). Others: 3,4,5,7,10 - but let's get real. The entire season was excellent - it unfolded like an Epic Movie or Film. Kudos to the soundtrack / music in this season (provided that epic atmosphere). I always believed that music is like another character - it can make or break a film or show. It worked.

Notable Scenes / Moments (Quite a few, and perhaps more to add as I try to remember them):


Chozen vs. Terry Silver Fight in the finale (the stakes couldn't be any higher - and Chozen worn the old man down. Surprisingly, Silver was still lethal even when old). Chozen appeared to have won, only to be distracted.
Daniel's Crane Kick to knock out Silver - arguably could be the greatest scene of all. I doubt anyone knew this was coming at all. Albeit, using the Quick Silver method against Silver.
The 2 former villains partying it up with Daniel in a limo, rocking to "Eye Of The Tiger". Who knew this would ever happen - a "Karate Kid" fan's ultimate wet dream haha (Johnny reference / pun intended).
Chozen contacting who is most likely Kumiko, and confessing - I would have preferred to have had that conversation in Chozen's native language with subtitles. But it is what it is - if Yuji felt otherwise, I'm sure he would have spoken up.
Mike Barnes' first appearance and the furniture scenes with Chozen (knocking Barnes' workers out haha). After purchasing the couch, "make sure you don't get blood on couch".
"The Chosen One" Stingray getting his Playstation broken. I busted out laughin' - Stingray was knocked down, and all he could think about was his broken Playstation. "You Broke My Playstation" - worthy of a picture / image moment.
Mitch revealing why he joined Cobra Kai (albeit briefly), and then Kyler immediately barking at Mitch with the "Pee Pee Breath" insult haha (certainly intentional but all in fun). I busted out laughin' at the timing if anything - it was so immediate.
Master Kim and her Sensei's . The guy with the eye patch reminded me of Dae Han from "Best of the Best".
Next Page (archived entries)
NOTABLE MOMENTS FROM S3
| | | |
| --- | --- | --- |
| LOSE SOME WEIGHT, "CHUBS" HAHA | CHOZEN "HONKING" DANIEL - IT'S MY TURN | LETTER READING IN OKINAWA |
| WHAT SHOULD HAVE BEEN - ALMOST | DEJA VU | KYLER'S REVENGE |
NOTABLE MOMENTS FROM S1 / S2
| | | |
| --- | --- | --- |
| FOR ALL CONVENIENCE STORE CLERKS ON HOW TO SERVE PIZZA HAHA | KYLER CONFRONTS MIGUEL - AND GETS HIS ASS KICKED | STINGRAY APPLYING FOR SECURITY JOB - HE WON COYOTE CREEK AFTERALL HAHA |
| WHERE IS DUTCH? OH YEAH, CHEERS HAHA | DANIEL VS. JOHNNY RE-MATCH - ALMOST | SCHOOL FIGHT BEGINS |
NOTABLE MOMENTS FROM S5 - "THE ULTIMATE SEASON"
"OH NO, MY PLAYSTATION"- TERRY SILVER'S "CHOSEN ONE" HAS A BROKEN PLAYSTATION TO SHOW FOR IT HAHAHA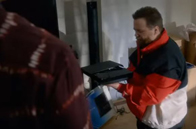 CRANE KICK TO SILVER FOR THE WIN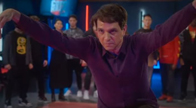 CHOZEN VS. SILVER

CHOZEN ON THE PHONE - AND HE AIN'T ORDERING PIZZA HAHA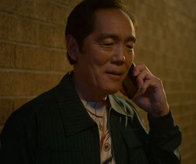 SORRY, BARNES - NEEDED TO KICK YER UNDERLINGS' ASSES (THEY GOT BLOOD ON THE COUCH I BOUGHT HAHA)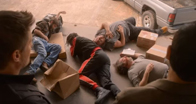 3 FORMER VILLAINS CONFRONT SILVER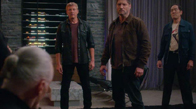 KYLER / MITCH MOMENT - AFTER MITCH REJOINS COBRA KAI, "OK SHUTUP PENIS BREATH" HAHA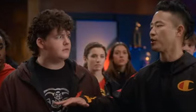 NOTABLE MOMENTS FROM S4
PARTY AT STINGRAY'S! - APPARENTLY, HE FOUND OUT THAT HE WAS NOT HIRED AS SECURITY HAHA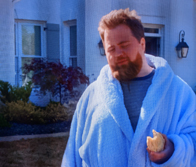 JOHNNY VS. DANIEL REMATCH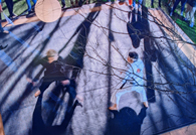 MR. LAWRENCE, MEET MR. SILVER - JOHNNY GETS A RUDE AWAKENING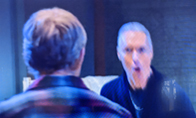 KYLER'S MOMENT OF TRUTH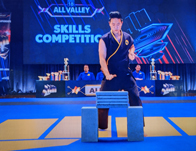 ANTHONY, IT'S PAYBACK (OR KENNY )-TIME