Reflections And Thoughts....The JYS Blog


Previous Page


Tuesday, November 19, 2019

Timothy DeLaGhetto sure has dance moves - get him on dancing with the stars! haha. Not to mention a million dollar smile. Damn. Also, say hello to Timothy "Ir-Nguyen" - that character is going to give his Thai Fieri character a run for his money fo' sho' haha.

Although my cold hasn't gotten any better yet, at least it hasn't gotten any worse either. Always place health and safety first or as priority - my life is filled with anxiety and such.


---
Sunday, November 17, 2019

Fortunately, I haven't really gotten the cold in recent years - until now. Runny nose, congestion, - I forgot how unpleasant it is. Just have to dress warmly, hot stews / soups or porridges - can do wonders. Oh - and eat more vitamins. Not Popeyes haha.

The podcast could be re-titled "How To Deal With Terrible and Nasty Anybody" as well. Because the world is filled with them - kudos for keeping the faith in humanity for anybody. But the Youtube podcast is on point again with its advices and whatnot. Focus on your creative abilities and positive support, not the negative ninnies, racists, irrelevanices, or whatevers. Pursue your passions and what you enjoy!

Yeah - I'm a sucker for juicy spoilers or rumors, pertaining to the "Cobra Kai" S3 season next year. Hurwitz is certainly tight-lipped, and made it clear - no spoilers. Probably the same with Heald. But Schlossberg- he's spilling the beans apparently (if you can figure out the humor and wit that is haha). Can't wait for Security Chief Stingray!


---
Sunday, November 10, 2019

Six seasons of a show is considered a success. It's unfortunate to hear about "FOTB", but it was definitely a nice ride. Although it would've been awesome to have another season or two, the recent blemish or controversy put a damper into it anyway - plus, Hudson Yang might be a bit tall to play Eddie Huang now haha. I'll continue to follow to find out what Randall Park is up to, and future projects of his.

I'm looking forward to uploading the Variations, part of a Piano Sonata. Unfortunately, I'm not sure if I can get to it before Thanksgiving - with the house becoming crowded again. Well, if anything - looking forward to the holidays! My mind is already thinking of "Feast Day" haha.

Guysh, Phil Swift is getting the jump on Christmas already. Does he have a new fetish for Santa Sleighs and Flex Seal Mini's? "It's freakin' adorable!" Damn - don't get that close haha.


---
Thursday, November 07, 2019

What is up with the Popeye's Chicken Sandwich craze. I had to check it out, but on Monday around noon - the drive-thru line was out the entrance, and today - the sandwich was already sold out. Apparently, they have a certified winner there. Why not expand, hire more workers, focus on the sandwich, etc. Nonetheless, settled for their combo meal instead. Please, folks - as hype as the sandwich is, it is not worth fighting over.

The most important tagline in an advertisement - "not a politician" haha. Love that - that's the very definition of "change" - a new way of thinking with real, practical ideas and solutions - and the way is forward.


---
Sunday, October 27, 2019

With only a handful of days left, Blizzcon '19 is almost upon us. I'm most anxious about the new expansion announcement (Return of the Lich King?), as well as the AWC Tournament (on Saturday apparently). Also, what new Red Shirt Guy might save the day or panels? haha.

It's awesome to hear about the UBI March the other day. The movement is growing - and for sure, it is just the beginning.

Damn - Ryan did sound like Bob Ross. All he needed was to put on a Fro haha. "There is no such thing as a mistake. Just happy little accidents" haha.


---
Tuesday, October 22, 2019

Apparently, Phil Swift is at it again. Phil's fetish for boats, tonka trucks and 4 x 4's knows no bounds haha. This time, it's Flex Glue Clear! Wow, Phil - a clear boat, nice invention hahaha. It's Halloween season - better put on that Flex Seal polo shirt and make a Phil Swift face mask. Grab a sledgehammer. What a costume.


---
Saturday, October 19, 2019

Here's to a successful, and quick recovery for John Cho - it's unfortunate to hear that he was injured, probably the reason for some enigmatic tweets. I would guess that it happened while performing an action sequence from "Cowboy Bebop" - and this was something I was looking forward to. Might as well try to binge watch the anime at some point if available.

The "Ask Andrew" Q & A live stream on Youtube is a testament to how relatable Andrew Yang is, and how much he is sincere and genuine about issues that affects us all. Whereas your typical 'politician' would have a self-serving agenda, and do not really give a shit about serious issues that affects an individual - such as wealth inequality / poverty, disappearing jobs, and the plight of the middle class. He's funny as hell as well haha.

If a conversation drags on (even for just five minutes straight), I lose interest or become bored easily. My attention span isn't exactly one that can be sustained during an hour long lecture fo' sho'. I'm more of a visual type, and even reading bores the crap outta me. But I absorb information by bits at a time - find enough here, there and everywhere, and if your mind can process / formulate information quickly - it all adds up and can equal or even surpass folks that read traditionally (hard copy books, manuals, etc). "To each their own".

My philosophy in life - "Whatever, Dawg" (Kyler from Cobra Kai S1) haha.


---
Tuesday, October 15, 2019

I've had my fill of pizza and burgers. Since there isn't an In 'N Out around here, Five Guys has been my recent craving.

There are quite a few Youtubers who indulge in the interesting world of eating - from Mukbangs to Food Challenges. I'm astounded at the amount of views they get - but word certainly gets around, and these guys know how to put on a show. There seems to be a lot of food or eating videos these days - probably just as common as catching Guy Fieri at a Donut Shop hahaha.


---
Sunday, October 13, 2019

Lazy Sunday mornings - re-watching "How To Beat Social Anxiety" podcast. You can pick up a few more tidbits with each rewatch, in case it's missed. For instance, I didn't know that mafia in Slavic countries drive Lamborghini's haha (well, my intentionally, skewed interpretation / vision haha). And the absolute truth - just be yourself, and be proud of it. For some, it might take some time to find out what your real interests or passions are. I didn't know what I could identify with, until some epiphanies and realizations in life. Do the expressions "nothing in common" or "who let the dogs out" (and "I am not your guru" while we're at it haha) mean anything to you haha.

I've been prepping some more Chopin's Nocturnes for future videos - one of which is the most beautiful of them all. But I'm on a Mozart binge right now - a few more, which I usually would whisper "heavenly" everytime a specific phrase or passage is played. The past month was ripe for recording time, the house was empty. I was grateful for that, but now - it'll be more difficult to find time again. I'm looking forward to the holidays when family returns home.

Gotta watch Bobby Lee guest star in an episode of the new "Magnum PI".


---
Sunday, October 06, 2019

This is a decent list of the top twenty Asian-American films - however, I would definitely add "Harold & Kumar" and "Always Be My Maybe" in there. There are quite a few films I wasn't aware of, and might be worth watching.



httpss://www.latimes.com/entertainment-arts/movies/story/2019-10-04/asian-american-films-canon



You gotta "lubba-dah" GeniusBrain Podcast relationship gurus haha. Lazy Sunday mornings - I go back and re-watch some videos, or watch ones I didn't get to yet. The recent topic of "How to Beat Social Anxiety" - lots of helpful advice and salient points. A lot of what makes us nervous or anxious is thinking too much, and not relaxing. I believe interaction is important to some degree, but if you prefer to be isolated or alone (which I prefer) then to each their own. Nothing wrong with it. Letting go of expectations, "not giving a fuck" about certain things, and most importantly - never giving up and being self-confident / self-assured. You don't need to waste money on psychotherapists - just watch the GeniusBrain podcast!

I didn't think there would be a new season of "FOTB" because of the controversy, but there it is. But if an actor doesn't want to be there, either replace the person or write them out.


---
Friday, October 04, 2019

This is the ultimate collaboration - Asian AF and East-West Players - with various improv or comedy groups (on the weekend of the 12th). We absolutely need more Asian-American comedy sketches and improvisation, and "Asia Street Comedy" appeared just to be that. Although it only lasted one season over 15 years ago, it was still ground-breaking and hilarious. Unfortunately, there are no videos for the rare sketches (at least not in public).

If things go awry at Blizzcon '19, who is going to step up as the new Red Shirt Guy to make things right? Or is the Diablo Red Shirt Guy going to make a guest appearance? heheh.


---
Thursday, October 03, 2019

I'd like to record and upload more piano-only pieces, perhaps the Fantasia. But for sure - one of the Piano Sonata movements again. It's October, and that means the piece of the month is Liszt's "Danse Macabre". That's one Liszt piece that might be another possibility.

Blizzcon '19. With the 15th Anniversary of WoW, we should expect certain announcements, in particular for the new expansion. Imagine WoW mobile instead? Hell No - this is worth unsubscribing over heh. "Doom Eternal" releases soon after Blizzcon anyway.

Congrats to Randall Park and Simu Liu. Exciting times - with Randall Park's production company (in collaboration with his old colleagues), and Simu's signing with CAA.

I think I've seen it all - Andrew Yang skateboarding haha. The question is - what can he not do?


---
Saturday, September 28, 2019

I most certainly am going to re-watch "Take A Right" in tribute, one of the most nostalgic episodes of "Cobra Kai" S2. RIP Rob "Tommy" Garrison. I'm not really familiar with the actor, but his "body bag" line is one of the most quotables in film history.

You can learn a lot from online tutorials and from Youtubers who have the expertise, know-how and experience. Andrew Huang is one of them, and is certainly at the top of his game in terms of music production, creating music out of any sounds, and knowledge on music gear, equipment and instruments.


---
Friday, September 27, 2019

K. 511 is uploaded. This was a piece that I had intended to record and upload eventually, but put it off for quite awhile. But truthfully, it took sometime to practice this and to refine it the way I intended within the flow and pace of the piece. It's rare that a composer can turn a minor key into musical euphoria. More thoughts on my classical piano blog.

Here's an article on "The Paper Tigers", essentially on the need to stand firm and never compromise the filmmaker's vision in terms of creative control. Justin Lin did it with "Better Luck Tomorrow", and so did Justin Chon. And their movies exceeded expectations, were otherwise high in quality, and most importantly, authentic.



httpss://crosscut.com/2019/09/hollywood-wanted-fewer-asians-new-kung-fu-film-seattle-director-stuck-his-script?utm_content=buffer8f732&utm_medium=social&utm_source=crosscut-twitter&utm_campaign=buffer




---
Friday, September 20, 2019

Listening to Hisaishi / Studio Ghibli Budokan concert, and Mozart's K. 469 Choral piece - eternally beautiful / inspiring, and solemn - it never gets tiring. Musical orgasm at its finest heh.

Let's do eeiiiit! It's time to raid Area 51 - the most important agenda so far (make that second, the UBI issue comes first). We need Mr. Berwick as our leader for optimal success haha.


---
Thursday, September 19, 2019

The problem or issue with music education is that sometimes, it can be too didactic or stiff. Of course, mastering the fundamentals is necessary. Music (as well as other art forms) should be taught in an encouraging and fun way so that the student or individual can enjoy it. In the end - if there is no inspiration or enjoyment, it would be better off doing something else.

Lang Lang has separate albums of Chopin and Liszt. He is only highlighting "some" of the composers that were influential in his childhood (don't we pianists have our early repertoires, such as the Minuets).

Thought Of The Day: Never look back - appreciate the success and happiness that you have that the haters might lack, and keep focusing on your own goals and the future. There are decent, understanding folks out there.


---
Tuesday, September 17, 2019

Congrats and good luck to Bowen Yang! SNL is one of the least diverse shows on one of the least diverse networks (if not the very last), which is why I avoid them like the plague. Perhaps there's a glimmer of hope, but it remains to be seen (kudos for resolving the "racists-for-hire" situation). Hopefully, he'll get some meaningful sketches rather than playing caricatures or parodies.

I should petition AMC to allow a few more episodes of the "Terror: Infamy" to be shown free - when a lot of us are trying to save money from expenses that are ever-increasing, and jobs that are ever-disappearing.

Some Online Funnies (from the social media of ProZD and Joe Jitsukawa):


| | | |
| --- | --- | --- |
| HOW I SMILE AS WELL HAHA | SAY WHAT? HAHA | HE LUBBA DA HAWAII INDEED HAHA |
| | | |
---
Sunday, September 15, 2019

I'm glad we went to the state fair before the onset of all this wet, damp weather - it hasn't been sunnier or warmer since.

Who doesn't remember the days before the internet or mobile phones, when you can catch a glimpse of a soft porn scene (although still mostly static) on a PPV or cable channel? haha. Them cable boxes. They usually would be on after midnight. With technological advances, accessibility is there.

Sundays - I'd like to go back and watch certain GeniusBrain Podcast episodes again. It's lazy Sunday.

Change or progress can't happen if we don't speak up. I believe that folks have to be held accountable or need to be responsible for their actions or words - particularly what's going public. And that can only happen if there are repercussions or punishment. Otherwise, it would leave a bad precedent or give bad impressions to others. Sure - the power of "Forgiving and Forgetting" should be the attitude we should have. But I have to side with the likes of Philip Wang as well. A racist is always going to be a racist, and one by one - they are being exposed. It can be anyone. How? Just piss them off, and there ya go heh (a typical public freakout video). But one thing is for sure - as Asians, we shouldn't be complacent in readily accepting the status quo / stereotypes. Hell no. But after awhile, they'll wither into obscurity again.


---
Friday, September 13, 2019

It was #NationalVideoGamesDay yesterday during #ClassicalMusicMonth, with today being #FridayThe13th haha.

Healthcare affordability is a problem in of itself. The Healthcare industry operates as a business, with scams galore that funnel money to the so-called politicians or the government. Their job title itself is a scam, sort of useless or worthless since they don't do much or get anything done at all. It might be a bit of an exaggeration, but I'm sure they make money off of it somehow - as with any self-serving policies or laws. When the actual caregiver is the problem, you know things are getting worse. You get what you pay for I guess.

Andrew Yang is the true people's champion. He's not afraid to tell it like it is, as well as not afraid to live the moment. Crowd-surfing, playing hoops, taking a stab at Rachmaninoff's Prelude in G Minor, or a dance-off! We've got to see Andrew in a dance-off heh. One thing is for sure, he's not a stiff like the damn suits.

It appears that they are very tight-lipped when it comes to "Cobra Kai" Season 3 leaks or spoilers. I'm getting the feeling that there are no special surprises or guests - but who knows.


---
Tuesday, September 10, 2019

Censorship sucks. Censorship always sucked. Go ask Beavis & Butt-Head haha. It sucks even more that it also can discriminate (platforms that penalize creators via demonetization just because "they don't like" their opinions or content. While other unsavory, offensive shit get away with no repercussions or penalty). Kudos to creators who don't compromise or waver from their beliefs and just tell it like it is (and stick to their content). Eventually, there are other avenues to get your content out. By the way, who wouldn't want to be Butt Buddies haha.

So far, "Stranger" is one of my favorite K-Dramas to date (although it's a few years old). It's a cerebral mystery thriller which keeps you guessing. In a sense, I'm like the protagonist in terms of state of being - emotionless or emotionally numb. In this situation, the protagonist is a highly intelligent prosecutor fighting corruption in the workplace. It was revealed that early in his childhood, he underwent brain surgery which resulted in the lack of feeling empathy but unleashed his dormant cognitive abilities. There are a lot of unlikeable, annoying characters but that's K-Drama for ya. Emotions are something that we all cannot avoid, whether we can express them or not. Perhaps this is just a metaphor for pent-up emotions that cannot be expressed in a person.

For me, classical music keeps me in check. It acts as therapy, and soothes the mind and heart. Usually, I feel catatonic or emotionally numb. With the amount of violence, tragedy (natural disasters or not), and racism, it has become a "I Don't Give A Fuck, I Just Take Care Of My Own" kind of deal. But I can't deny that there is a part of me that'll always empathize with what's going on.

If you're more worried about being right about the trajectory or path of a hurricane than the resulting damage from it, you must be inhuman (or what they say in dramas, a "monster").


---
Sunday, September 08, 2019

What a state fair. It was large - comparable to an amusement park. I was looking forward to the eats mainly, but apparently there were too many choices. That can either be a good or a bad thing. But in the end, I guess it's better to have more options than almost nothing. Talk about calories and carbs (the beverages are usually really overpriced at these venues), I suffered serious gastric...enough said (had to lay some tough dookies to say the least heheh). In the end, just go for the desserts hot damn. There were an assortment of rides - just went on a few. But there are always opportunities at another time.

We should be proud of our unique, unusual names haha (especially Asian ones). Except unless they border on being a laughingstock heh. Or if your Asian name starts with the same damn letters with the rest of your fam.

Although I believe that any piece is learnable or can be conquered (just another epiphany), I have to be inspired or motivated to. Some can just learn a piece (no matter the difficulty) whether they are inspired or not. Whether they like it or not. If there is a Liszt piece that I'm returning to again, it's Liszt's "Danse Macabre". We're approaching the Halloween season again.


---
Monday, September 02, 2019

It's Classical Music Month! (#ClassicalMusicMonth). It's difficult to pick out a piece that is the most memorable or a personal favorite that has the most meaning. For me, it changes a lot because I find another piece that can resonate or has even more relevance to my emotions and experiences (or, there is just simply a lot to choose from). Whether it's an orchestral, operatic or instrumental, there are quite a few - but I'll probably list a few from some piano works as a pianist - Chopin's Nocturne Op. 27 No. 2, Rachmaninoff's Moment Musical Op. 16 No. 1 (new favorite), Schubert's "Wanderer" Fantasy (have not finished or polished this off yet, but it's an epic piece that reflects an instrospective or emotional journey of an individual), Mozart K. 310 Piano Sonata.

I'll try to practice or play more often or frequently (if time or other circumstances permit) in honor of Classical Music month. Music (classical or otherwise) aims to inspire, move and take you into another level / reality. In a society or world that seems to continue to deteriorate in moral decay and continued racism / prejudice (but bless'h ya kind and understanding souls if yer out there), it's easy to stop giving a fuck about things. For some of us, we have music. It knows no boundaries, and it speaks to everyone (or at least it should).


---
Saturday, August 31, 2019

You wanna talk about insane or absurd - several hundred dollar AirPods or earphones. Talk about completely throwing away money, or rip-offs of all rip-offs. Sure - they might be wireless, but they can also easily be lost or fall out. And there are no guarantees of it working properly (albeit malfunctions). Only for the wealthy to try out - several hundred dollars would be better off paying bills or expenses. Increasing expenses, rent, costs, disappearing jobs,...the economy is heading into shambles. We need Andrew Yang's ideals and goals come into fruition. Yang Gang 4 Life.

Just when I think my anxiety has dissipated or calmed, it can come back as if it were always there. When I have second thoughts or change my mind about things, that's when I know. It's particularly tough when I don't go out much, or travel at all.

Is D-So Comedy back? Oh hell yeah - bring also Fat David back hahah. "How are you going to tell me to lose weight, when you're so fat...." muhaha.


---
Friday, August 30, 2019

The first season of "Cobra Kai" is free (for a limited time only, with S2 following), and I'll be watching them again. The most nostalgic episodes so far, are "Different But Same" from S1 and "Take A Right" from S2. A lot of humor infused along with nostalgia, which makes S1 a breathe of fresh air from the intensity of S2. But S2 has the MVP - Stingray! heh.

Chopin's Nocturnes - it's easy to forget how melodic and beautiful certain pieces are. There's more to come.

I gotta say Simu Liu is not only the ideal Old Spice model, he's got them dance moves as well. He might as well be on a luxury liner or a yacht with hot babes heh.

I wonder how many other hungry, fat Youtubers are out there haha.


---
Sunday, August 25, 2019

Sunday tidbits:
Justin Chon - it's been awhile since I've seen or heard from him. Did he gain weight? Well, maybe a bit - but I wouldn't say that he's that fat yet heheh. His recent podcast interviews on Youtube were insightful. It's important to look at things from different perspectives and points of views. Good luck with his directing endeavors - definitely would check out his new films if they are available on VOD. Also, what's wrong with porn clips? muhaha.
I had no idea that Randall Park was part of the MCU universe. I refuse to believe it until they make him an actual superhero or give him superpowers (and not with that signature karate chop heheh).
Until next time.


---
Wednesday, August 21, 2019

Dear AMC - can you at least allow non-subscribers to watch the first few episodes of "The Terror: Infamy" for free? If not for your other shitty programs or shows, the channel might have been worth the upgrade.

There are two justices I would like to see - #JusticeForHarryKim, and #JusticeForHan (from the FF series). I feel the only way we'll get to see Captain Harry Kim, is if there is a new show that revolves around some of the "Star Trek: Voyager" crew (for sure, some of the actors are retired - yeah, you can just retire their characters as well - no big deal at all, or just mention them by name only). As for Sung Kang's Han, they off'ed him too early. Asian characters unfortunately, get off'ed unjustly. I might put up the "Star Trek" fan page again, because of the addition of Patrick Kwok-Choon to "Discovery".


---
Thursday, August 15, 2019

I don't go out of the house as much as I should, mostly because of my anxieties (if not being lazy heh). And it shouldn't take wake-up calls to realize that life is too short to waste away. A lot of missed opportunities and regrets - not pursuing or discovering what I was passionate about earlier on (classical music / piano) for one. Still, there are always creative ways and possibilites in either pursuing or continuing activities or hobbies you enjoy or passionate.

Never dwell in the past, always look forward. Never put passion before principle. Some truths for sure. Always keeping positive and optimistic can sometimes lead to positive results. Nothing is guaranteed in life, but it definitely helps. It is easy to give up and dwell on the negatives. You don't have to take the "I Am Not Your Guru" guy's word for it hahah.

I highly recommend dining or eating at Kona Kitchen. Delicious! They have comfort food from breakfast to dinner, and it's like eating in Hawaii.


---
Tuesday, August 13, 2019

The first episode of "The Terror: Infamy" did a fine job in setting up for what's to come - in a very eerie, as well as tragic way for sure. Due to budget constraints, our limited cable lineup does not have AMC. Perhaps we should get rid of TV altogether. A person can make do with just hi-speed internet and Netflix. I wish I could watch the entire season. For anyone with the channel, it's worth watching.

While the show makes a fine ghost story, it also sheds more light into the inhumane travesty of the times (and tragically, still exists today somewhat):



httpss://time.com/5648993/the-terror-infamy-japanese-american-internment/

httpss://www.cnn.com/2019/08/12/entertainment/george-takei-the-terror/index.html


---
Monday, August 12, 2019

Monday tidbits:

Czerny's Etude in A-Flat appears to be similar in difficulty and style to Chopin's Etude in D-Flat. The VGP playing them with finesse.
Peter Shinkoda, Derek Mio. It's good to find more Asians to support or root for, and I'm sure there are more out there that I'm not aware of. I heard about "The Terror: Infamy" (S2), how it includes the elements of horror / fiction amidst the backdrop of a tragic event in history that re-defined injustice and inhumanity. It was way overdue for the story to be told (other than documentaries).
Can't wait to see John Cho transformed into Spike Spiegel, if his shadow is any indication.
If I could resurrect Michael Jackson as well....muhahaha.
---
Monday, August 05, 2019

I'm glad to see that there are Asians on the ST: Discovery show, although I was never really interested in it to begin with (albeit getting CBS All-Access - which is required for even "The Twilight Zone"). I think Patrick Kwok-Choon's character was recently added, or so I think. As for the lady, she was there from the get-go from what I hear. If they have any character development or juicy stories for Gen Rhys in future seasons, I'll probably be more motivated to check it out or subscribe to All-Access. For now, one can only hope that the show might air on Netflix or Amazon. I had to take down my "Star Trek" fan page to make room for other concept or fan pages. Until I can update it more frequently, that is. But who knows, perhaps I'll have to check out "Discovery" at some point and bring back the fan page.

Hop on board the "Shang-torini" train! That's-a Spicy.... Damn - it looks like that vacay spot rivals Hawaii. Nah - Hawaii pwns.


---
Friday, August 02, 2019

"Studies show, that Physical Fitness and Mental Fitness is the No. 1 thing. My,.... (uh)" Damn, Randall Park. What happened there? muhaha. Pray tell that this was just a take early in his career and not the final version.

One thing is for sure - UBI can do wonders for one's mental well-being. The positives outweigh the negatives. Keep spreadin' the word.

I think customers have to give USPS some benefit of the doubt, but the postal service has to get their shit together (more stringent hiring practices). Some areas or branches have piss poor competency, and seem to not give a shit when it comes to losing or mis-delivering mail. I'd most likely think twice about them when it comes to important documents. Nonetheless, we shouldn't think or dwell too much on it since these are just isolated incidents in the overall scheme of things. We might need to bring up some statistics for that.


---
Thursday, August 01, 2019

It's been awhile since I played or practiced some Chopin. After Mendelssohn (and some Piano Sonatas), perhaps some Nocturnes - they are melodic indeed.

There are certainly types who just talk out of their asses, and don't say much at all in the process - it's common in today's society. However, Andrew Yang is definitely a person who absolutely knows what he is talking about, and is sincere about it. Wouldn't it actually be something else to have a president for once who works for public interests instead of working for himself and whatever ego there is. And someone who can keep up with the changing times - in terms of advancement in technology, ways of doing things, embracing diversity, etc. If you can't keep up with the changing times, I have absolutely no sympathy - it's a "See Ya, Would Not Want To Be Ya" or "Don't Let the Door Hit Ya On Your Way Out" fo' sho'.


---
Tuesday, July 30, 2019

Some ramblings / tidbits:

Congrats to Sungwon Cho aka ProZD for 2 million subscribers. What's not to like - his board game reviews (although not my thing), snack reviews, voice acting sketches / parodies, and endless collabs (although Effie might start taking over). And now, Ricky Berwick is on his way 'Up' as well. I think he'll get there eventually.

Happy 15th anniversary for the first "Harold & Kumar", has it already been that long. It's the movie that I'll always crave (as well as the burgers of course heh).


---
Friday, July 26, 2019

A melody doesn't necessarily have to be complex to be beautiful or moving - it can be simple and brief. Complexity or simplicity, whatever moves you. I recently returned to the "Moments Musicaux" piece, practicing it again. Like any endeavor, it just takes practicing and the desire. If a piece isn't inspiring enough, it won't work - the music won't flow naturally and it'll typically be too mechanical or stiff. I now believe that you have to enjoy the piece to get the most out of it, not because it's what everyone else is playing or listening to. To each their own.


---
Thursday, July 25, 2019

Fortunately, I was able to record the "Moments Musicaux" piece on Monday. It is one of the most hauntingly beautiful melodies, certainly a somber or solemn one at that. And one of the most complicated right-hands I ever encountered, although Liszt's concert Etudes ("La Leggierezza" or something like that) is up there for sure. It's become one of my favorites. So up next - returning to some Mendelssohn (at least two more), and then more Piano Sonatas.

It might take several episodes before deciding whether to continue watching a K-Drama. Or perhaps just the initial episode - it can all depend on the synopsis. Really enjoyed the police drama "Live" and the political drama "Chief of Staff" (Season 2 pending) - both show corruption and the harsh realities of the respective fields or industries with all the dramatic conflicts and such (as much as it might be exaggerated or unbelievable for entertainment purposes).

Farewell, Francis. You might not be fat anymore, but you'll always be to fans that "Angry WoW Fat Guy" muhaha.


---
Sunday, July 21, 2019

Congratulations to Simu Liu, who landed the lead role for the Asian superhero epic, "Shang-Chi". More thoughts on my Film Forum page soon.


---
Friday, July 19, 2019

Fortunately, there was one hint for what's to come in "Cobra Kai" Season 3 - the re-visit to Okinawa. And that raises a few more questions or rumors - are we going to see a cameo appearance (or a juicy part / role) from any of the characters from "Karate Kid Part II". We certainly hope so. In the aftermath of the school brawl from the final episode of S2, how is that going to pan out? Of course, the ultimate question wasn't asked or should've been asked - Is Stingray going to return as the school's new security guard? muhaha.

I think any popular or well-known Youtuber might attest that to have creative control, you have to create or produce on your own. It is what it is - network programming is sketchy and marginal anyway. I prefer original creator content - that's where quality content is at. And to each their own.

I think I'm looking forward to watching "Stowaway". It's been awhile since there's been a worthwhile Sci-Fi flick to watch - as there just hasn't been any.


---
Sunday, July 14, 2019

Lazy Sunday tidbits:

I'm jumping aboard the "Happy Birthday, Ken "Dr. Ken" Jeong" train heheh. Happy Birthday, Ken Jeong! I haven't kept up with what he's been up to, but I heard that he now has a Netflix comedy special called "You Complete Me" (where did I hear that before). Also, he's in a comedy called "My Spy".
I wonder if Rich Ting can ask Sinbad if he has a Turbo Man doll as a souvenir heh.
I heard Steven Yeun has new projects in the works in terms of film. Can't wait to hear more about them.
I prefer the 16-18 episode one season only for K-Dramas. Waiting for a new season is just annoying - especially for impatient fans like myself.
Speaking of K-Dramas, that's exactly what they are - dramas. And the new one called "Chief of Staff" is no different - fortunately, it's not a direct reflection of today's political society (although a lot of elements are). For sure, it's no surprise that politics can be filled with greed, corruption, selfishness and just plain nastiness. A new way of forward thinking is absolutely necessary.


---
Wednesday, July 10, 2019

It would be nice to dedicate a separate room for practicing and recording (as well as sound-proofing it). Unfortunately, I do not think there is a public room for practicing out there - unless you are a student majoring in Music at a University. Or if you are a career Musician or Instrumentalist / Instructor. In a shared household, I certainly have to be mindful of when I play or how long I play. But I can really get into it, especially when I haven't played or practiced in awhile.

The yard work can be back-breaking and extremely tiresome, but it has to be done. If anything, to get off my lazy ass. But at least it's a workout. My anxiety is still an issue. I tend to complain more often than before. Sometimes, speaking one's mind or telling it like it is can be mis-interpreted or mis-construed as "complaining". Especially if it's food that I dislike - unfortunately, I have a habit of just blurting shit out and making faces when the eating isn't good. I should absolutely be more grateful for the provisions and having a roof over my head. I have my loving parents for that, and should be eternally indebted.

I just heard about "National Video Game Day". It's funny the shit you can make up with hashtags heh, but if a movement can come out of it - why not. I'm tempted to purchase "Doom Eternal", as it looks bad-ass. I remember playing the shit out of "Doom 3", and beating the game (with a few cheat codes haha). Only if I get another gift card that is. During these economic hardships and disappearing jobs, every dollar counts.


---
Thursday, July 04, 2019

Happy Fourth, and as usual - enjoy the food, folks and fun!

"The Twilight Zone" marathon never gets old or stale during these holiday events (the Fourth or New Year's). Unfortunately, it's no longer viable since my lifestyle has somewhat changed. But if I can, I could still order a pizza pie, laze around and watch it all day heheh. It's now on Decades channel? Believe that.

The benefits of listening to a piece that you recorded is that you can determine what can be done better or improved upon. Sometimes, I wish some of my practice sessions were recorded instead - as they usually turn out better. Becoming self-conscious, tense or unrelaxed - whether it's in front of a camera or an audience - is something performers have to deal with. Nonetheless, sometimes over-practicing is counter-productive and can backfire for sure. I might return to Mendelssohn again - perhaps two more pieces. You know a composer has an affect when you keep returning to the pieces or learn new ones.


---
Wednesday, June 26, 2019

Although you can expect a resolution (a pleasant ending or not) in the final episode of a K-Drama, the journey getting there can be intense and extreme or a bit too much. But if they got you hooked in watching them, then a job well-done despite some misgivings or "what I would have done differently". So far, the show about an evil entity with supernatural powers jumping from body to body was as intense and sick as it could be. Moreso than the one about an orb with the power to resurrect the deceased. Overall, both were intense, filled with light-hearted or humorous moments to balance out the violence, but could have toned a few things down. I'm sure there's more to check out.

Talk about a trifecta of comedy - Randall Park, Jimmy O. Yang and Steven Yeun. Woot!

Daniel Dae Kim delving into Science Fiction again. Haven't seen him in a space suit in quite awhile, or if at all.


---
Saturday, June 22, 2019

Happy 35th for "The Karate Kid"! Inquiring minds want to know - is there going to be any kind of hints or sneak peeks (not spoilers - although I don't mind spoilers at all) for the upcoming S3 of "Cobra Kai".

I'm not really a fan of Boba, but I definitely wouldn't mind trying "Bopomofo" cafe for its authenticity and fried deliciousness. Starting or opening a business is never easy. Having funds help, but not everyone has it. Having the drive and passion for it is also necessary. UBI would absolutely help in giving an incentive or motivation to try possibly - or even pursuing one's passions and turning into a business perhaps.


---
Thursday, June 20, 2019

It's been awhile since I rode a bicycle, but it's something that becomes in-grained or second nature once learned. For beginners, training wheels help but not necessary if you can pick it up quick. It's a fun activity for recreation, but can also become a sport - cycling is quite a workout. But I'll stick with hiking however - which we still have yet to go on.

I've been alternating between Rachmaninoff and Beethoven pieces. More Piano Sonata's in the works.

John Cho is going to make a fine Spike Spiegel (and might exceed expectations). I'm certainly looking forward to "Cowboy Bebop" on Netflix.


---
Tuesday, June 18, 2019

The next recording or video is probably going to be Rachmaninoff's Moment Musical Op. 16 No. 1. It is a very beautiful piece in a somber or haunting way. I'm not sure when but hopefully I can schedule it in. Apparently, I am returning to pieces that are worth returning to. But at the same time, it's also about expanding one's repertoire with new ones as well.

Fortunately, there are K-Drama's to watch on Netflix as well. I wish the upload schedule was more frequent, but for new shows - we just have to wait unfortunately.

After binge watching some freakout videos (as well as some road rage ones), it really is a wake-up call in further realizing how the worst in all of us can just come out. Disputes, arguments or fights happen - especially when you have to stand up for yourself or for others. But in extreme cases - when things get completely out of hand - fortunately, that is not really commonplace but they do happen. It's a two-way relationship between businesses and customers - customers need to be more understanding of policies (except for discriminating ones) and not be judgmental, and companies need to take care of the customers as much as they can with proper decorum. Both parties should never be abusive. Remember - leave your negative baggage at home.


---
Saturday, June 15, 2019

What is up with fights or brawls at fast food places (most notably at BK). It's usually a customer / employee verbal altercation, but there is one recent video where there is an employee fight seen after pulling up to the drive-thru window. It's hilarious though heheh.

What a BBQ yesterday. It used to be burgers, sausage sandwiches or pork, but now I think I'd be into a delicious grilled fish sandwich with that special sauce if anything. Grilled veggies are always nice as well.


---
Tuesday, June 11, 2019

I tested out the new telescope last night, and it's still a wait-and-see for me to determine whether it was worth the purchase. I never used nor purchased a telescope before, so I just had to go for it in determining what was a decent rudimentary one (rather than wasting hundreds of dollars - but fortunately, the gift card only had a limited amount anyway). The planetary object to be observed was Jupiter, since it's brightest or closest approach in an alignment with Earth was last night - yep, right behind us. I was fiddling, adjusting and maneuvering the thing for awhile, before finding a circular object which I believed was Jupiter. After all, the brightest object in the night sky was supposed to be that (other than the moon).

I glimpsed something at least, but there weren't much detail except for something moving around within the object like an amoeba (optical distortion perhaps). I have no idea what to make of it, but sure didn't see any "Galilean Satellites". For sure, it'll take time getting used to it. Better practice on it with the moon. Looking through the eyepiece is another adjustment. I guess you can say that 'My Jupiter Mission' was to glimpse Jupiter - and now, to make the damn thing work or use the telescope correctly.

With that said, hopefully I'll be updating my "Celestial Gallery" web page again.

Dustin Nguyen's character: "You owe me money, police man!". Bring on S2!


---
Friday, June 07, 2019

It's not as if I get snack cravings as much as I used to - but if it's been awhile and if there is an opportunity to buy some donuts, goddamn I'll buy some donuts - the sugary deliciousness makes for an ideal reward heh. "So sugary, so chocolatey..." muhaha. On a serious note, curbing my dessert or snack appetite has been an issue. Two things that can elevate my emotional state - food and music.

Again, something to seriously think about: jobs being outsourced to employment agencies, jobs disappearing and are becoming more unattainable / discriminating (more hardships for various individuals or demographics), automation - the cause for UBI is even greater than spending money on useless or ineffective policies that might never pan out (all that money going to waste, but might appear convincing on paper - since the wealthy do not need UBI).

Watched "Always Be My Maybe" a third time. Why? Because third time's a charm, and thrice is always nice heheh.


---
Tuesday, June 04, 2019

I could probably characterize most of Rachmaninoff's music as sentimental, solemn or emotional / brooding. But the ambiance or feelings of the piece I'm working on is akin or reminds me of Piano Concerto No. 2. Interesting contrast to Beethoven's Piano Sonata's - melodic, grandiose and powerful. But they all pack an emotional punch for sure. I'm not sure when the next recording is going to be, but it most likely is going to be another Rachmaninoff.

Summer is here - it's been dry as fuck (but we've had plenty of precipitation), and relatively cool / warm. I'm not really a hot weather person anyway, but neither do I want to go through another winter like the previous one again. It's an extreme year throughout it appears. Until I'm pretty sure that snow has melted on most worthwhile trails (I aim for the difficult), it probably won't be until summer is well underway before going on hikes.

Inquiring minds would like to know....if there'll be a consideration for a sequel to ABMM. It's certainly fine as it is if not.


---
Monday, June 03, 2019

The audience has spoken, and the reviews / articles are in (here are some):



httpss://www.kqed.org/arts/13858630/love-finds-ali-wong-and-randall-park-in-always-be-my-maybe
httpss://www.theatlantic.com/entertainment/archive/2019/06/always-be-my-maybe-netflix-ali-wong-randall-park-nahnatchka-khan/590818/
httpss://apnews.com/8a6ae2c37e50496cb32448b3a7cba826?utm_campaign=SocialFlow&utm_medium=AP&utm_source=Twitter
httpss://www.hypable.com/always-be-my-maybe-is-a-rom-com-thats-absolutely-worth-watching/



Haters, trolls, racists are inevitable for any endeavor that is a success. Jealousy is usually a part of it, but the truth of the matter is that the common masses are not used to seeing Asian-American leads. They certainly appear permanently stuck in the stereotyping and their own bigotry or prejudices. I don't waste any time or energy with them. It's the price we have to pay for any kind of growth and success, because it comes with it unfortunately. The good news is, there is continued (and hopefully increasing) support and sympathy as well - we just have to focus on that.

"Don't disrespect the process. I think I'll go smoke some weed now" muhaha. Final quote, I promise. Or I think?


---
Sunday, June 02, 2019

So who hasn't seen "Always Be My Maybe" at least twice. Repeated viewings are helpful, sometimes you pick up nuances and tidbits you might have otherwise missed (other than the fact that the film is worth re-watching anyway). If anything, I need to get my hands on the "Hello Peril" soundtrack heh. Thoughts on my Film Forum page.

I've enjoyed reading Asian AF blogs. They highlight various Asian-American personalities and/or pioneers who paved the way for better representation / visibility: httpss://www.asianafshow.com/blog

The movement is only beginning, and is far from done. Progress has been made, but still far to go.

"What an Excellent Adventure, I wouldn't be surprised if Keanu was wearing dentures..." muhaha


---
Friday, May 31, 2019

Although APAHM is ending (for this year at least), I continue to look at things as if it didn't or is continuous (continue to look out for and support new or on-going projects in that sense). I think it's only appropriate to watch "ABMM" tonight or this weekend.

Randall Park interview: httpss://www.vulture.com/2019/05/randall-park-always-be-my-maybe.html

There's going to be quite a few 35th anniversaries for next year, and "The Goonies" is one of them. Nostalgia at its finest. Talk about role reversals - "Mikey" could be doing the Truffle Shuffle now, and then some heheh.


---
Sunday, May 26, 2019

Lazy Sunday tidbits (and Happy Memorial Day weekend, folks):

Parry Shen getting an autograph from the original Jennifer Parker - that is cool indeed. Did she let you eat in the store? heh.
Rich Ting might be out, but Dustin Nguyen is in...with a cowboy hat to boot.
Who has the cutest cat? Ricky Berwick or Sungwon Cho? (at least in terms of Youtube celebs). All you cat lovers decide that. I consider myself one (the uncertainty of taking care of pets well notwithstanding).
---
Tuesday, May 21, 2019

I thought the PBS documentary on Norman Mineta was absolutely inspiring and educational. He was, and still is, one-of-a-kind. Particularly in a society where self-serving 'politicians' and greed has become commonplace (it's usually about the job title and perks - nothing worthwhile ever gets done once they've been elected because they offer no real solutions or ideas, and end up only mud slinging. Just whatever it takes to get elected). Go to their web page below for the documentary video:



httpss://www.pbs.org/video/norman-mineta-and-his-legacy-an-american-story-uhcqcm/



I'll have more thoughts on my Classical Piano blog about the Piano Sonatas. For sure, it'll be a Rachmaninoff for the new upload or recording.


---
Sunday, May 19, 2019

Sunday tidbits:

Bolo vs. Sahm - what a fight. The character is apparently gone, but for what it's worth - it was a nice tribute to Bolo Yeung (sounded like him). Watch the series on Cinemax, but hopefully they'll make it available on other platforms such as Netflix at some point in the future. In the meantime, catch Rich Ting on an episode of "The Fix" - you certainly do not want to mess with that guy (otherwise, he'll send a message you'd never forget heheh).
What the hell is a G(J)iga-watt?! More like, what the hell is a Giga Coaster? Apparently, they're 300+ ft coasters (I wonder if there is a limit to how high they can go - Kingda Ka still holds that record I believe). But no thanks to roller coasters for me.
Henry Lau in "A Dog's Journey". Check it out.
---
Friday, May 17, 2019

It'll be either the No. 4 or No. 7 Piano Sonata, but I'm not sure which yet for recording / upload. Perhaps a Rachmaninoff in the meantime.

The Yukon Striker is here! They say it's the fastest and longest dive coaster yet, but doesn't matter - roller coasters scare the crap outta me anyway heh. Unfortunately, there won't be the Try Guys trying this one - but there are other "try guys" as well in terms of reactions (perhaps not with the same frog-faced OMG's heheh).

Simu Liu should be nicknamed "The Model" - that Old Spice commercial was something, if not for being the face of Accounting-related subjects (don't Asians love to number crunch anyway? except for me - I failed Math). Anyway, here's to S4 of "Kim's Convenience".

Who the hell looks like a Dookie-Head?! muhaha.


---
Sunday, May 12, 2019

Happy Mother's Day! Always appreciate and love my omma.

Dustin Nguyen's character looks bad-ass. Hop Wei 4 life, but I'm not sure if he's an antagonist or not - waiting, scheming. Seems sketchy indeed.

Why is it that sometimes the most important pieces of mail get mis-delivered and/or lost (even worse when it is an expedited service - and can't expect everyone to be good samaritans to return them). Some postal branches or offices are more lackluster and careless than others (the branch at my old location for instance - I wouldn't be surprised if they lost pieces of mail in their own facility/branch). They need to hire or to do more extensive testing in hiring reliable personnel. Sons of bitches heh.


---
Friday, May 10, 2019

I've been curious as to what the "BLT" (Better Luck Tomorrow) crew has been up to, in particular since I just saw Parry Shen on a daytime soap opera. It might've come as a shock to me, since I completely forgot about the guy. And how appropriate since it is APAH month. So here it is, roll call (at least ones in which there are updates on):

John Cho - I'm taking that he's currently busy prepping or filming "Cowboy Bebop", and recently starred in a "Twilight Zone" episode.
Jason Tobin - He's been busy with the new series on Cinemax - absolutely worth checking out if you have the channel
Parry Shen - On a daytime soap, doing a film here and there. The "Hyperglycemic" guy from BLT heh.
Aaron Takahashi - still doing commercials and interesting pics on his instagram
Sung Kang - Unfortunately, I do not know if he's involved in a new project at all (except for remodeling cars, partnership with Audi or being on a "Party Boat" heh). But his recent Instragram pic can either just be a coincidence or entirely something else.

The need for UBI is going to become more apparent, as the cost of living and other goods /services gets more expensive while jobs or employment become more scarce or unattainable due to varying reasons. I believe it can create more incentives than disincentives, and that argument for it is there.


---
Sunday, May 05, 2019

It's damn cool to see Wong Fu Production's Philip to grace a billboard as part of the Youtube experience. I think another member or two should've been added, but oh well. What do I think of "Dating After College"? It's entertaining, but I wouldn't really know because I never went through the experiences (at least not online fo' sho') - but I could imagine that there isn't that much of a difference between our generation and millenials of today. WFP continues to produce quality content on their own (perhaps not everything to my liking), but it is.

I don't necessarily believe that the expressive ability in playing a piece (in any instrument) is in a way a pure skillset, or it could be more like either "you have it" or "you don't" kind of thing. Some just might not be able to feel or emote the music, but they might be able to mechanically play a piece well. It's a habit we should strive to get out of, and it is a continuous learning experience. Musical compositions or pieces can be seen as pieces of artwork or poetry - there's a story to tell in the notes and dynamics of the piece.


---
Thursday, May 02, 2019

Cobra Kai S3 confirmed - it was inevitable, but we were all waiting for it. Unfortunately, we'll have to wait another whole year - something fans do not want to hear. But let the speculation begin. Of course, I have my preferences who I'd like to see guest star or characters returning from previous seasons, but inquiring minds want to know. Is Principal Lopez going to give Stingray the security job? And is he going to get that coveted-yellow belt? muhaha. Anyway, more thoughts on another blog.

For me, almost every month is like APA heritage month because I'm mainly concerned about supporting or rooting for that cause. I'll definitely talk more about it on another blog as well, but the movement or the fight has only just begun. Keep it going. Keep fighting the good fight.


---
Sunday, April 28, 2019

I have to say that E6 and E10 are my favorites, and it's worth it to binge watch all of them at least once more. The school fight at the end might have seemed extreme, but it could also be interpreted as a social commentary on how violent our society is or can get, and safety or security needs to be taken more seriously (In a recent Q & A, there should be repercussions). On the lighter side, just enjoy the damn show for what it is.

Speaking of which, Stingray deserves that yellow belt, but I'm not sure about the job offer however (although he was certainly dressed to impress - shouldn't he score brownie points for that Mr. Interviewer?) muhaha. Also, in E9 - remember to take free food (especially uneaten pizza pies) before taking off, because - why waste it? heheh.

I'll have to schedule in a recording session for the Beethoven Sonata third movement (would have recorded by now). It's easier when the house is empty, but no big deal - always glad to have family as company.

Daniel Dae Kim has a knack for salient and on-the-point interviews. Here is another one:



https://kore.am/how-daniel-dae-kim-is-using-his-power-as-an-executive-producer-to-promote-visibility-for-other-asian-americans-executive-producer-korean-american-actor/




---
Thursday, April 25, 2019

Some notables or tidbits from that school fight in E10 "No Mercy":

It was brutal - quite a few mini-fights broke out before being reduced to the final four. I was expecting the crowd or audience to chant "Fight, Fight, Fight" at the start (akin to "Drink, Drink, Drink" in E9) heheh.
In a job interview for a school, remember to talk about your karate prowess and question the interviewer instead (and then treat yourself to some donuts as a reward or, just kick some ass with your ass heheh).
Where are all the teachers or security? "They don't pay me enough". Enough said muhaha.
"Can't we all just get along?" Apparently not. A lost opportunity there - somebody should've hit her by accident.
"Oh, you want some of this?!" Enough said.
What seems to be either police or security showing up only after the tragic scene. Say what, was he just watching the whole thing as well? heh.
Fans are clamoring for Season 3 already, and I wonder if it's even possible to have it arrive sooner than a year. It's a lengthy process I'm sure. There are already rumors or rumblings for the villains from KK3 to appear. Who knows, but I have my preferences.


---
Wednesday, April 24, 2019

"Cobra Kai" S2 - exceeded expectations. Humor and nostalgia up the wazoo, and a Cobra Kai fat dude for comic relief I suppose heh. I won't share spoilers as well (not until at least a few weeks from now, when most everybody has seen it). But I'll say some things for sure - you'll feel nostalgic again as well as laughing yer ass off. You'll see Kreese smile here and there (at least deviously), and Daniel doing the crane kick pose again. And lots of kick-ass fight scenes - you wonder why the school never called the police (or the National Guard for that matter heh) to break it all up resulting in a tragedy. The fight was sure large and long enough, a "Brawl For All" for sure (Damn, Hawk takin' out everyone heh).

It was worth the price of two movie tickets at least - I'll have to watch it again a few more times before cancelling Youtube Premium. Fans are already calling for a third season, which is highly probable.


---
Monday, April 22, 2019

The most difficult part is having to wait the day before a new season of a show debuts, or the night before a new game or expansion releases. "Cobra Kai" fans are getting antsy heh. I can probably say the same thing about gamers with either the release of a new console version, or a highly-anticipated game. Patience, grasshopper.


---
Sunday, April 21, 2019

And so it begins early this Tuesday at 9 PM PST. Well, at least the first one is free - we'll have to re-sub.

Mental health issues are certainly issues that should be given more attention to. I don't believe medication is always the answer, as they can be addictive and be used as an escape, not to heal. However, it might be necessary as a last resort if there is no other choice. If there isn't a biological or physiological reason, then the other cause has to be environmental or societal. Not all means to escape are healthy (only in moderation however), such as gaming. Music, on the other hand, has been very therapeutic and welcoming.

I can see how UBI can be beneficial in more ways than one. It's a guaranteed income (however minimal) in an otherwise non-guaranteed society where an individual or individuals might not be able to get a job - not only because of the scarcity or the threat of automation, but also because of other possible factors - discrimination (race, gender, disability, age, etc) for instance.

I try to find worth-while articles, but some of them require registration (sons of bitches). Here's one on John Cho:



httpss://www.nytimes.com/2019/04/19/arts/john-cho-cowboy-bebop-star-trek-twilight-zone.html



Who actually reads Playboy articles? heh. Unless it's one on Daniel Dae Kim - always informative, to the point and witty.


---
Friday, April 19, 2019

"The Wunderkind" might be the "wunder" story from the "Twilight Zone" S1. If you have online access to the channel, it is recommended. I'm sure there are notables in there. But I'm not inclined to subscribe or try their so-called free trial yet - since I might have to re-sub to Youtube Premium for "Cobra Kai" S2 anyway.


---
Thursday, April 18, 2019

John Cho could be a model (but he's busy enough as a top-notch actor as it is - he's currently prepping to become Spike Spiegel I reckon). First, gracing the covers as the "Glass Man" and now "Burdock". Steven Yeun in "The Twilight Zone" story called "A Traveler". Since "Burning", this appears to be another creepy character. A welcoming trend however, since it diversifies one's repertoire. Images below:



Another Daniel Dae Kim article:



httpss://www.elle.com/culture/movies-tv/amp27142472/daniel-dae-kim-interview-hellboy/?__twitter_impression=true



John Cho interview on a PBS documentary:



httpss://caamedia.org/blog/2019/04/17/john-cho-gives-voice-to-the-korean-war-in-new-pbs-documentary/




---
Wednesday, April 17, 2019

"The Piano Men" - Billy Joel and Lang Lang. Both stars in their respective genre, but they can play in both. It's good to see Billy Joel still performing since it's been awhile for me (although I hear an oldie or a classic once in awhile on the radio) - his songs are iconic in that we can't help ourselves but to sing along every time we hear it. I remember the Greatest Hits two-disc set all those years ago - I don't have the physical CD's anymore. But in this digital age, we can just listen to them on our devices.

Cookies are certainly annoying. Not the delicious snacks we love to eat, but the pesky trackers on browsers. They should be gotten rid of, as it affects logging in and can cause other technical issues for the user or consumer. I'm sure Andrew Yang can come up with a solution to that heh. "I might not be technically saavy, but I know what a cookie is" - Forrest Gump 2 heh.

"We do not train to be merciful". I hope fans can separate fiction from reality. Otherwise, violence begets more violence and it would be a recipe for humanity to destroy itself. We all need a bit more compassion and sympathy in our lives. But enough with the serious talk, fans are looking toward S2.


---
Tuesday, April 16, 2019

Arrangements and transcriptions. I could appreciate the different kinds of them for music, some more embellished than others. It is something that I am certainly not experienced in. There are already a lot of musicians who can and make them available for us to play.

With continued technological advancement and in this digital age, I could see more jobs being displaced as we rely more on computers, mobile devices, etc. Already, automation is becoming an issue. I certainly would not want to get into or risk my life on a self-driving vehicle - what if there is a glitch or something is programmed incorrectly? Hell no. But it's the automated machines in factories that are becoming more of an issue, as well as e-giants taking over or monopolizing the online consumer experience. But I never really considered these things until I heard about Andrew Yang. I believe he is the real deal - addressing real issues that actually matter. I might not agree with all his legit ideas, but it is something worth discussing.

It's mid-April already, but looking forward to 04/24 - almost here. It might be time to prepare by doing fifty pushups on our knuckles heh.


---
Sunday, April 14, 2019

Some more lazy Sunday tidbits or my thoughts from social media / personalities:

Dear Ryan - Thank you for the "Get Introverted" video for all the introverts. "The Introverts (Sorry, "the Meek") Shall Inherit The Earth..." heheh.

Aaron Takahashi - Yes, you look like a "Nornerto" haha.

Goh Nakamura - So that's what's in a black hole: guitar picks! haha. Give this guy the Nobel Prize.

I was watching the eight-part documentary on the new Cinemax series based on Bruce Lee's writings, and how it all came together. The purpose and vision of it is astounding. If you have access to Cinemax or subscribed to it, it is highly recommended to watch.

Bruce Lee passed away early in his life. Mozart (and to an extent, Schubert) both passed away early in their lives. All of them were "pure" geniuses in their craft. Moral of the story: "Be water, my friend".

As Andy Milonakis would say, "bitches come easy, ho's so sleazy..." heh. Final relationship advice - I'd just dump their bitchy asses haha. But be appreciative of them putting up with you if not.


---
Friday, April 12, 2019

The third movement for Beethoven's Piano Sonata No. 15 is in the works, and almost ready. It's a fun movement, albeit an unusual structure / melody - quite difficult as well. More thoughts at another time.

It's been incessantly raining all month (with a few breaks here and there), and today was that rare moment the sun was out. I was more than happy to get out of the house to eat out, and just enjoy going to a park. Not sure when all this precipitation is going to end (with sunnier weather), but this year is certainly one for the record books it seems.

Relationship issues - we all have them, and certainly the most relatable podcast topic. There's a lot of relevant and important points pertaining to relationships, but this is one that resonates with a lot - "Instant gratification or temporary happiness is not worth sacrificing long-term happiness for. Do not make permanent decisions based on instant or short-term happiness. You'll suffer for it". Something to that effect. If bitchy wives or gf's are all that existed, how easy would it be to just dump their asses or not even bother with the relationship to begin with muhaha.

The image of the black hole has the world abuzz. It was time to update my Celestial web page because...it's been quiet. I have yet to put together the telescope that was purchased.

Another must-read article from Daniel Dae Kim:



httpss://www.washingtonpost.com/arts-entertainment/2019/04/11/daniel-dae-kim-hellboy-is-rare-happy-ending-hollywoods-whitewashing-problem/?noredirect=on&utm_term=.d0a73fd874c5




---
Tuesday, April 09, 2019

Some humor for today, in regards to Michael Jackson (again) and the podcast previously on the subject matter (also an image from the "Leaving Neverland" doc). I can imagine this is also part of what they were laughing about muhaha.





The onslaught of precipitation. April showers indeed. April Heavy Showers.


---
Sunday, April 07, 2019

It's lazy Sunday, so I don't have anything particular to blog about - so here's some more tidbits or quotables from social media or personalities:

Aaron Takahashi - Yes, let's eat donuts. I LOB-uh donuts. I need to eat one as a reward haha.

Jason Tobin - "Don't disturb a man when they're having sex. It's rude" Otherwise, Youngjun is going to channel his inner Virgil and give you a huge WTF. Fo' Sho' heheh.

From "Hellboy" - "There's a problem. I'm a Capricorn....and you're fuckin' nuts!!" heh.

We should feel a sense of pride of our own culture / race and how we think, but that's just my opinion. But at the same time, we should be open-minded or non-judgmental for others. I hope the words "opinions", "preferences" and "facts" are not confused with each other.


---
Saturday, April 06, 2019

I was going to upload the Andante movement from the Piano Sonata, but that's for another day. The third movement is almost ready, but might take a bit more time.

I think the watch list on Netflix is growing, so I better find a way to log in (if I can use an existing account online) - Kim's Convenience, Cowboy Bebop (TBA), Always Be My Maybe (TBA), other projects from Youtubers I'm subscribed to, etc. I'm not inclined to register for free trials on premium channels, unless it can be cancelled right away with no obligations.

New "Cobra Kai" trailer. The final clip of the confrontation or fight might be what we've finally hoped for, but we just have to see whether it is a lengthy or a brief one (but then again, I wouldn't think that there would be much space in an apartment or a room to make for a convincing fight). There's no doubt there is some kind of manipulation still going on. It still might be a gray area of who the villain or hero is, but it certainly makes for an interesting conversation. Kreese still appears to be a villain in it however - still his '80's "No Mercy, Finish him!" self. Plus, there's a kick ass cat fight between girls (a new Cobra Kai martial artist). By the way, too many spins (looks like something out of a super saiyan anime - should be only a half or full spin if at all) on that victim after getting that kick. Obviously unrealistic, but if they've got you hooked on the scene - it's a moot point or doesn't matter. Just like the shark being blown up from an 'exploding' diving tank at the end of "Jaws". Go watch "Mythbusters" heh.


---
Thursday, April 04, 2019

The rule of thumb for me - never eat at fast food franchises that you know...overseas. It'll certainly not taste the same (re-heated, dry as fuck mystery meat heheh).

It has begun. The first Piano Sonata of Beethoven is No. 15 Op. 28. I plan to record / upload one movement at a time....

If not for solely to binge watch "Kim's Convenience", now John Cho has joined "Cowboy Bebop" for the Netflix series. All the more reason to consider subscribing to Netflix, at least for the free trial (cancel anytime my ass heh - of course I'm going to). Jason Tobin is lookin' fresh - from a rebellious teen in BLT, to a freedom fighter (or some kind of fighter) in a Cinemax series based on Bruce Lee writings. I wish I could afford premium channels though - just not in our budget anymore.


---
Tuesday, April 02, 2019

I can see it as an electronic symphony - different synthesizers with different roles, performing their part. Either accompaniment in the treble, bass or for other sound effects. And the melodies being interchangeable. Video game music can be beautiful and moving as well, you can experience that "orgasmic frenzy" of emotions sometimes. The Super NES Band does a fantastic job - sometimes they elicit giggles out of the audience, I too as well heh.

Poor Sungwon aka ProZD, the up-and-coming voice actor. First, he had to deal with getting kicked out of a miserable Lyft experience which could've been racially motivated. And now, given a hard time in immigration. He probably should've brought a box of lucky charms in case - if not because they're just magically delicious heh.


---
Sunday, March 31, 2019

I only got to know Wong Fu Productions recently in the past several years, and they've come a long way creating and developing their own content how they want it and the way they want it - no compromises. For sure, not all subject matters appeal to me but not everything usually should. My favorite is "Yappie" so far, but there's still a lot I have not gotten around to. Congrats on their moving to a new space - definitely an indication of a growing and successful business.

I would prefer to get rid of daylight saving's time altogether. I certainly don't mind turning back the clock (for the extra hour of sleep heh) at all - at least that part.

Happy "35th Karate Kid" Day. You might have a list of things you want to accomplish today, but first - you accomplish "watching the anniversary screening at a theater near you" heheh.


---
Friday, March 29, 2019

Burgers - they're food I get the cravings for often. And I tend to order them usually when we go out to eat, it's comfort food that I can most rely on heh. It used to be pizza, and it's been awhile - since we live in a remote area, it's quite a drive to the nearest place. It appears air fryers are becoming a fad these days, from some infomercials heh. You know, just like the non-stick pans, the flex glues, the dump cakes, the cop cams, etc. heheheh.

Well, I hope Lang Lang does more live Q & A's and online concert streaming. The Piano Book is an album with pieces most of us might know as our first repertoire pieces when we first began to learn. For me, it was mostly Sonatinas (Khulau / Clementi) and Minuets. A sound advice to new learners - don't try to tackle too much before mastering the fundamentals. In other words, don't try to jump into tough pieces right away. I've learned my lesson - I did that, it turned out sloppy and messy. Now, I had to turn that around and it took several years before doing it right or correctly. But I'm old now. Still, music is eternal and ageless. Once you know or feel it, the rest is just on paper or it's just a matter of knowing or understanding / feeling it.

I wish I could check out the new "Twilight Zone" series, but free trials are usually misleading. You'll end up having to subscribe to it - every platform that has a free trial requires subscription afterwards. As for their cancellation policy, it varies or differs.


---
Thursday, March 28, 2019

I don't dine out much, so I wouldn't know what places need reservations ahead of time - if you don't have the patience to wait thirty or more minutes for a table that is. Fortunately, we didn't have to wait that long - but you never know. The "Cheesecake Factory" is known for their various cheesecake flavors (and you have to try at least one while you're there), but the meals are just as delicious (but pricy). For special occasions or celebrating birthdays, you might as well run up the tab and stuff yourself.

Apparently, I'm still working on some more Mendelssohn and fine-tuning / finishing up some full Piano Sonatas. I just need to organize my thoughts, and then I can upload a new classical piano / repertoire blog.


---
Monday, March 25, 2019

We were experiencing some summer temperatures last week (for a few days), and I thought oh shit - now we're going to complain that it's going to be too hot. But it's back to the chilly temps. Whenever there is a WoW Arena Tournament, I tend to get particularly lazy and just watch it all weekend. Not a good thing health-wise.

Andrew Yang is innovative in ideas and solutions (certainly eloquent and clever), and for a change - he's addressing real problems with possible real solutions (by placing humanity first). It's come to the point where politics has become nothing but a job - self-serving, corrupt and greedy. I think Andrew Yang might be a viable alternative or option to all that. This "unknown" deserves a chance to be heard, and he is surely becoming "known". Am I on board the Yang Gang yet? I failed Math, so I probably won't get that hat anytime soon heh. However, ban Robo-calls and automated messages then it would be unconditional heh.

April 24th can't come soon enough for "Cobra Kai's" new season - only if Youtube Premium just let us binge watch the previous season for free.

"You gotta have a poker face like me". A few secs later...."Woah, four aces!" muhaha. There's just a lot of humorous scenes or dialogue from "Bill & Ted's Excellent Adventure".


---
Tuesday, March 19, 2019

Life can be unpredictable, and things can happen unexpectedly for the better or for the worse. Emotions can change on a whim - from ecstasy to depression. We just have to stay the course and perservere / overcome certain obstacles. I guess when life hands you lemons, you just have to try to make lemonade. I've suffered from anxiety most of my life, and it has not made it easy to change the way I live or think. But I think it's getting there.

I heard "Cobra Kai" S2 is focusing on the rivalry between the two Dojo's. What made S1 enjoyable for me was the nostalgia and the humor. I'm not really into the idea of catering to the millenials in terms of content and character, but that seems to be most of today's audience however - millenials. I stick around for the nostalgia, and hopefully they'll consider writing in some surprise guests in the future (from the films at least). Personally, I'd like to see Chozen come back.

The idea of a Universal Basic Income is very appealing and exciting, much preferable than "free" health care (policies have been implemented before, but the damn government still ends up taking your money. Greedy bastids). But can it be implemented? I think Andrew Yang is bringing in a fresh, new outlook or perspective. And as well as the enthusiasm and energy that usually is lacking in politics.


---
Saturday, March 16, 2019

Hands up! RRN on the road at the SXSW Music Festival. They have some definitely nice, catchy songs. With their video blogs or vlogs, what's not to like about their road trip - especially all the delicious eats. I do miss that thin, crispy / salty pizza.

In the most recent "Ryan Tries" episode, Ryan goes ghost hunting. My favorite line "....it's your show!" heh. I'm guessing that it was a satirical statement on how some hosts or "lead investigators" demand or insist that the show centers around themselves. Talk about ego. Shows like GA are for pure entertainment only or they've become that - at least make it suspenseful or somewhat believable (the original documentary was that). How hokey are episodes about demonic possessions, satanic rituals at brothels, etc. I believe that there are ghosts, but they don't always show up or throw / move things when the camera is turned on.

We could all use a bit more compassion and tolerance towards others (moreso from me - I have to swallow my pride and turn the other cheek more often), despite our differences and preferences.


---
Thursday, March 14, 2019

I heard about "Kim's Convenience", and I should check it out. From the scenes or previews I've seen, it's hilarious. It's Canadian Broadcasting however. There is Netflix, but our old model Vizio's crapped out (no longer can access smart apps). We don't watch tv much anyway, so not sure if it's worth upgrading (certainly not worth it to repair as it is costly).

I'm not the type who can exercise or jog every single damn day. I prefer to take breaks, or just do it once in awhile. Fortunately, I'm not overweight so it is not necessary. But still, there are benefits to it blah, blah, blah...yawn.


---
Monday, March 11, 2019

I'm not sure what to make of the "Leaving Neverland" documentary. I would think that it's sensationalism or exploitation at its finest. But whatever the consensus or the truth is (child molestor or not), there might be some semblance of truth uncovered there. I'd just like to leave the negatives out, and think about Michael Jackson's music only.

Here is something funny, this screenshot below from a podcast clip. It's the classic "LMAO" Head-Back Laugh, and the "FACEPALM" Don't-See-Me Laugh Look (Courtesy of David So / Khalif) MUHAHAHA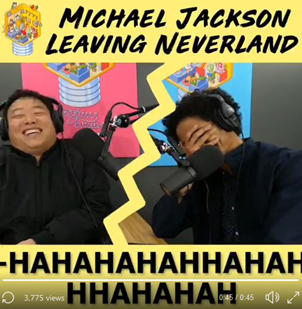 I agree with Daniel Dae Kim - we can do without Daylight Saving's Time.


---
Sunday, March 10, 2019

It's been awhile since I had a nice practice of a full repertoire. More thoughts at another time on my classical piano blog.

"The Glass Man" John Cho is definitely a sharped-dressed (or well-dressed) man as well. Cool photo ops.

Just call it the Bobby Lee dance muhaha.


---
Friday, March 08, 2019

Fortunately, warmer weather is ahead (and it's about time). What a winter it has been (hopefully we don't have to go through that again), although we were treated to some hail yesterday. What's next - are we going to be complaining about being too hot over the summer? Hope not, although I prefer cooler weather or seasons - never extremes. But then again, who does.

Bobby "Island Bob" Lee doin' a funky dance muhaha. Definitely tops the "I'm on a Pah-ty Boat" dance heheh.

The most difficult question to me - who is your favorite composer or what is your favorite piece? It's something I can't really answer since there are a lot of pieces that can fit the bill. I guess the safest answer would be is whatever you play the most or most frequent. But there should be a definite answer for sure. More thoughts on my classical piano blog at another time.


---
Thursday, March 07, 2019

Put it this way - Dr. Jackson Han did offer more responsibilities for Murphy heh. As a central character, there'll be a resolution and he'll somehow return. Let us hope Dr. Han returns as well with more appearances. Well then - I'll go right into an office, throw a hissy fit, (maybe join the wrasslin' team as well), and tell them I'm autistic. Perhaps then I'll get a raise or get my old job back.

Hudson Yang used to be a short, fat kid. Now, he's a tall, fat kid. Just kiddin' around haha (he's talented and funny). I haven't seen "Fresh Off The Boat" in quite awhile. He might not resemble Eddie Huang that much anymore, but I'm sure FOTB doesn't height discriminate nevertheless.

Lang Lang's new album. I've heard "Fur Elise" played fast, slow, expressive, etc. One thing I agree is that this is a piece that needs to be meticulously interpreted in regards to expression - to get the most out of it. I included it in a medley recording of mine, but for that purpose - I played it a bit faster than it should have been.


---
Tuesday, March 05, 2019

Dr. Jackson Han might appear cold-hearted, but he is very logical and realistic. If someone were to throw a tantrum or a hissy fit in an office, would you pamper the person or treat him / her like anyone else? I'm sure even autists would like to be treated like anyone else. But this is a drama, and I'll say it again - the point of a drama is to have drama. That being said, Daniel Dae Kim portrays his character so naturally that it doesn't appear that he's making any effort. It's certainly a breathe of fresh air where over-acting and superficiality remains in this decadent industry.

Sungwon Cho deserves the accolades. Now, is there going to be an Anime Crimes Division S3? That is the question.

I certainly appreciate and enjoy the "How We Met" stories - a lot of it is just hilarious when it is just told like it is and brutally honest without sugar-coating anything.


---
Sunday, March 03, 2019

I've thought about creating and uploading a James Cage White fan page aka "The Very Cool, Very Swag" guy (or character).

Das Da Mudda Very Cool indeed heh.


---
Saturday, March 02, 2019

I enjoyed spending another relaxing, quality time in Hawaii - in particular, with family (I think I inadvertantly removed a previous blog about it). I'm always glad to be there, and wish it didn't have to be over already - but nothing lasts forever. But time goes by like nothing. Some notables - snorkeling near the deep (although currents were strong), swimming at a waterfall, and a hefty dinner with some deliciousness. But otherwise, just relaxing at the resort and playing games or watching some stuff is enough sometimes. But for sure - you would want to take advantage of the time there as much as possible.

I'm not one for public announcements, just a low-key way of discussing or talking about things. More thoughts in another blog.


---
Wednesday, February 20, 2019

We were introduced to Dr. Jackson Han (played by Daniel Dae Kim), the new Chief of Surgery who tells it like it is (very candidly and to the point) - definitely has the swag and perhaps a bit of an ego. The consensus already does not like the guy heh. But are you able to separate fiction from reality? Characters like this are somewhat necessary to create drama in a drama - that's the point of a drama.

My anxieties can be serious, and it has shown. Which is why I dread anytime I have to travel or go far (albeit leave the house). It can be debilitating when it's a frequent occurrence. One thing is for sure - safety is always a priority.


---
Monday, February 18, 2019

Daniel Dae Kim to appear as the new Chief of Surgery in "The Good Doctor". Can't wait.


---
Friday, February 15, 2019

Let the thawing / melting begin. We probably need a "I Survived February" bumper sticker or decal for our cars heh. Well, the month isn't over yet but hopefully things have calmed.

We can feel pressured to do something special for Valentine's (and if you can, all the more kudos). But in reality, I think any kind of gesture such as dining or going out should be sufficient. I wouldn't hell want to be with someone who has bitchy expectations. But one thing is for sure - don't be like Spider-Man heheh.


---
Tuesday, February 12, 2019

It's been brutal. We have over 2+ ft. (in higher elevations and in remote areas, snow tends to be more frequent). This is sure one for the record books, but if there is a silver lining - we can at least make those damn snow caves or forts heh. But it can be a panic-type situation (if one worries too much) of being completely buried. And of course, our second power outage (which was resolved within a day). Kudos again to the utility and road crews - they're going to be quite busy for the duration of winter if this keeps up.

We just have to brace for the worst, and hope for the best. Now, I've got more shoveling to do.


---
Sunday, February 10, 2019

Primitive Skills 101 - a snow fort would make a nice alternative to a snow cave. But remember - you still can't burn fire one stick at a time heh. A new winter survival show right there heh.

With the amount of snow (round #2 by tomorrow), you can probably make a snow cave in your yard or somewhere in elevation.


---
Saturday, February 09, 2019

It feels like a "Snow-pocalyptic" experience this month. I think we received 8+, and we're not out of it completely yet (hopefully, not as large as this storm). One thing is for sure, we'll be snowed in for awhile. The roads are still going to be sketchy to drive on (snow plows / salters - this is your chance to make some moneh - get on it! Otherwise, we'll need to hire Homer Simpson), especially if it'll be an on-and-off snowy conditions next week. But we only hope for the best, prepare for the worst.

I'm really beginning to think we should move out of here. And perhaps climate changes are ramping up the apocalyptic, seemingly never-ending severe weather patterns. But also, I might just be a worry-wort heh.

At this point, escaping to Hawaii would certainly be nice. But I'm not sure if we'll even make it to the airport from here.


---
Friday, February 08, 2019

*Holy "Snow-pocalypse". More thoughts tomorrow.

I'm glad to hear that there has been a lot of effort in pushing or advocating for more Asian-American representation on network broadcast at least (and in cinema - but more via in the independent scene it appears). The fact of the matter is, Asian-American stories are absolutely worth telling and it should be about time. From Albert Kim:



httpss://threadreaderapp.com/thread/1093620192423211008.html



I like this quote from Daniel Dae Kim's twitter: "The difference between who are you are and who you aspire to be is what makes up your character". Who says a lot of twitter space isn't just a waste of space heh. There are thoughtful quotes and such every now and then.

The 2019 WoW Arena Tournament season has just begun this weekend. There's something to do or spend time on during what is supposed to be another cold, wintry weekend. Pray for warmer weather ahead.


---
Tuesday, February 05, 2019

Happy Lunar New Year's - it is the Year of the Pig. Does that mean we can eat more pork? heheh.


---
Monday, February 04, 2019

Where is all the damn snow? Apparently, it's been dumped on us heh. It's a winter wonderland out there for sure, and it's scenic. Kids love to frolic and play (didn't we all - not to mention school days), but it's treacherous to drive in - especially when you live in a remote area. The roads need to be salted or kept safe as much as possible. Well, now we know we have to deal not just with the wind but snow as well. Hopefully, it won't be a frequent occurrence. It's our first winter experience out here, and we are just getting a taste of it.


---
Saturday, February 02, 2019

SungWon is a talented, successful voice actor / Youtuber. It's unfortunate that he had to experience being kicked out of a ride by a shit driver - it's even more unfortunate the driver did not know who SungWon was (as he is considered a celebrity in the voice acting world). There is a hint of racial discrimination there, but it's subtle and not as obvious. You can analyze this for hours, but it's probably a waste of time.

I was practicing Mendelssohn's "Spinning Song", which I feel is a nice, unique piece (very Mendelssohn I guess - his Wedding March or Midsummer Night's Dream theme as well). I never did decide whether to continue to work on / finish it, but it's a new piece to practice.


---
Wednesday, January 30, 2019

Here's an informative article with Daniel Dae Kim on diversity and representation:

httpss://www.todayonline.com/8days/sceneandheard/celebrities/lost-hawaii-five-0-star-daniel-dae-kim-wants-do-more-comedies-cos

I'm all for podcasts, and they are absolutely worthwhile to watch or listen to. I'm very particular about what's being talked about however. It has to be relevant and interesting to me, as well as my type of humor. Otherwise, no thanks. But whatever floats your boat, or whatever you are most passionate about - put your effort into it! Of course, it always helps being established. For those just getting started or thinking about it (or have the network or means to), it might be worthwhile to try it out.


---
Sunday, January 27, 2019

I always believed that expression or interpretation is another layer of skill in music that aims to inspire and move the listener or audience. There is that capability in most, but only some can naturally emote or feel the music as opposed to mechanically playing a piece. If you can play or perform in a way that can move or inspire the listener, I agree that it's a tremendous talent. But not at the expense of trying too hard or overthinking. When it comes to music, don't think it but feel it.

If you are proud of your culture or who you are, self-esteem should never be an issue. In fact, the most difficult aspect of it would be keeping your ego in check. But we are usually a humble bunch anyway. The main idea or goal is to continue fighting and dispelling stereotypes and discriminating ways - and that is to continue to grow in influence and success. That is why I'll continue to support the Asian-American circle across industries.

I tell ya, looking back on my past - I certainly had low standards in terms of seeking relationships muhaha. Fortunately, that reality no longer exists. It's about continuing to better yourself, and just look to the future. Relationships are the most difficult things in life - our ugly sides definitely show, and we second-guess ourselves always whether we are cut out for it or not. Especially when you are anti-social like myself who would prefer to be secluded or isolated as opposed to being among crowds. That podcast is better than therapy itself - why waste money on that shit? heh.


---
Thursday, January 24, 2019

I've been enjoying Aaron Takahashi's honeymoon adventures - and damn he explains them as well as a tour guide heheh. It definitely makes me want to visit certain spots from Tokyo to Kyoto - but I'd definitely be up for racing around in the Mario Karts. What is up with the "BLT Crew" (Better Luck Tomorrow - not Bacon, Lettuce Tomato heh). Jason Tobin looks ripped - a far cry from his Virgil Hu character. Unfortunately, we don't have Cinemax.

Good luck to Justin Chon and "Ms. Purple" - I hope this does well in the Sundance circuit. It's another film to watch if available.

Once in awhile, eating at a buffet is worthwhile and comforting. But certainly not all the time. Loads of carbs, sugar, etc. - but complete deliciousness. You have to stuff yourself, that's the point of a buffet - to stuff yourself heh.


---
Sunday, January 20, 2019

Dear Ryan, please at least continue to create / upload "Dear Ryan" videos muhaha. And perhaps another BgA music video or parody? Anyway, I agree with the notion that channels have to evolve and change sometimes to make things more interesting or not get too stale or stagnant. But it's the creator's discretion as to the content, and they should feel free to create what they want to create or upload - not what everyone else is doing. Doing what you are passionate about or enjoy what you are doing is what's most important. Of course, it certainly helps in already being established or having a large audience.

Success in Youtube is very difficult - and I'm just speaking as an observer or a viewer (since I'm not a Youtuber). Back in the day, it might have been a bit easier - but you still had to put yourself out there, network, and have a thick skin to keep on going despite failures (not giving up). These days, their policies have made it that much more difficult for small creators or anyone wanting to get their feet wet in it, to actually climb. I think "The Very Cool, Very Swag" guy JCW might one day create an alternative platform to Youtube that'll be more rewarding and unique. Please do it! (after you have created your games).

If self-expression (or improvement) is masterbation, then it must feel damn good to be expressive.

On a serious note: Rest in peace to my Uncle.


---
Thursday, January 17, 2019

I'm not sure when the next recordings are going to happen - a final Mendelssohn and a Studio Ghibli piece. But I've returned to Schubert as I have been refining some pieces. More complete thoughts on my Classical Piano page.

I also have yet to put together and use the new telescope. I'll probably need to wait for a more favorable or optimal season when the skies are more clear and the temperature becomes warmer. And whenever there might be planets or other celestial objects around. There are plethora of information and resources to look up in terms of space sciences and astrophysics. If you want to test your knowledge, world-renowned Physicist and Futurist Michio Kaku has been asking some riddles recently pertaining to these. Interesting and informative.


---
Tuesday, January 15, 2019

It's certainly about time that I watched "The Good Doctor", and I'm glad that we did. I might have to binge watch from the first season as a catch up. I was pleased that it 'delivered' in terms of story, acting and drama. It gets the highest accolades from me for diversity, which is extremely important in this day and age. Kudos to ABC - the other networks should learn a lesson or two on what they lack. But now, I've completely forgotten about FOTB. That's something I have to get back to as well, but I haven't had the sitcom itch in awhile.

I hope last night was the beginning of a real and genuine change. Or at least, to never give up and continue to work / improve in bettering our lives.


---
Saturday, January 12, 2019

Kudos to creators who start their own businesses / opening shops, venturing outside of their on-line personalities or channels. Passion projects are worth pursuing, if you have the desire and confidence. It's never a certainty. If I lived near there, I would sure check out Wong Fu's own Philip Wang's "Bopomofo" (certainly would put the mofo in the Boba heh). Also, "Drips and Swirls" is something worth checking out if you are around the area. Fans travel all the way there just to try them out. Kudos for sure.

JCW, or "The Very Cool, Very Swag" guy should set up a Youtube channel (in addition to your video game or musical endeavors). I think his fanbase would sub or flock there as well. I might even dedicate a fan page as well heh.


---
Thursday, January 10, 2019

"The Good Doctor" just got better by an anticipated appearance from Daniel Dae Kim - the Exec. Producer himself. I had hoped for an eventual recurring or regular role, but he probably has his hands full with other responsibilities. This'll probably motivate me to stay on top of the scheduling - which I easily forget whenever a show is on or not.

The indoor water park experience was nice - the Lodge was mostly intended for the entire family, but individuals and couples can enjoy it as well. I sort of missed the water park experience (although there are more expansive ones not in this state), should think about going again during the summer.


---
Tuesday, January 08, 2019

These wind storms are quite a doozy, and early Sunday morning's storm seemed like a near Cat 1 or tropical storm strength. I guess that's the price you pay for living up here in the Northwest. There's usually an element of severe weather somewhere, and almost no area is completely safe from them - albeit blizzards, hurricanes, tornado's etc.

We spent two days without power, but tried to make the most of a cold and dark situation. By stoking the fireplace, and playing games. Unfortunately, we live in a remote area where we are usually one of the last to be restored. But suprisingly, we got it back near midnight. If the windy-ness is frequent, I'm not sure if it's worth it living out here. But let's just hope it's not.

You have to give credit to the Utility crew for working tirelessly. At the same time, we wish that it didn't have to last several days or even a week for power to return to everyone (suburban or rural). But there is only so much they can do at once.


---
Tuesday, January 01, 2019

I wish the holidays would keep on going, but nothing lasts forever (and there's always next year - as if we need to get any older or time to pass any quicker heh). I usually enjoy the time from Thanksgiving to New Year's, as it is filled with the spirit, food, and your loved ones. It's time to get back in shape, and work off the calories. Meh, I'm still going to eat comfort food (but less of it and with more control). This year, let us make it even better and more fulfilling than the previous or build on it.

Unfortunately, I wasn't able to catch "The Twilight Zone" marathon - mainly because we don't have the channel anymore and opted to play board / card games with family instead. Once in awhile, I'd miss lounging around, scarfing down pizza and watching the marathon. But there's always Netflix.

In terms of being more positive, we should all strive to live by the saying, "Very cool, very swag,...I like it!" muhaha.

I'm not sure if Sung Kang finished his WISWIRD jogging challenge, but the tips are certainly useful and helpful for a change. Remember, the best kind of revenge (if at all) is your personal success (or even just being at peace or happy and healthy).